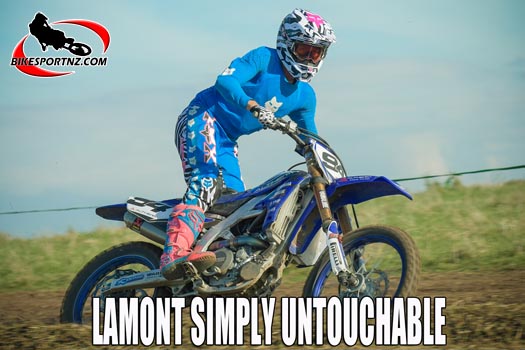 Hamilton's Kayne Lamont dominated celebrations at this year's New Zealand Miniature TT Championships at Taupiri over the weekend, topping the podium in two premier classes.
The former Mangakino man (pictured here) was unbeaten throughout the two days of racing, taking his two Altherm JCR Yamaha Racing Team bikes to win both the MX1 and MX2 classes, while Albany's Joseph Andrell (Crown Kiwi Enterprises YZ125) was unbeaten in winning the senior 125cc class at the Kawasaki-sponsored event.
It was actually a Yamaha clean sweep in the senior 125cc class, with Napier-based Wairoa rider Tommy Watts taking his YZ125 to finish runner-up in every race at Taupiri, while Rotorua's Josh Bourke Palmer (YZ125) third each time and completing the senior 125 podium.
Pukekawa's Jack Dunlop (Yamaha YZ250F) followed on from winning his first national title at the New Zealand Junior Motocross Championships near Palmerston North the previous weekend to make it another national title win when he dominated the junior 250cc class at Taupiri.
Lamont's efforts were, without doubt, the most impressive over the entire weekend, as he never looked troubled in winning every one of his races in the premier senior classes.
The 25-year-old had qualified top in the MX1 class, but only posted fourth fastest time in the MX2 class after he had decided "the track was too slick early on and not worth the risk of pushing things".
But, once the early-morning fog had lifted and the soil had warmed up, all in time for first races on both days, Lamont was simply untouchable.
"It has been a couple of season since I last raced the TT nationals … I enjoy this style of racing, but it's kind of scary when we're going this fast and hitting big ruts. I had a few moments today, but not enough to throw me off the bike, just enough to get the heart racing a bit," he laughed.
"I have had more than a month off racing since the motocross nationals, so I didn't want to push too hard. I will get back into training again next week, to see if I can be fully fit again in July to be ready to make myself available for Motocross of Nations team selection.
"Hopefully I can get selected and go and race that event (in The Netherlands in late September)."
Other title winners at the weekend were Oparau's Hunter Scott (junior 12-16 125cc class); Cambridge's Jarred Hannon (junior 13-16 years' 85cc class); Waihi's Luke Maitland (junior 8-12 years' 85cc class); Pukekohe's Mikayla Rowe (women's class); Hamilton's Phillip Goodwright (veterans' 35-44 years class); New Plymouth's Mitch Rowe (over-45 years veterans' class and the Classic pre-2000 bikes class); New Plymouth's David Furze (enduro class); Stratford's Camo Keegan (premier ATV class); Stratford's Kim Reid (ATV veterans' class); Taupiri's Phillip Bryan (Classic pre-1996 bikes class); Auckland's Hayden Draper (mini 65cc class) and Taupiri's Jayden Bryan (mini 50cc class).
Lamont was supported by Altherm Window Systems, JCR, Yamaha Motor New Zealand, Yamalube, GYTR, bLUcRU, Akrapovic, Ward Demolition, Star Moving, Holland Collision Centre, Workshop Graphics, Fox, YMI, YMF, Pirelli, Twin Air, DID, Renthal, Motomuck, Vertex, Motoseat & SKF.
© Words and photos by Andy McGechan, BikesportNZ.com
Find BikesportNZ.com on FACEBOOK here