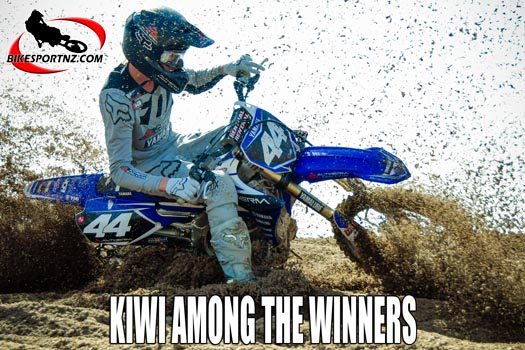 Atrociously-muddy conditions forced organisers to scale back activity at the opening round of the Australian Motocross Championships at Appin, near Sydney, on Sunday.
Just three races were held – one each for the premier MX1 class, the MX2 class and the MX Development (MXD) class – and New Zealand's Maximus Purvis was one of those to take maximum advantage when he celebrated victory in the day's sole MXD race.
Todd Waters and Jy Roberts and were the respective winners of the MX1 and MX2 class races.
Suzuki's Justin Rodbell was a surprise when the American rider snagged the holeshot and led the first lap of the MX1 race, with KTM's Hayden Mellross close behind. Yamaha's Luke Clout and Jesse Dobson battled for the third a long way back at the conclusion of lap one. Mellross was strong in the conditions and soon took the lead from Rodbell with Dobson, Yamaha's Kirk Gibbs and Honda's Brett Metcalfe all moving into the top five.
With two laps to go, Husqvarna's Waters had come from being dead last and tangled up in hoses on the start straight to start to put pressure on Mellross for the lead. The duo battled for the final two laps with Waters unable to make the pass. At the chequered flag it was Mellross over Waters, Gibbs, Metcalfe and Dobson.
Officials docked Mellross after the race for riding outside the track markers, which handed the win to Waters and demoted Mellross to second.
"It's kind of strange; I didn't think I won it," Waters said after the race.
Referring to his crash on the start straight, Waters added. "It was quite good for me because when I get excited, I go full gas and make big mistakes. I had no goggles and thought this is a bit of a write off. It got rid of them, and I just rode smooth and tried my best to just stay on the track. I had just watched MXD, and everyone was cutting the track, and I didn't want to lose a race to that. We came through which was amazing."
Referring to his debut with the DPH Motorsport team, Waters said: "I am loving the bike, it's so easy for me to ride and I am really enjoying riding it through the week, and it's starting to show on race day. It's a bit of shame it rained, I would have liked to have come out and shown all the work I have been doing, but it's all good," Waters said.
The MX2 field where the first class to have to deal with the conditions as non-stop rain over the last few days had left the hilly Appin track totally waterlogged. Officials also shortened the race to 15 minutes due to the conditions.
Yamaha's Jay Wilson came out of the gates with the holeshot and controlled proceedings for most of the moto until a mistake near the end allowed Jy Roberts to sneak through for the win. Defending champion Wilson Todd was classed as third. Yamaha's Aaron Tanti was in the mix early, but he soon fell victim to the conditions as did many other big names, such as Kyle Webster, Bailey Malkiewicz, Joel Evans and Morgan Fogarty.
In the end, it was a slow-motion battle between Wilson and Roberts. Roberts snuck through on the last lap after Wilson, who had led the whole moto, failed to recognise that he was actually in second place after thinking he was a lapper.
"It was brutal man, every line just criss-crossed and there where holes you couldn't see," Roberts explained after his win. "I had to throw my goggles second lap, so I was just getting roosted by lappers, but I ended up getting it done by just pulling off consistent laps. I made it work, so I am happy with that. This is hands down the worst track I have ever ridden," Roberts said.
For Wilson, it was the one that got away. Wilson said that he saw Roberts but thought he had come out of the mechanic's area and was a lap down.
"I don't know what happened there," a frustrated Wilson said. "I thought I had a big lead and thought I saw him come out of the pit lane earlier in the race and thought, 'I have a 22-second lead and would just ride it out', it was a silly mistake, and it's cost me."
The second class out, MXD was reduced to a five-lap moto as conditions continued on a downward spiral.
Honda's Rhys Budd took the holeshot but Regan Duffy took the lead by the second corner. Then Duffy crashed, allowing Budd back into the lead. Duffy remounted and made a counter attack but crashed again as he tried to pass. Budd then dropped it on the last lap allowing New Zealand's Maximus Purvis and Duffy to pass. From there it was a straight run to the line for the Kiwi with the finishing order being Purvis, Budd and Micheal Murphy who was third.
"What a crazy race," Purvis said moments after the finish. "I don't think I have raced in conditions like that before and I'm not even sure if I was racing, I was just trying not to crash.
"The track was so deep and there wasn't a single spot where you could relax. My goal was to keep it on two wheels as I know that if I crashed, then I would get mud on my gloves and grips as well as loose vision, so it was important to keep circulating.
"But if it was tough for us on the track, it was even harder for the guys on the team and the WBR Yamaha team did a great job of getting the bikes prepared and keeping them going so it was a good round for all of us," Purvis said.
The MX Nationals resumes, with hopefully better conditions, at Wonthaggi, Vic in two weeks.
© Photo by Andy McGechan, BikesportNZ
Find BikesportNZ.com on FACEBOOK here
RESULTS:
MX1 CLASS
MX1 class – Qualifying Top 10
1 Hayden Mellross – 2:29.110
2 Todd Waters – 2:33.610
3 Jesse Dobson – 2:35.392
4 Jayden Rykers – 2:35.483
5 Luke Clout – 2:39.170
6 Brett Metcalfe – 2:41.440
7 Kirk Gibbs – 2:44.337
8 Justin Rodbell – 2:44.948
9 Richie Evans – 2:46.453
10 John Prutti – 2:47.318
MX1 class – Moto 1 Top 20
1 Todd Waters – 6 Laps – Race Time: 16:57.459
2 Hayden Mellross
3 Kirk Gibbs
4 Brett Metcalfe
5 Jesse Dobson
6 Justin Rodbell
7 Tomas Ravenhorst
8 Luke Clout
9 Joben Baldwin
10 Cody Dyce
11 Charlie Creech
12 Joel Wightman
8 13 Levi McManus
14 Richie Evans
15 Jayden Rykers
16 Brandon Gray
17 John Prutti
18 Caleb Ward
19 Zak Small
20 Izak Maule
Fastest Lap: Hayden Mellross – 2:38.939
MX2 CLASS
MX2 class – Qualifying Top 10
1 Wilson Todd – 1:46.065
2 Jay Wilson – 1:48.680
3 Kyle Webster – 1:50.265
4 Jy Roberts – 1:55.748
5 Lyndon Snodgrass – 1:57.317
6 Dylan Wills – 2:02.067
7 Cooper Pozniak – 2:08.964
8 Riley Dukes – 2:09.672
9 Aaron Tanti – 2:14.206
10 Sam Pelz – 2:14.638
MX2 class – Moto 1 Top 20
1 Jy Roberts – 8 Laps – Race Time: 23:35.566
2 Jay Wilson
3 Wilson Todd
4 Issac Ferguson
5 Riley Dukes
6 Nathan Crawford
7 Cooper Pozniak
8 Dylan Wills
9 Wyatt Chase
10 Aaron Tanti
11 Lyndon Snodgrass
12 Jai Constantinou
13 Morgan Fogarty
14 Chandler Burns
15 Kyle Webster
16 Jye Dickson
17 Ricky Latimer
18 Sam Pelz
19 Riley Stephens
20 Jesse Bishop
Fastest Lap: Jay Wilson – 2:43.942
Motul MX Development class
MXD class – Qualifying Top 10
1 Rhys Budd – 2:39.508
2 Regan Duffy – 2:42.691
3 Mason Rowe – 2:48.541
4 Mason Semmens – 2:50.357
5 John Bova – 2:51.137
6 Noah Ferguson – 2:57.138
7 Liam Walsh – 2:58.438
8 Navrin Grothues – 3:07.441
9 Deakin Hellier – 3:08.235
10 Brodie Ellis – 3:08.276
MXD class – Moto 1
1 Maximus Purvis (NZ) – 5 Laps – Race Time: 15:24.412
2 Rhys Budd
3 Micheal Murphy
4 Hugh Roache
5 Caleb Clifton
6 Liam Walsh
7 Regan Duffy
8 Jayce Cosford
9 Dale Lyons
10 Liam Andrews
11 Jack Kukas
12 James Beston
13 Tye Jones
14 Lochie Smith
15 Mason Rowe
16 Noah Ferguson
17 Aaron Mason
18 Jake Barron
19 Mason Semmens
20 Denzel Woulfe