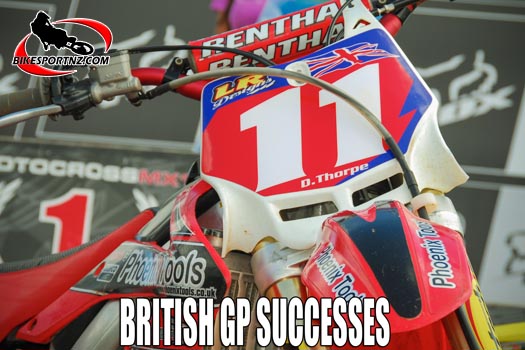 In the history of the British Motocross Grand Prix, local riders have not always had the success the British supporters might have hoped for.
With this season's British GP coming up at Matterley Basin, near Winchester, this weekend, European-based MXGP journalist Geoff Meyer takes a revealing look at the statistics.
Sure, in the 1950's and 60's many British riders controlled the British GP, and then of course there was the era of Graham Noyce and Dave Thorpe, when British fans enjoyed many great victories by home riders, but in recent years it has been thin pickings for the British riders.
It all started in 1957 when two-time World 500cc Champion Jeff Smith won the first ever Grand Prix of Great Britain at the Hawkstone Park circuit. Smith, who will go down as one of the greatest British riders of all time, won the British GP again in Hawkstone Park in 1959, 1963 and 1965.
Success came thick and fast for the British riders in the 1960's as Dave Curtiss in 1961, Don Rickman in 1966; Vic Eastwood in 1968, all joined Smith as home turf winners.
The 1970's were another story as riders such as Roger De Coster, Gerrit Wolsink and Brad Lackey took victories, but in 1979, just as it looked like a British rider wouldn't win in that decade, soon-to-be 500cc world champion Graham Noyce won at the famous Farleigh Castle circuit.
The 1980's came and a young Dave Thorpe had arrived, nearly taking victory in his first-ever 500cc British GP in 1982 (Thorpe lost on a count-back to Brad Lackey). That sniff of success only made Thorpe want it more and he could take British 500cc Grand Prix wins in 1984, 1988 and 1989.
Jeremy Whatley would also win in the 1980's, taking a 250cc British GP victory in 1984 at the Newbury circuit.
The 1990's and the golden era of British Motocross was over and it was left up to Ireland's Alan Morrison, who won the British 125cc Grand Prix at the Hawkstone Park circuit in 1990, and Paul Malin won the 125cc GP at the Foxhills circuit in 1995.
James Dobb started  the new millennium with a bang, taking the 2000 British 125cc Grand Prix at the Foxhills circuit and in 2007 Dobbs' good friend Tommy Searle scored victory in the British MX2 GP at the Donington Park circuit.
It was five years later, in 2012, before the next UK rider won a British GP and on that occasion it was a repeat for Searle, who this time won the MX2 class at Matterley Basin.
In 2013 it was very nearly another British victory being celebrated at Matterley Basin, but Dutchman Glenn Coldenhoff won the MX2 GP and local rider Jake Nicholls finished runner-up, just one point behind but actually two points shy of the GP win.
As it now stands British riders have won 12 500cc British GPs, one 250cc British GP, three 125cc British GPs and two MX2 British GPs.
Over the past few years, BikesportNZ.com's Andy McGechan has interviewed Jeff Smith, Graham Noyce, Dave Thorpe, Paul Malin, James Dobb and Tommy Searle and each of them, in their own way, were real characters, modest yet forthright, humble yet larger than life.
British GP winners:
Jeff Smith 1957 Hawkstone Park 500 GP
Jeff Smith 1959 Hawkstone Park 500 GP
Dave Curtiss 1961 Hawkstone Park 500 GP
Dave Bickers 1962 Ipswich 500 GP
Jeff Smith 1963 Hawkstone Park 500 GP
Jeff Smith 1965 Hawkstone Park 500 GP
Don Rickman 1966 Farleigh Castle 500 GP
Vic Eastwood 1968 Farleigh Castle 500 GP
Graham Noyce 1979 Farleigh Castle 500 GP
Jeremy Whatley 1984 Newbury 250 GP
Dave Thorpe 1984 Hawkstone Park 500 GP
Dave Thorpe 1988 Hawkstone Park 500 GP
Dave Thorpe 1989 Farleigh Castle 500 GP
Alan Morrison 1990 Farleigh Castle 125 GP
Paul Malin 1995 Foxhills 125 GP
James Dobb 2000 Foxhills 125 GP
Tommy Searle 2007 Donington Park MX2 GP
Tommy Searle 2012 Matterley Basin MX2 GP
© Words by Geoff Meyer
Find BikesportNZ.com on FACEBOOK here
© Photos above by Andy McGechan, www.BikesportNZ.com