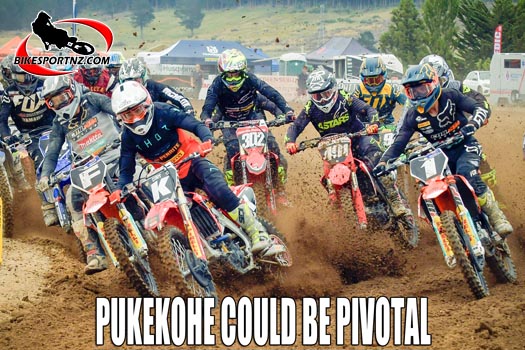 The 2019 New Zealand Motocross Championships are charging along at frightening speed and the penultimate third round near Pukekohe this weekend could be pivotal in the final analysis.
The Australia versus Kiwi element of this year's Fox-sponsored national series gives the competition extra zest and, for the time being at least, the Kiwis are holding their own against the determined invaders from across the Tasman Sea.
The Australians went on the attack at the second round of four near Rotorua last weekend, with Gold Coast rider Kirk Gibbs levelling the score-sheet in the premier MX1 class, defending champion Gibbs now equal top of the standings with Mount Maunganui's Cody Cooper, while Hamilton's Kayne Lamont remains solid in the third spot overall.
It was a similar story in the MX2 (250cc) class, where defending champion Hamish Harwood, from West Auckland, came under intense pressure from visiting Australians Wilson Todd and Kyle Webster at Rotorua, with another Australian, Morgan Fogarty, among the top five also, just behind Kiwi teenager Maximus Purvis, from Mangakino.
The MX2 class battle-within-a-battle for under-19 age group honours is led by Purvis and he is now eight points ahead of Fogarty, with Hamilton's Reef Wheki in third position overall.
If this frenetic fighting keeps up – and it's expected to at MR Motorcycles Raceway, on Geraghty Maber Road at Harrisville, on Sunday – then anything is possible and the title chase in both categories will likely go right down to the wire at the final round at Taupo on March 10.
In the 125cc class battles, dual-class ironman Harwood has been dominant, winning every race in the series thus far. Battling over the runner-up spot are former national 125cc champion Ben Broad, from Ngatea, and Rotorua's Josh Bourke-Palmer.
As an exciting extra feature for this weekend only, the inaugural YZ65 Cup is included in Sunday's senior championship programme.
The YZ65 Cup will provide a money-can't-buy racing experience in front of  what is expected to be another large national championship crowd. All riders must be aged between 7 and 11 years and ride a Yamaha YZ65 bike and there will be at least 26 riders on the start line for this at Harrisville.
The YZ65 Cup riders will be offered a full bLU cRU race experience. Riders will be able to pit under the bLU cRU race tent and will be given assistance by Yamaha factory technicians.
Harrisville's round three of the Fox 2019 New Zealand Motocross Championships is additionally supported by Ebbett Pukekohe. Yamalube is set to support round four at Taupo.
The series is sponsored by FOX Racing NZ, Suzuki NZ, Yamaha NZ, Blue Wing Honda, Aon Insurance, ICG Print and Pirelli.
© Words and photo by Andy McGechan, BikesportNZ
Find BikesportNZ.com on FACEBOOK here