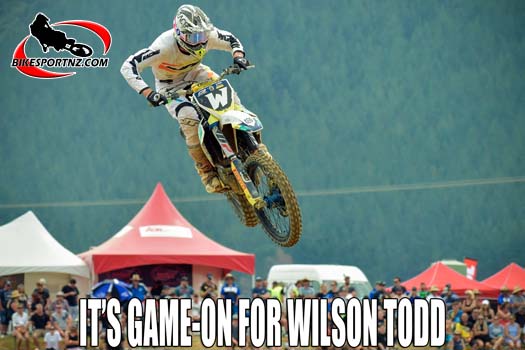 It's game-on for Wilson Todd and his bid to become New Zealand motocross champion this season.
The 20-year-old Australian is in the middle of his first Trans-Tasman campaign and he's starting to show that he could well grab the Kiwi MX2 (250cc) crown to match the one he picked up in Australia last season.
Supported in his Kiwi debut by New Zealand's LMC Husqvarna Team, the Cairns rider marked his first appearance in New Zealand by finishing a close overall runner-up to defending Kiwi MX2 champion Hamish Harwood (CML Makita KTM250F) at the first of four rounds in the New Zealand Motocross Championships near New Plymouth two weeks ago, winning one of the three MX2 races that day.
He was also unfamiliar with the venue for round two of the series near Rotorua on Sunday and battled his way to fourth in the first MX2 race of the day, that race won by fellow Australian Kyle Webster (Honda CRF250), with Harwood runner-up and Mangakino's Maximus Purvis (Altherm JCR Yamaha YZ250F) finishing third.
But then Todd stepped up a gear, winning the next two races at Rotorua and clinching overall honours for the day. It also meant Todd was able to close in on Harwood at the top of the standings and he is now just three point adrift of the Kiwi hero.
Todd has won three of the six races in the class so far, but an eighth in one race in Taranaki and a fourth in the first race in Rotorua means he is still chasing the ultra-consistent Harwood, although three points is obviously not a huge deficit in the big scheme of things, with two rounds (six more races) still to come.
"The first race was a struggle … actually I struggled all day today," said Todd, in direct contrast to how effortless he actually made it look.
"I had a mad wheelie out of the start gate in the first race and had to back it off (to avoid crashing), so I was way back in the pack. By the time I got into fourth, the leaders were long gone.
"I got out front in the second and third race and just stayed there, but I was still struggling. It's good to get these results for the team but it's not great knowing that I should be riding better than this.
"We mainly don't have tracks at home like this. It was loose dirt and there were a lot of square edges. There were no real ruts to use. I'm more of a ruts or sand guy, but there was nothing like that here."
It seems, however, that Todd is a fast learner.
"My first year of doing the Australian nationals was in 2016, when I was 17 or maybe 18, and it was a learning year for me. I did start winning races toward the end of the season.
"In 2017, I led the whole championship, but then I threw it all away in the last race. I came back in 2018 and led the Australian championships from about round three until the end. I want to win it again in Australia and that's why I have come over here to New Zealand … to build up for our nationals.
"We Australians always seem to struggle in New Zealand, but it's good to get some racing under my belt."
Round three of the New Zealand Motocross Championships is this coming Sunday at Harrisville, just outside Pukekohe, with the fourth and final round set for Taupo on March 10.
Todd will race for the DPH Motorsport Husqvarna Team when he returns to Australia, his Aussie MX2 title defence there starting with round one at Appin, in New South Wales, on March 17.
Leading standings after round two:
MX1 class: 1= Kirk Gibbs (Australia) and Cody Cooper (Mt Maunganui), both with 141 points; 3. Kayne Lamont (Hamilton) 120; 4. Brad Groombridge (Taupo) 98; 5. Cohen Chase (Taupo) 96.
MX2 class: 1. Hamish Harwood (Royal Heights) 131 points; 2. Wilson Todd (Australia) 128; 3. Maximus Purvis (Mangakino) 116; 4. Brad Groombridge (Taupo) 97; 6. Morgan Fogarty (Australia) 90.
125cc class: 1. Hamish Harwood (Royal Heights) 150 points; 2. Ben Broad (Ngatea) 122; 3. Joshua Bourke Palmer (Rotorua) 109; 4. Tommy Watts (Wairoa) 105; 5. Clayton Roeske (Nelson) 87.
Under-19: 1. Maximus Purvis (Mangakino) 144 points; 2. Morgan Fogarty (Australia) 136; 3. Reef Wheki (Hamilton) 107.
© Words and photo by Andy McGechan, BikesportNZ
Find BikesportNZ.com on FACEBOOK here