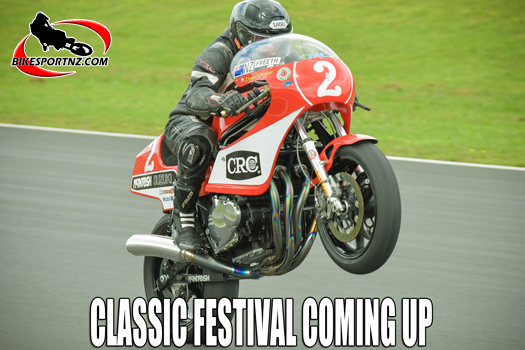 New Zealand's biggest and most famous classic motorcycle racing festival is almost upon us, with bike fans all around the country, and from overseas too, counting down the days to February 2-3.
The New Zealand Classic Motorcycle Racing Register's (NZCMRR) annual Classic Festival will celebrate its 40th anniversary at Pukekohe Park Raceway this year and it promises to be a birthday party to remember.
"Entry numbers are up from last year and we are expecting a simply fantastic weekend," said NZCMRR president Ken McGeady.
"There will be so many former New Zealand greats and international legends in attendance and it will be a great chance for bike racing enthusiasts to mix and mingle with their heroes."
He said that American Fred Merkel, the world's first World Superbike Champion, a title he wrapped up at New Zealand's Manfeild circuit in 1988, would be among the many stars at Pukekohe over the weekend of February 2-3.
Merkel successfully defended his world crown, again at Manfeild, the following year too – beating off the advances of such motorcycling greats as Belgium's Stefan Mertens and Frenchman Raymond Roche – and the former factory rider quickly fell in love with New Zealand, deciding to move here and settle near Taupo.
Others who were among that cache of greats from the late 1980s and early 1990s – riders such as Australian Robbie Phillis and Kiwi legends Gary Goodfellow and Andrew Stroud – would also be at the Classic Festival in just over a weeks' time.
McGeady also revealed that Kiwi former world champion Hugh Anderson, a four-time GP world champion in the 1960s, now aged in his 80s, would also be at the event, along with fellow former internationals Graeme Crosby, Dave Hiscock, Ginger Molloy, Trevor Discombe, Bob Haldane and Robbie Dean.
Originally formed in 1979 for "the preservation and racing of pre-1963 British, European and American motorcycles", the festival now includes all pre-1989 racing machines, including Japanese bikes.
Over the years the races have attracted World Champions such as Geoff Duke, Umberto Masetti, John Surtees, Giacomo Agostini and Kevin Schwantz, all of them riding on some of the world's most rare, valuable and famous racing machines.
This year, 200 riders and 300 bikes are expected from New Zealand and around the world and the organisers, the NZCMRR, will be asking all riders and supporters who have raced at the festival over the last 40 years to help the society create an historic poster and film celebrating 40 years of Classic Racing at Pukekohe by sharing their memories, photos and film.
The festival atmosphere that has become legendary around the world – with seriously fast racing, free pit access, displays of machines never normally seen by the public and it will include a lunchtime display on Sunday of a WWII Spitfire and P40 Kittyhawk.
Tickets are available HERE
© Words and photo by Andy McGechan, BikesportNZ
Find BikesportNZ.com on FACEBOOK here