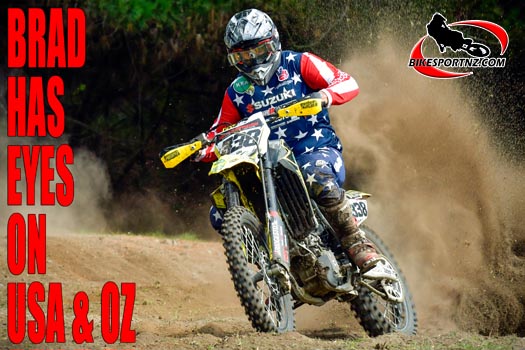 Bay of Plenty's Brad Groombridge is hoping his latest dirt biking success might propel him onto the international stage.
The 27-year-old Taupo locksmith wrapped up the New Zealand Cross-country Championships title near Mosgiel at the weekend, a runner-up finish at this fourth and final round easily enough to see him make it three national cross-country title wins in a row.
And now the Suzuki rider is looking abroad for some "bigger fish to fry". "I'm making plans now to contest the Grand National Cross-country Championships (GNCC) in the United States next year. It's a possibility anyway," said Groombridge.
"I'm hoping to go over and 'dip my toes in the water' at the final three rounds of that series this year, just to see how I'd go against riders of that calibre.
"I might be able to arrange to do a few desert races too, perhaps the famous Finke  desert race in Australia, the race going from Alice Springs to Finke and back again. Plans are in progress for me to do that."
Groombridge has certainly proven himself the man to beat in New Zealand these past couple of seasons.
He took a Suzuki RM-Z450 to finish fifth in the MX1 class at the motocross nationals in 2016 and he rode a Suzuki RM-Z250 to claim overall runner-up in the MX2 (250cc) class in the motocross nationals this season.
Groombridge raced his 250cc Suzuki to win the New Zealand Enduro Championships in his "first serious attempt" in 2016 and won his first national cross-country crown that year as well, then backed that up by defending his cross-country title in 2017.
And now, after the weekend's effort, it's three successive national cross-country titles.
He had arrived at Saturday's venue for the fourth and final round of the 2018 New Zealand Cross Country Championships series as the clear favourite, his 1-1-9 score-card from the earlier three rounds giving him a mathematical advantage over his nearest rival, fellow Taupo man Nathan Tesselaar (4-3-1).
Results from only three of the series' four rounds would be counted, with riders to discard their one worst result, so theoretically Groombridge was 1-1 after he'd discarded his ninth placing from round three, that uncharacteristic result only because he ran out of fuel that day.
Groombridge finished runner-up on Saturday, behind Queenstown's former national motocross champion Scott Columb, with Tesselaar claiming third spot, and this was easily enough for Groombridge to celebrate overall victory.
"I should have gone toe-to-toe with Scotty (Columb) and we passed each other for the lead a few times, but I let him go in the end. I didn't need to race with him. He wasn't in contention for the title and not a threat to me," said Groombridge.
"It was more important for me to concentrate on winning the championship.
"Now I've matched (Pio Pio's) Paul Wilson and (Palmerston North's) Adam Reeves in winning three national cross-country titles and, if I'm not instead overseas racing in the GNCC, then I'll go for title No.4 next year and hopefully match (Awakino's) Adrian Smith in winning four titles."
In the meantime, Groombridge will switch back to enduro mode to continue his national enduro championships campaign.
After two of two of five rounds in that parallel-and-similar series, Groombridge is running second overall, behind  Helensville's Tom Buxton.
Buxton has indicated he is likely to skip the remaining rounds of the enduro nationals and that means, if Groombridge can maintain his momentum, the Taupo rider could be in line for a second national dirt-biking title this season.
The next round of the enduro nationals is set for Maruia, near Nelson, on May 26.
Meanwhile, it's interesting to note that Saturday's result not only gave Groombridge his third consecutive national cross-country title, but it meant he collected the over-300cc four-stroke class title as well.
Raglan's Brandon Given won the under-300cc four-stroke cross-country title and Napier's Mackenzie Wigg won the over-200cc two-stroke title, while Te Awamutu's Rachael Archer became the first female to win an all-gender class, claiming the under-200cc two-stroke title.
It was a double celebration for the Archer family, with Rachael's father, Kevin, winning the over-45 years' Super Veterans' title.
Stratford's Karl Roberts won the 35-44 years' Veterans' title and Thames rider Natasha Cairns topped the women's grade.
Eltham's Adam Loveridge won junior grade title, finishing the series ahead of Cambridge's Callum Paterson and Napier's Bryn Codd.
© Words and photos by Andy McGechan, www.BikesportNZ.com
Find BikesportNZ.com on FACEBOOK here
Final leading championship rankings:
Seniors:
1. Brad Groombridge (Taupo, Suzuki RM-Z450); 2. Nathan Tesselaar (Taupo, KTM 350 XC-F); 3. Phillip Goodwright (Hamilton, Husqvarna FX350); 4. Josh Hunger (Stratford, Husqvarna FX350); 5. Brandon Given (Raglan, Yamaha, YZ250F); 6. Mackenzie Wiig (Napier, KTM 300 EXC).
Juniors:
1. Adam Loveridge (Eltham, Husqvarna TC125); 2. Callum Paterson (Cambridge, Yamaha YZ125); 3. Bryn Codd (Napier, Yamaha YZ125); 4. Coby Rooks (Raglan, Honda CRF250); 5. Caleb Richardson (Hamilton, KTM 250 SX-F); 6. Michael Henry (Cambridge, KTM 250 XC-F).