GLORY-FILLED SEASON FOR RAMPTON
It became a special season indeed for Opunake's Taylar Rampton when she won the inaugural Women's Cup motocross trophy at the weekend.
The two-round women's competition was being held in conjunction with the first two rounds of this year's New Zealand Motocross Championships and the second round of that was staged on the outskirts of Rotorua on Sunday.
Rampton's trophy win on Sunday added to the 2017 New Zealand senior women's motocross championship title she won in Eltham for the first time in November.
Rampton finished 3-2-1 in her three Women's Cup outings at Rotorua on Sunday and that, coupled with her 1-1-3 results from round one of the Women's Cup in Taranaki three weeks earlier, was enough for her to take the trophy by nine points from an unlucky Letitia Alabaster.
Rotorua's Alabaster had led the deciding final race of the series before succumbing to pressure from Rampton, losing her position at the front and then crashing soon afterwards, taking the pressure off Rampton, who simply cruised to the chequered flag and the top trophy.
Alabaster held on to the No.2 spot overall for the series, while Motueka's Roma Edwards claimed third overall, ahead of Te Kuiti's Sam Kelly.
"It feels great to win this. I was crying inside my helmet on that last lap. I didn't know if I would even make it here to race today because of a few difficult personal circumstances. I'm sad my dad couldn't be here today," said Rampton afterwards.
Meanwhile, in the four-round men's championship, Hamilton's Kayne Lamont, Takaka's Hamish Harwood, and Mangakino's Maximus Purvis maintained their respective class leads at the second of four rounds of this competition on Sunday.
Lamont was not as dominant in the premier MX1 class at Rotorua on Sunday as he had been at round one in Taranaki – he was unbeaten in Taranaki but did not win a single race in Rotorua – however, his 3-2-2 score-card at Rotorua was enough for him to finish the day third overall and hold onto the championship lead.
His advantage has been reduced from 15 points to nine, with Australian visitor Kirk Gibbs still second overall, while defending national champion Cody Cooper, from Mount Maunganui, slipped from second equal (level with Gibbs) to third overall.
Gibbs was top MX1 rider at Rotorua, thanks to a 1-3-1 score-card, while Cooper was second best, finishing 2-1-4 on Sunday.
Former South Islander Harwood, now based in Royal Heights, West Auckland, was again in dynamic form in Rotorua. He was again unbeaten in the MX2 (250cc) class and the "ironman rider" then took a 300cc version of his bike to finish the day sixth overall against the 450cc riders in the MX1 grade as well.
His main focus again this year is on keeping hold of his MX2 crown, the MX1 class assault "just for fun" at this stage in his career.
Harwood finished the day in Rotorua 13 points clear of the equal runners-up, visiting Australian Jay Wilson and Taupo's national cross-country champion Brad Groombridge, in the MX2 class.
With six wins from six starts in the MX2 class, Harwood now has an impressive 28-point advantage over Groombridge, with Wilson a further five points behind, and his title defence perhaps seems a mere formality, although the series is now only at the halfway stage.
In the National 125cc class, Purvis was unbeatable at Rotorua.
Visiting Australian Mason Semmens finished runner-up each time but he is now 12 points behind Purvis with two rounds remaining.
Third best in the 125cc class standings after round two on Sunday is Rotorua's Joshua Bourke-Palmer, 38 points behind Semmens.
The series will continue with rounds in Hawke's Bay on March 11 and then Taupo on March 24.
All four rounds of the 2018 New Zealand Motocross Championship are to be live streamed on www.mnz.co.nz and the NZMX Nationals Facebook page, thanks to the generosity of sponsors Workshop Graphics, Pirelli, Eni, Image Centre Group, KTM, Husqvarna, Fox Racing, Kawasaki New Zealand, Yamaha New Zealand, Honda New Zealand and Crombie Lockwood.
© Words and photo by Andy McGechan, www.BikesportNZ.com
Find BikesportNZ.com on FACEBOOK here
Full results can be found HERE
Full story and more photos in your next issue of KIWI RIDER magazine.
Check back here on www.BikesportNZ.com during this week as we bring you more words and photos from the weekend.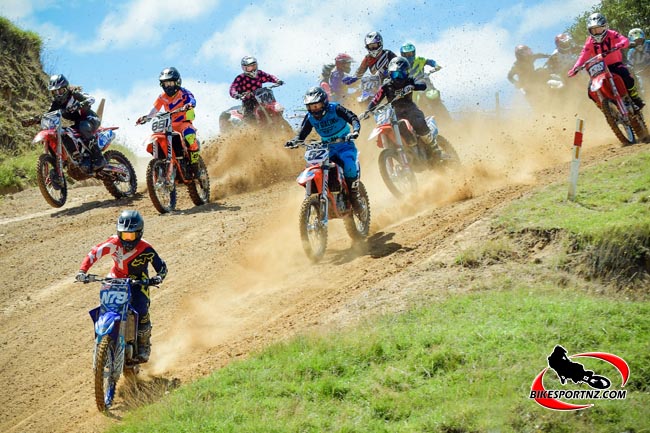 RESULTS
Leading standings after round two of the 2018 New Zealand Motocross Championships:
MX1 CLASS:
1 Kayne Lamont (Hamilton, Yamaha) 139 Points
2 Kirk Gibbs (Australia, KTM) 130 Points
3 Cody Cooper (Mount Maunganui, Honda) 125 Points
4 Rhys Carter (Mount Maunganui, Kawasaki) 105 Points
5 John Phillips (Rotorua, Honda) 99 Points
6 Hamish Harwood (Auckland, KTM) 85 Points
7 Brad Groombridge (Taupo, Suzuki) 80 Points
8 Jared Guthrie (Nelson, Yamaha) 75 Points
9 Cohen Chase (Taupo, KTM) 74 Points
10 Hadleigh Knight (Reporoa, KTM) 64 Points
MX2 CLASS:
1 Hamish Harwood (Auckland, KTM) 150 Points (maximum)
2 Brad Groombridge (Taupo, Suzuki) 122 Points
3 Jay Wilson (Australia, Yamaha) 117 Points
4 Hayden Smith (Taihape, KTM) 95 Points
5 Micah McGoldrick (Tauranga, Honda) 93 Points
6 Daryl Hurley (Hawera, Suzuki) 87 Points
7 Logan Blackburn (Te Puke, Kawasaki) 81 Points
8 Trent Collins (Ohaupo, Honda) 81 Points
9 Mason Wilkie (Masterton, Yamaha) 65 Points
10 Kieran Scheele (Hikurangi, Husqvarna) 64 Points
NATIONAL 125cc CLASS:
1 Maximus Purvis (Mangakino, Yamaha) 147 Points
2 Mason Semmens (Australia, KTM) 135 Points
3 Joshua Bourke-Palmer (Rotorua, Yamaha) 97 Points
4 Tommy Watts (Wairoa, Husqvarna) 88 Points
5 Grason Veitch (Dunedin, KTM) 88 Points
6 Jacob Beal (Napier, Yamaha) 86 Points
7 Seton Head (Cambridge, KTM) 85 Points
8 Carlin Hedley (Otorohanga, Yamaha) 61 Points
9 Liam Kerr (Nelson, Yamaha) 56 Points
10 James Rountree (Whanganui, Yamaha) 52 Points
FINAL WOMEN'S CUP STANDINGS:
1 Taylar Rampton (Opunake, Suzuki) 137 Points
2 Letitia Alabaster (Rotorua, KTM) 128 Points
3 Roma Edwards (Motueka, Yamaha) 123 Points
4 Samantha Kelly (Te Kuiti, Yamaha) 95 Points
5 Mel Patterson (Rotorua, KTM) 90 Points
6 Chloe Steel (Te Awamutu, Honda) 84 Points
7 Robyn Turnbull (Mangawhai, Yamaha) 80 Points
8 Nicolette Epps (Taupo, KTM) 76 Points
9 Christina Cameron (Tauranga, KTM) 71 Points
10 Rachael Archer (Te Awamutu, Husqvarna) 62 Points.