Bay of Plenty motorcycling ace Brad Groombridge is primed and ready for the start of another gruelling cross-country endurance season, starting with the big annual Acerbis Four-Hour race near Taupo tomorrow (October 28).
The Suzuki man from Taupo is automatically the favourite to win this popular stand-alone event – he is a record four-time outright winner of the marathon dirt bike race, he again rode solo to win it as an ironman last season and, besides all of that, he is the current New Zealand cross-country champion.
Groombridge is no stranger to riding this event solo – the gruelling marathon was won outright by Groombridge in 2013 and 2014, on both those occasions competing as an ironman and both times riding a powerful 450cc four-stroke Suzuki RM-Z450.
He had created history with his 2013 victory, becoming the first man to win it as an ironman, and he had also previously won the race outright in 2010, when part of a two-rider team, sharing the riding duties that day with Hawera's former national motocross champion Daryl Hurley.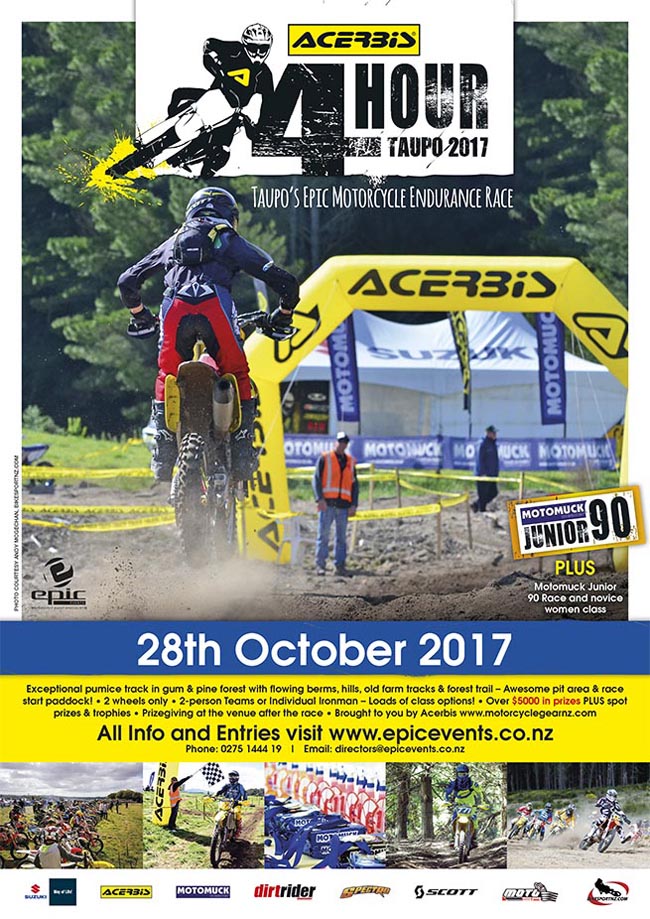 And so, as a many-time frontrunner and multi-time winner, Groombridge is naturally heavily favoured to win outright again at this year's edition.
With support again from Suzuki New Zealand, the popular annual race, now in its ninth year, promises to be another classic.
And it's not hard to see why – run by Taupo company Epic Events, the event has been growing in popularity each year and an estimated 400 riders have signed up this time around to tackle the gruelling dirt bike marathon, the venue again at Puketapu Road, past Kinloch and off Whangamata Rd, about 25 minutes' drive west of Taupo.
A wide cross-section of riders from various motorcycling codes will come together to race through the trees and over the pumice and sand of the Central Plateau, forming up as two-rider teams or simply choosing to go it alone as an ironman contestant, making this one of New Zealand's premier off-road bike events.
The trick for riders is determining whether they should share riding duties with a similarly-skilled exponent, and therefore make it a series of short sprints, with recovery time in between each lap, or deciding whether he or she has the strength and stamina to ride solo and charge across increasingly rough terrain for four hours without a break.
The bikes are built to last and the only real reason to stop is to refuel every 30-kilometre lap, or maybe every two or three, but there's also a lot to be said for a rider who perhaps uses an after-market, jumbo-size fuel tank to bypass the pits and stretch out an advantage.
Two-rider teams are permitted to use two separate bikes, a wrist-band change-over in the pits a way of "passing the baton", which means riders can avoid racing on unfamiliar bikes or having to compromise with personal suspension or comfort settings. This also means some very high speeds can be achieved.
If an outright win is out of reach, there are still plenty of separate class wins for the riders to chase – solo class, father/son team class, women's class or mixed (male and female) teams' class and there is also a veteran teams' class where the two riders must have a combined age of over 80 years. A special Richie Ebbett Memorial Trophy will also be presented this year to a "deserving rider".
Defending champion Groombridge knows he can again expect some fierce competition for outright honours, with Howick's Liam Draper, Titirangi's Callan May, Tauranga's Peter Broxholme, Cambridge's Ashton Grey and Taikorea's Paul Whibley likely starters and all expected to keep him honest, along with the many top two-rider teams that will have the advantage of having fresh arm and leg muscles every lap or so.
"It's a tough race to ride solo," the 27-year-old Groombridge explained.
"A lot of cross-country races are two hours' duration, but riding four hours solo can be another thing entirely. It's extremely tiring.
"My fitness is good though. I rode a two-day event recently, covering more than 200 kilometres, and that was a good warm-up."
The 90-minute Motomuck Junior 90 race acts as a "curtain-raiser" to Saturday's main race and that starts at 8.30am, attracting a who's who of New Zealand's rising young dirt bike stars.
The four-hour senior race kicks off at 11am.
© Words and photo by Andy McGechan, www.BikesportNZ.com
Find BikesportNZ.com on FACEBOOK here