'SOFTLY SOFTLY' GETS JOB DONE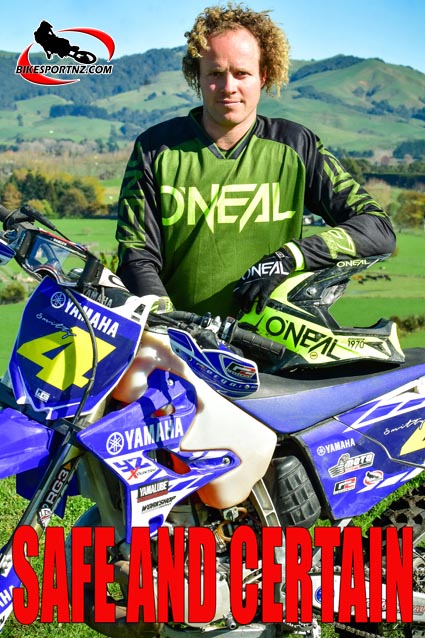 Although it's not how he usually likes to operate, Mokau's Adrian Smith used a "softly softly" approach to his racing at the weekend and he still got the result he wanted.
The record four-time former New Zealand cross-country champion was favourite to win the Central Cross Country Series title this season, his results at the earlier rounds putting him in a strong position ahead of Sunday's fifth and final round in the Wairarapa.
But a foot injury sustained while racing at the final round of the national series just a week earlier left him worried that he might not be able to muster a winning performance.
He need not have worried because, despite riding in pain with his injured left ankle, the 31-year-old Smith battled wet and slippery conditions at Tinui, near Masterton, on Sunday to eventually finish fourth overall.
Although it was Smith's worst result of the series, it was easily enough for him to wrap up the series outright.
He took his Yamaha YZ250X to tuck in behind early leader Paul Whibley (Yamaha YZ450FX) soon after the start of the two-hour race on Sunday, content to shadow his friend and rival with his injury causing some discomfort.
"The sore foot hampered me a bit," Smith explained.
"I didn't want to aggravate it, so I held back a bit and concentrated on just doing enough to get the job done.
"This series entails a lot of travelling for me, but it's good too because it means we are all racing over lots of different terrain in different areas.
"The bulldozed tracks were quite wet today, so I was never going to be riding too aggressively anyway. It was important simply to say upright."
Smith finished behind race winner Whibley, Masterton's Jacob Hyslop (Honda CRF450) and Eketahuna's Daniel Christie (KTM 350XC), the Mokau man crossing the finish line just ahead of another Yamaha rider, Masterton's Allan Gannon.
This was enough for Smith to win the series by five points over Christie.
"I have two weeks now before my next big events, rounds five and six of the New Zealand Enduro Championships over Queen's Birthday Weekend, and I hope to be fully fit again before then."
Smith is supported by Yamaha-Motor New Zealand, Bike Torque, BikesportNZ.com, MotoSR, Michelin, Workshop Graphics and O'Neal.
© Words and photo by Andy McGechan, www.BikesportNZ.com
Find BikesportNZ.com on FACEBOOK here