SCOTT TAKING THE BIG STEP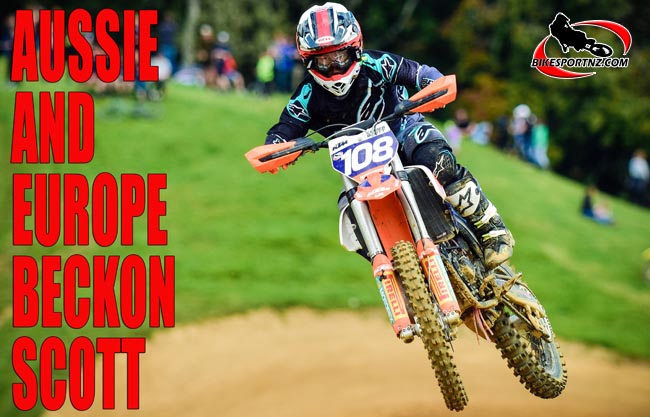 It's a tough sporting world when everyone expects you'll be at your peak before you're aged 25, and most likely be retired by 35, but that's the harsh reality for motocross world championship hopefuls.
So it should probably come as no surprise that 15-year-old Kiwi James Scott and his family are prepared to take the big step and tackle the elite of Australia and then Europe in the coming months.
The KTM rider from Oparau, near Kawhia, will take his schoolwork with him as he packs his bags and heads out on his mission to build a career at the pinnacle of the sport he loves.
It's a young man's sport, but most observers will agree that Scott has the potential to reach the top, to follow in the wheels tracks of such notable fellow New Zealanders as Shayne and Darryll King, Motueka's Josh Coppins, Tauranga's Ben Townley and Otago's Courtney Duncan, to name just a few high-profile Kiwi internationals.
Taranaki's King brothers raced the motocross world championships through the 1990s, Shayne winning the world 500cc crown in 1996 and Darryll twice finishing world championship runner-up (in 1997 and 1998); Townley won the MX2 (250cc) world title in 2004 and Coppins was world championship runner-up on two occasions, in 2002 (250cc class) and 2005 (MX1).
Duncan is currently in Europe, where she leads the 2017 Women's Motocross World Championships after the second of six rounds.
Scott and his parents see no reason why he can't add to that proud Kiwi heritage and, after his impressive recent performances in New Zealand, there are many who would tend to agree.
Scott finished overall runner-up in the 15-16 years' 125cc class at the New Zealand Junior Motocross Championships in Taranaki last month and, over the past few weeks, he has tackled several events in the similar cross-country racing code, "just to help build fitness and stamina".
Scott took his KTM 125SX motocross bike to win the 90-minute junior class race at the fourth and final round of the New Zealand Cross-country Championships near Cambridge just over a week ago and then, the following day, he backed that up by racing against the seniors, most of them on 250cc, 300cc and 450cc bikes, at the opening rounds of the combined Dirt Guide/NZXC Series near Tokoroa.
He finished a remarkable 12th overall among the more than 100 senior riders in that two-hour race.
Scott heads to Australia to race at the final round of the Australian Junior 125cc Cup championships at Murray Bridge, near Adelaide, this weekend (May 28).
"Things are getting ramped up a bit for James now," said his father, Matthew.
"Schooling is still important, but he'll be doing that by correspondence now. There simply aren't enough daylight hours to fit motocross training into a school routine.
"His goal is to win a world title in Europe and we are trying to give him the backing to get that done."
The teenager will return to New Zealand to race at the big annual Michael Godfrey Memorial Motocross in the South Island the following weekend.
In September he'll board a plane again for another trip to Australia, this time to race the Australian Junior Motocross Championships at Horsham, in Victoria.
"That event is at the same venue that will be used for the Junior World Motocross Championships in 2018, so it's important to get some experience there," explained James.
"My aim is to race in Europe next year, entered in the European 125cc Championships (EMX125). If I can attract the attention of one of the major teams, I might be able to step up to the 250cc (EMX25) series the following year.
"After that, well the MX2 (250cc) world championships are the plan by 2021. I'm aiming to be world champion by the time I'm 19. Perhaps a career racing in the United States will come after that.
"If everything goes to plan, then hopefully I'll get there. The future is all mapped out for me. If I do the hard work, it should all come together.
"Failing that, I will maybe become an engineer. I'm not stopping my schooling.
"I have Ben (Townley) helping me out, seeing that I can achieve my goals. We have been working on my technique and on intensity. He's been there and done that, so he's a good man to have in my corner."
© Words and photo by Andy McGechan, www.BikesportNZ.com
Find BikesportNZ.com on FACEBOOK here