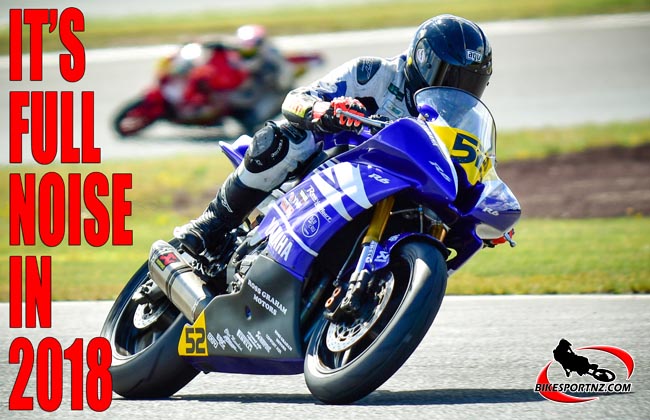 He may have contested only half of the races in this season's recently-completed New Zealand Superbike Championships, but Taranaki man Hayden Fitzgerald can still count his abbreviated campaign as a major success.
The New Plymouth man signed up to race the new 1000cc Yamaha R1 in the superbike class and also a 600cc Yamaha R6 in the 600cc supersport class just a few weeks before the four-round 2017 series kicked off in January.
With only a limited budget – and with that the expense of tyres, travel and accommodation to be calculated – the 32-year-old father-of-one decided he'd use the 2017 series to build up and prepare for a more comprehensive nationals campaign next season, when new rules will be in force to restrict what's allowed in terms of modifications to the bikes.
An initiative by the sport's governing body here, Motorcycling New Zealand, to help reduce competition costs, next season's 'stock' rule should help to boost entry numbers and, at the same time, put all racers on a more level footing on the race track.
And so, with all of this in mind, Fitzgerald lined up to race only the two North Island rounds of the 2017 nationals, at Taupo and Hampton Downs.
The fact that he'd skipped the two South Island rounds, at Ruapuna and Teretonga, meant he could never hope to win a title, but still he came very close indeed, finishing runner-up in the 1000cc superstock class, as well as winning the TT trophy race at the series' final round Hampton Downs in March.
"I knew I'd have a bit of bike testing to do when the bikes first arrived, but I was pretty impressed with the bikes straight out of the packing crate."
Fitzgerald won five of the six superstock races he entered in the latter half of the series, each time beating across the line the man who eventually won the title, Invercargill's Jeremy Holmes.
Without Fitzgerald to threaten him, Honda's Holmes had been virtually unchallenged at the two South Island events.
In the 600cc supersport class, Fitzgerald had a more difficult time of it, but he still ended his diluted campaign with a national ranking of 15th, despite being one of only three riders not to contest the entire series.
"We made some major developments during the series," said Fitzgerald.
"I think we're well on the way to being set up for next season and getting these results in the nationals this year was just a bonus.
"I still was not 100 percent, with the injury I sustained when I got taken out at Manfeild during the pre-nationals Suzuki Series, but I was still fit enough to win my races.
"I needed surgery and I was in some discomfort during the nationals but I guess adrenaline takes over when you're racing," he laughed.
"I'm thrilled to have won the TT title and also broke the 1000cc Superstock lap record at Hampton Downs too, and that's pretty special because with the new format coming next season, so it means my superstock lap record can't be beaten. That class won't exist from next year.
"It was hardest doing the 600cc class because it meant I had back-to-back races, the 600cc races following the superstock races, but I'm still pretty happy with my results on the Yamaha R6 because I was racing a stock bike in that class too.
"I'll do the whole series next year and I'm really looking forward to that."
Fitzgerald is supported by Yamaha-Motor New Zealand, GYTR, Yamalube, Yamaha Motor Finance, bLU cRU, Pirelli, Ross Graham Motors in New Plymouth, Clive Manchini, RST Leathers, AGV Helmets, Nitron Suspension, BikesportNZ.com, Advance Auto Refinishers, Akrapovic Mufflers and Race Supplies.
© Words and photo by Andy McGechan, www.BikesportNZ.com
Find BikesportNZ.com on FACEBOOK here