MACDONALD STILL THE LEADER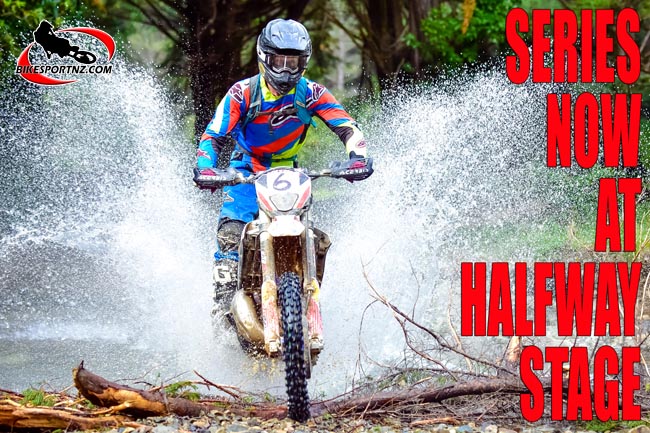 There were changes left, right and centre at the latest round of the New Zealand Enduro Championships at the weekend, but not really where it counted most, on the top of the standings.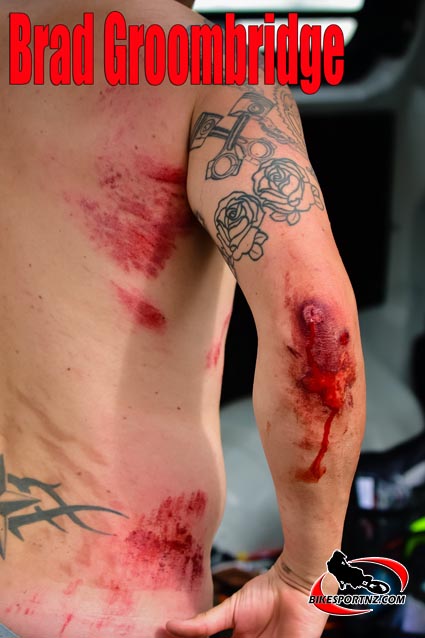 The third round of six in the 2017 series was held at Moonshine, in the Akatarawa Forest, near Porirua, on Saturday and that means the championship chase has now reached the halfway stage, with Christchurch's Angus Macdonald still leading the charge.
The much-anticipated battle for outright glory between Macdonald and main challenger Brad Groombridge, from Taupo, lasted less time than it took to complete one 46-minute section on Saturday when defending national champion Groombridge crashed spectacularly at high speed, forcing him to withdraw from the day.
The 26-year-old Groombridge had finished runner-up to 19-year-old Macdonald at the opening round, south of Nelson in mid February, and he backed that up by finishing third at round two near Whangamata a week later, while Macdonald finished runner-up at Whangamata, giving the South Islander a slender five-point outright lead after two rounds.
However, with Groombridge a non-finisher on Saturday, while Macdonald finished third overall, it means Macdonald's championship lead has ballooned out to 17 points over the new No.2 rider in the series, Mokau's Adrian Smith.
"About three stages into the day I knew that Brad (Groombridge) was out," said Macdonald. "That news lifted a lot of weight off my shoulders, but I was still pushing for the win today.
"I know now that, if I ride sensibly at the remaining rounds, the title should be mine, but anything could still happen."
Macdonald's younger brother, Hamish, won the day at Moonshine, finishing just 34 seconds ahead of Smith, with Angus Macdonald and Cambridge pair Dylan Yearbury and Simon Lansdaal rounding out the top five.
Helensville's Tom Buxton had his worst result of the series thus far, finishing the day eighth overall at Moonshine, but he remains third overall in the series standings.
Titirangi's Callan May suffered engine failure in the final section of the day and, despite his impressive performances earlier in the day, it dropped him to 23rd in the expert grade and from fourth to 10th in the overall championship standings.
One of the big movers on Saturday was Hamish Macdonald. He had been 10th overall in the standings at the start of the day, but his impressive win at the weekend has elevated him up to fifth overall after three of six rounds.
"I truly didn't feel that I was riding that well today," said Hamish.
"It wasn't until the fourth test that I relaxed and got into a rhythm," he said, although the results print-outs reveal that he won all but two of the day's six tests and those winning rides were the first four of the day. Smith won the last two tests on Saturday.
"I think I was a bit scared of the course. There were some pretty steep drops on either side of me in some places today," said the 17-year-old Hamish Macdonald.
"There were rocks everywhere today and I didn't want to crash, especially here, and so I was riding just to keep the bike on two wheels.
"All I can really hope for is to win my (over-200cc two-stroke) class title. The overall title is probably beyond my reach," said Hamish Macdonald, who finished runner-up to Groombridge in the series last year.
Meanwhile, it's a battle of the ages in the fight for intermediate grade honours.
The leading intermediate grade riders after round three are 16-year-old Whitianga rider Blake Wilkins, 54-year-old Ellerslie rider Jeff Van Hout and 53-year-old Helensville man John Buxton.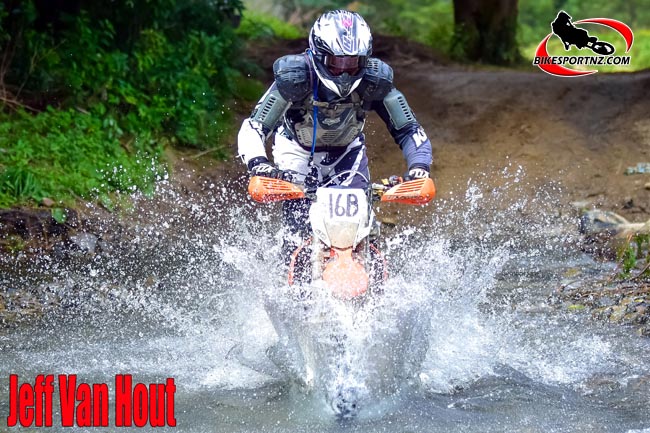 Round four will be held near Christchurch on May 6 and then Waitawhiti Station, east of Eketahuna, hosts round five on June 3. Finally, the enduro nationals wrap up near Tokoroa just two days later, on June 5.
© Words and photos by Andy McGechan, www.BikesportNZ.com
Find BikesportNZ.com on FACEBOOK here
Full story and more photos in your next issue of KIWI RIDER magazine.
Check back here on www.BikesportNZ.com during this week as we bring you more words and pictures from the weekend.