HAYDEN'S BACK ON THE PODIUM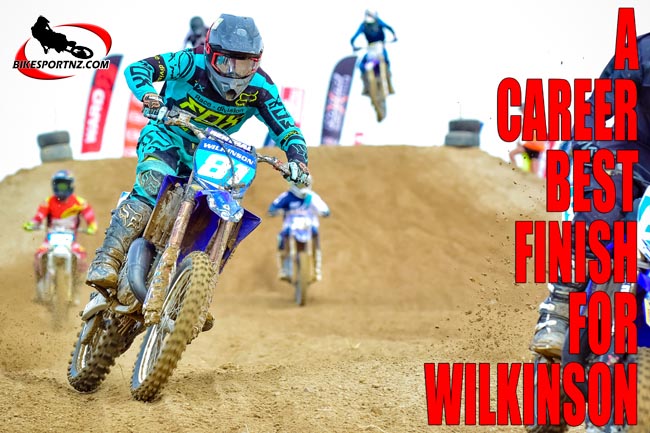 It has been a long time between drinks for South Islander Hayden Wilkinson, but the wait has been well worth it.
The 25-year-old builder from Richmond, near Nelson, surprised everyone, probably even himself, when he landed on the podium at the opening round of the New Zealand Motocross Championships near Timaru in February, but it was somewhat less of a surprise when he was still in the winners' spotlight at the end of the four-round series.
The national competition wrapped up at Taupo on Saturday and, by then, Wilkinson was well familiar with the podium ceremony, and naturally thrilled to finish the series with a career-best national senior ranking of No.3.
"It's been 15 years since I'd finished as high as third at a motocross nationals. I did that as a junior in Mosgiel in 2002 (then racing in the 8-10 years' 85cc class), so it's been quite a wait," he smiled.
"I raced in the MX1 (450cc) class for five years before I sold my bike, but then I saw a second-hand Yamaha YZ125 for sale on Facebook and so I brought it. I'm having fun since I stepped down to the 125cc class and, when you are having fun, you tend to race well.
"I was originally only going to race the bike at the New Zealand Motocross Grand Prix at Woodville (in late January), but, when I finished fifth overall there, I got all keen to do the nationals too.
"The MX1 class was packed with international riders, all backed with big budgets, so racing in the 125cc class was a better option for me.
"Round two at Rotorua was the toughest round for me. I had a huge crash while I was running fifth, thrown over the handlebars. The ruts were so deep there and I was getting stuck in all the ruts."
Although he probably wasn't able to catch the series' the two pace-setters, Taihape's Hayden Smith (CML KTM Racing Team) and Karaka's Kurtis Lilly (HLR Husqvarna Racing Team), as he arrived  at Taupo for the weekend's final round, he was determined to fend off Levin's Dan Bell (AFC Motorcycles KTM) and hold onto the No.3 position.
This he managed to do, finishing 6-5-5 in his three races, while Bell posted a 9-9-7 score-card and had to settle for fourth overall.
"I felt I was showing a good pace this season and managed to stick with Hayden (Smith) for a couple of laps in one race in Timaru," said Wilkinson.
"My bike is a 2015 model, with about 70 hours on the clock and is totally stock, so it was hard to keep up with the factory team riders. My two-year-old Yamaha certainly wasn't the fastest bike on the track," he laughed.
"But the Yamaha is bullet-proof. They go forever.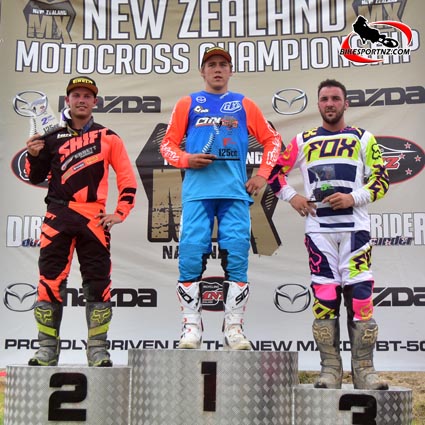 "I don't know if I'll be doing the nationals again next season. I'm getting married in March (to long-time girlfriend Jade Harrington) and I've got to pay for that.
"I might be back in 2019, and back in the MX1 class. There's no age limit, but I think I'm getting too old to keep on racing the young guys in the 125cc class."
Wilkinson lived and raced in England for a couple of seasons, between 2010 and 2012, and believes that experience gave him a slight edge.
"I managed to get top-20 finishes among all the world championship Grand Prix racers and that's not bad going for an amateur from New Zealand."
One of Wilkinson's key sponsors is Cardell's Hair Salon in Nelson, which is co-owned by his girlfriend, Jade.
Hayden's employer, J Lewis Building, is also a sponsor along with two of his "good mates", engine and suspension tuner Adam Lithgow, who owns Moto Tech in Brightwater, and Clinton Manderson who owns Mando's Flooring in Christchurch.
© Words and photos by Andy McGechan, www.BikesportNZ.com
Find BikesportNZ.com on FACEBOOK here