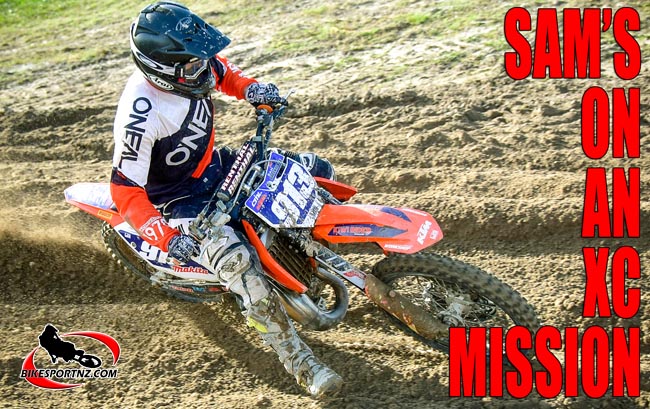 Aucklander Sam Greenslade will be a man on a mission this weekend.
The 26-year-old financial advisor from Coatesville finished runner-up to the defending champion at the opening round of the New Zealand Cross-country Championships near Dannevirke, in Central Hawke's Bay, last month and he's determined to continue applying pressure at round two near Mosgiel this Sunday.
Taupo's Brad Groombridge began his title defence in the best possible manner when he battled through traffic after a poor start at Dannevirke, eventually taking the race lead from Greenslade after just two laps.
But Greenslade refused to back off, chasing hard, and he re-took the lead when Groombridge detoured into the pit zone to refuel his bike.
However, Groombridge was quick to catch back up to Greenslade and he retook the lead, extending that when Greenslade decided that he too needed to pit for fuel.
The order remained the same until the conclusion of the three-hour senior race, Groombridge eventually winning the three-hour race by nearly two minutes from Greenslade, with Taupo's Nathan Tesselaar finishing third.
Titirangi's Callan May and Mokau's four-time former national cross-country champion Adrian Smith rounded out the top five.
"Brad was just too quick for me at Dannevirke," said Greenslade
But Greenslade has been working on his fitness, to ensure he'll be able to sustain a higher pace at Mosgiel on Sunday and really give Groombridge something to think about.
Greenslade raced two separate classes at the fourth and final round of the parallel New Zealand Motocross Championships in Taupo last weekend, his plan being that this would help boost his strength and stamina for the cross-country series.
"I raced over two hours of motocross on Saturday and, although my legs feel a bit sore today, I actually feel generally pretty good. I was a bit surprised I could race back-to-back in two classes of such high intensity motocross.
"Hopefully this boosts my fitness and I'll have a few answers for Groombridge this coming weekend."
Greenslade finished 11th overall out of 40 riders in the MX2 (250cc) class at Taupo on Saturday and finished fourth overall out of 32 riders in the 125cc class as well.
Meanwhile, Te Awamutu's Daniel White won the 90-minute junior race at round one of the cross-country series, with Raglan's Coby Rooks, Cambridge's Seton Head, Hamilton's Caleb Richardson and Cambridge's Callum Paterson completing the top five.
It will possibly be these same riders who again fight for junior honours this weekend too, although Raglan's defending national junior champion Logan Shaw should also be expected to feature near the front on Sunday.
Shaw had initially led the junior race at round one, before crashing to the sidelines. He'll be determined to make amends this weekend.
The series next heads to Marlborough for round three on April 30 and the final round is set for Cambridge on May 13.
Points only for the best three of four rounds are counted, so riders will discard their worst result, ensuring the battle will probably go down to the wire.
© Words and photo by Andy McGechan, www.BikesportNZ.com
Find BikesportNZ.com on FACEBOOK here