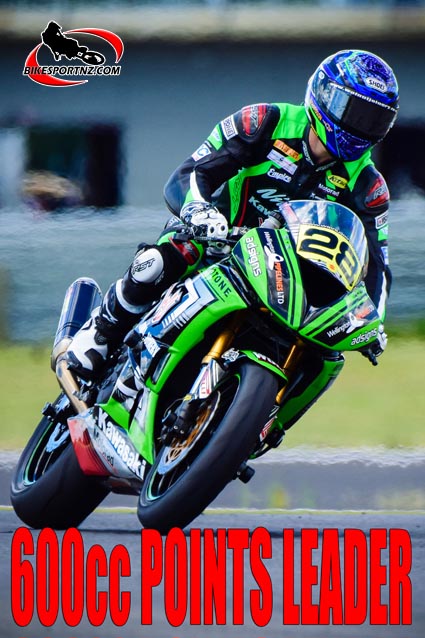 Wellington motorcycle hero Shane Richardson has a solid points lead in the chase for national 600cc Supersport honours, but he's taking nothing for granted as he prepares for the second half of the New Zealand road-racing season.
After the first two of four rounds of the New Zealand Superbike Championships were completed last month – racing at Christchurch and Invercargill now in the record books – the Kawasaki man (pictured here) finds himself comfortably 26.5 points clear at the top of the 600cc supersport class standings.
Hunting down Richardson is Whakatane's Damon Rees (Honda), with Rangiora international Jake Lewis (Triumph) in third, nine points further adrift.
Richardson was brimming with confidence as has packed up his Motorad and Wainui Joinery Kawasaki Ninja ZX-6R bike into his trailer this week, ready to head to head north to Taupo's Bruce McLaren Motorsport Park this weekend (February 25-26) for round three of the nationals.
The last time a Kawasaki rider tasted title success in the 600cc supersport class was when Hamilton's Nick Cole won the crown in 2010 and Richardson is on target to again put the green brand on top of the 600cc category with his build-up to this crucial weekend going well.
Richardson was on fire at the big annual Battle of the Streets event at Paeroa last weekend, until a small glitch meant he was unable to follow up his start-to-finish win in the day's first formula two race with anything memorable in race two.
Te Awamutu's David Hall finished 2-1 to take the Formula Two crown at Paeroa.
"I had clutch troubles and so I had to sit out the second race at Paeroa," explained Richardson, a 21-year-old Wainuiomata joiner.
"But, apart from that hiccup, my build-up to Taupo has been great.
"I'm not safe yet. I have a 26.5-point lead and there are six races to go (three 600cc class races at Taupo this weekend and another three at the final round, a week later, at Hampton Downs), and winning more races is still the best way for me to secure the title.
"I am nowhere near out of the water yet and I can't afford to relax. I'm in the best position I could be in but anything could still happen and we're actually only halfway through the series. One crash and I'm back at square one."
Richardson has won four races thus far – three outright and the first segment of a two-part race – while nearest challenger Rees has won three.
"It's all on for the second half of the season, but I'm ready to go," said Richardson.
"I've had some positive results with testing lately, at both Taupo and Hampton Downs, and that was with using the spare bike and old tyres. I produced some pretty good lap times.
"I matched my personal best lap time at Taupo on the stock bike with old rubber, so I reckon I've become faster over the summer.
"I feel confident and have got some good momentum going for me. I know Damon (Rees) will be hard to beat, but I have faith in myself and my Kawasaki."
© Words and photos by Andy McGechan, www.BikesportNZ.com
Find BikesportNZ.com on FACEBOOK here