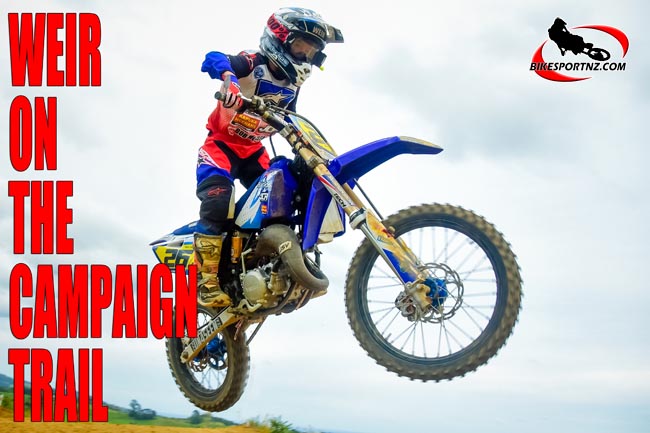 Southlander Mitchell Weir has clocked up thousands of kilometres already this year, but it's all for a good cause.
The 11-year-old Yamaha racer from Tokanui, near Invercargill, travelled up with his father, Andy, to race at the big annual Alpinestars King of the Mountain motocross event in Taranaki at the weekend, the first phase in his bid to again become national champion this season.
It seems that the young man who became 2016 New Zealand 8-11 years' 85cc class champion could be well on track to making that happen, too, because he finished Saturday's junior racing with a hat-trick of wins, easily enough to add another 8-11 years' 85cc class trophy to his collection.
What was more remarkable was that Weir had not even laid eyes on the steep New Plymouth circuit before the weekend and yet he won each of his races by a comfortable margin, beating some of the same competitors that he will face at the junior nationals at the same venue in April.
Perhaps this partly explains why he and his dad made the long journey north … "for us to get a first look at the track I'll be racing on in April".
"I actually got terrible starts today because I'm not used to the concrete starting pad," said Weir. "But I've been doing a lot of training lately with (Timaru motocross rider) Jeremy McKnight and (Motueka's former GP motocross racer) Josh Coppins and I've been getting faster. I needed to work on increasing my corner speed and that's what helped in Taranaki."
Weir finished ahead of New Plymouth's Cameron Bond and Pukekawa's John Anderson on Saturday, with New Plymouth's Jesse Wickham and Cambridge's Jared Hannon rounding out the top five.
Weir has been racing motocross since he was aged four and won the national 7-8 years' 65cc mini motocross title in 2014, before winning the national 8-11 years' title last season.
Weir, a year seven pupil at Tokanui School, reckons he has a good chance of retaining that title in April, although he's taking nothing for granted.
He will race at the New Zealand Motocross Grand Prix at Woodville this coming weekend, also part of his build-up for the nationals in April.
Weir is supported by Yamaha-Motor NZ, Backflips Clothing, Un4Seen Decals, JCR Yamaha Racing, Maxima Oils, Alpinestars, Dr Trim, Suspension Tech, Crown Kiwi Enterprises, Bob McCleary Yamaha, bLUcRU and Kapuka/Heenan Transport.
The various class winners at the weekend were:
Seniors: Mangakino's Kayne Lamont (MX1), Te Puke's Tyler Steiner (MX2), Kakaramea's Ryan Gwynn (senior 125cc), Motueka's Roma Edwards (women's grade), Gisborne's Johnny Edwards (veterans over-35 years), New Plymouth's Mitch Rowe (veterans over-45 years).
Junior King of the Mountain: Riley Campbell (Bulls).
Juniors: Dunedin's Grason Veitch (14-16 years 250cc), Kaiwaka's Leroy Porteous (15-16 years 125cc), Matamata's Brodie Connolly (12-14 years 125cc), New Plymouth's Zak Hetherington (14-16 years 85cc), Australia's Noah Smerdon (12-13 years 85cc), Invercargill's Mitchell Weir (8-11 years 85cc), Hawera's Ajay Jordan (9-11 years 65cc).
© Words and photos by Andy McGechan, www.BikesportNZ.com
Find BikesportNZ.com on FACEBOOK here