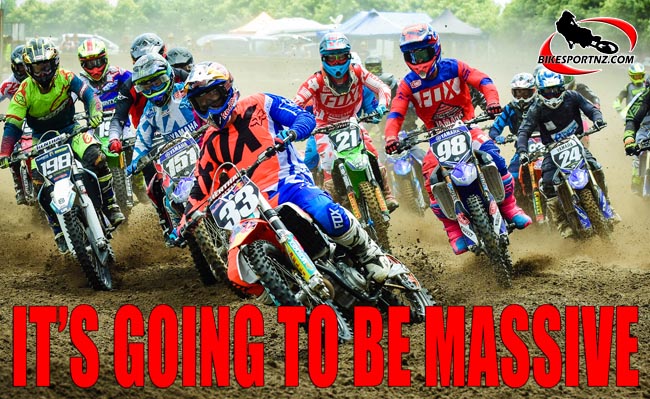 Don't let the numbers fool you.
The engines in the MX2 class may be only 250cc (a quarter of a litre), but don't make the mistake of comparing them to your 1.5 litre family car – these motors pack enough punch to rip your arms straight out of their sockets.
The MX2 category has the potential to steal the thunder at this season's 56th annual Honda New Zealand Motocross Grand Prix at Woodville, set for this coming weekend (January 28-29).
Many fans will no doubt focus on the action unfolding in the MX1 (450cc) class, where Mount Maunganui's national MX1 champion Cody Cooper is chief among those predicted to hog the spotlight as he attempts to fend off the challenges presented by fellow Kiwi internationals Kayne Lamont, of Mangakino, Tauranga's Ben Townley, Taupo's Brad Groombridge, Mount Maunganui's Rhys Carter, Takapuna's Hamish Harwood and Rotorua's John Phillips, to name just a few.
The Kiwi heroes in the MX1 class will also be locked in battle with visiting Australian stars Dean Ferris, Todd Waters, Jed Beaton, Luke Styke, Trae Kuehn and Daniel Banks.
However, it is in the smaller bike categories, the 250cc and 125cc classes, where the biggest boil-overs could occur.
The senior MX2 class at Woodville will again be extremely hot this time around, with the likes of current national MX2 champion Harwood, Hamilton's Josiah Natzke, Otago's Courtney Duncan, Christchurch's Dylan Walsh, Reporoa's Hadleigh Knight, Te Puke's Logan Blackburn, Ngatea's Ben Broad, Cambridge's Trent Collins, Taupo's Cohen Chase, Feilding's Tony Cvitanovich, Rangiora's Micah McGoldrick, Waitakere's Ethan Martens and Tauranga's Josh Tredinnick among the main contenders.
Duncan stunned the boys when she won this class at Woodville last year and she certainly has the ability and the determination to do it again this coming weekend, at what will be one of her last races in New Zealand before she heads overseas to tackle the Women's Motocross World Championships, starting in Indonesia on March 5.
The class is pumped up this year also with the arrival of Australian stars Chandler Burns, Cody Dyce, Morgan Fogarty, Wilson Todd, Mason Semmons and Kaleb Barham, not to mention a handful of other Kiwi juniors who have stepped up the grade in recent months, riders such as Eketahuna's Charlie Richardson, Taupo's Jake Tomblin and Hawera's Nick Hornby.
Mangakino's Maximus Purvis, Taihape's Hayden Smith, Karaka's Kurtis Lilly and Ohaupo's Aaron Baker are some of the stand-outs among the 125cc class entrants.
Racing over the two days at Woodville caters for minis, juniors, women and veterans, with the novelty river race on Sunday always a crowd-pleaser.
© Words and photos by Andy McGechan, www.BikesportNZ.com
Find BikesportNZ.com on FACEBOOK here