It was a weekend of striking contrasts for competitors at a "watered down" version of the annual Alpinestars King of the Mountain Motocross in Taranaki, although a few did shake off the adverse conditions on Sunday and rise to the occasion.
Though only lukewarm, the sun was at least out for the junior racing at Barrett Rd, on the outskirts of New Plymouth, on Saturday. However, the weak sunlight was diluted by heavy and frequent rain squalls during senior racing on Sunday.
The massive dumping of moisture transformed an otherwise perfect track into a treacherous mess, forcing organisers to reduce the senior programme from three races per class to just one. Taranaki Motorcycle Club officials also abandoned any plans to race the senior King of the Mountain feature race from which the event gets its name.
This meant that every senior rider who won a race would also be the champion in their respective class and, with races reduced from 10 laps to just six, it added importance and intensity to each drop of the start gate.
Mangakino's Kayne Lamont took his Altherm JCR Yamaha Racing Team YZ450F into the front from the start of the glamour MX1 race and, although slippery conditions had also pushed lap times out beyond the two-minutes and 30 seconds mark – an increase of more than a minute over the best times achieved on the same track by the juniors just 24 hours earlier – the race was still going to take more than 15 minutes to complete.
This was a tough proposition with the bikes weighed down by mud, hand grips becoming greasy and with goggles fogging up.
When Lamont stalled his bike just a handful of corners into the race, Mount Maunganui's Rhys Carter (Kawasaki KX450F) pounced and took the lead.
It then became processional, until, at about the halfway stage, Carter slid into a bank and was spat off his bike, allowing Lamont to snatch the lead back.
These two riders continued to battle each other and the elements but the gap remained the same to the finish, Lamont getting the win by 20 seconds from Carter, with Raetihi's Richard Horne (Yamaha YZ450F) claiming third, nearly four minutes further back.
"I could see that Rhys had fallen off and knew I had inherited the lead, but I couldn't afford to back off," said the 23-year-old Lamont.
"When my goggles fogged up, I tossed them away, and, with mud in my eyes, I started making mistakes. But I got there in the end," said the former national champion.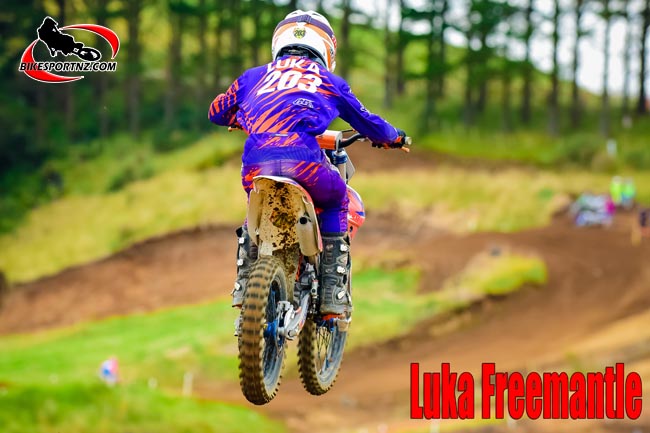 Conditions had improved marginally by the time the MX2 (250cc) class lined up, but it was still something of a lottery.
Te Puke's Tyler Steiner (Kawasaki KX250F) had the lead from the start and he soon opened out a sizeable advantage.
He rode sensibly to hold the lead until the end, with Masterton's Camden Butler (Yamaha) finishing runner-up, a massive one minute and 39 seconds behind, while Inglewood's Leslie Longstaff (Yamaha) completed the podium.
In stark contrast, conditions had been close to perfect for the junior racing on Saturday and a full programme of races was held.
Bulls rider Riley Campbell (KTM 125SX) won the junior King of the Mountain feature race, held in ideal conditions the previous day, crossing the line ahead of Dunedin's Grason Veitch (KTM) and Matamata's Brodie Connolly (KTM).
With Taranaki set to host the New Zealand Junior Motocross Championships at Barrett Rd on April 22-23, Saturday's junior day drew a huge number of entrants as riders were keen to familiarise themselves with the new layout and this explained why riders had come from as far as Invercargill in the south to Auckland in the north and also from Australia.
Alpinestars King of the Mountain MX1 class results:
Kayne Lamont (Yamaha)
Rhys Carter (Kawasaki)
Richard Horne (Yamaha)
Kyle Platt (Suzuki)
Simon Lansdaal (Husqvarna)
DNF Sam Cleland (KTM)
DNF Roydon White (Kawasaki)
DNS Cody Cooper (Honda)
The various class winners at the weekend were:
Seniors: Mangakino's Kayne Lamont (MX1), Te Puke's Tyler Steiner (MX2), Kakaramea's Ryan Gwynn (senior 125cc), Motueka's Roma Edwards (women's grade), Gisborne's Johnny Edwards (veterans over-35 years), New Plymouth's Mitch Rowe (veterans over-45 years).
Junior King of the Mountain: Riley Campbell (Bulls).
Juniors: Dunedin's Grason Veitch (14-16 years 250cc), Kaiwaka's Leroy Porteous (15-16 years 125cc), Matamata's Brodie Connolly (12-14 years 125cc), New Plymouth's Zak Hetherington (14-16 years 85cc), Australia's Noah Smerdon (12-13 years 85cc), Invercargill's Mitchell Weir (8-11 years 85cc), Hawera's Ajay Jordan (9-11 years 65cc).
© Words and photos by Andy McGechan, www.BikesportNZ.com
Find BikesportNZ.com on FACEBOOK here
Full story and more photos in your next issue of KIWI RIDER magazine.
Check back here on www.BikesportNZ.com during this week as we bring you more words and pictures from the weekend.