Today, on the eve of the start of the 2017 New Zealand Superbike Championships, we thought we'd give you a brief "Foto Flashback" of some of our road-racing stars from the recent past.
We have pictured for you a very young Sloan 'Choppa' Frost, our current national superbike champion, when he was racing motocross (show here, left).
And we also have Simon Crafar, Roger Freeth, Dave Hiscock and Robert Holden and Manawatu legend Jason McEwen.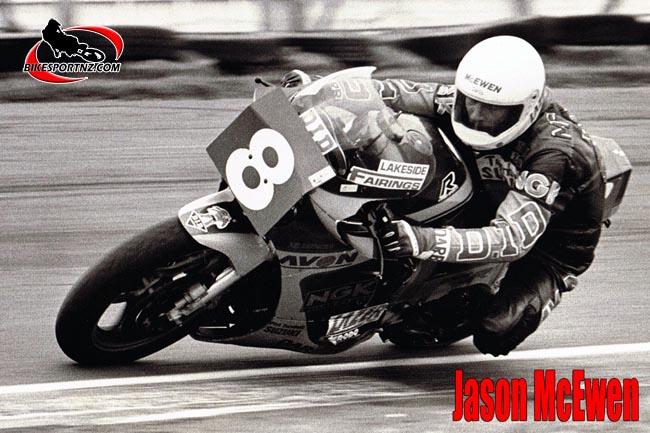 We think the Hiscock/Holden photo particularly interesting because these two men, no longer with us, were incredible legends of New Zealand road-racing and to capture them together was a real treat.
The Hiscock brothers, Dave and Neville Hiscock, raced against each other or worked together as a team over the year, with the pair sharing a team win in the New Zealand Castrol Six Hour Race in 1982 on a Suzuki GSX1100 Katana.
In all, Dave Hiscock won the New Zealand Castrol Six Hour race five times in 1978, 1979, 1980, 1982 and 1985.
He also achieved placings in the Australian Castrol Six Hour Race five times. In 1977 he was second in the 750 class on a GS750, finishing fifth overall with fellow Kiwi Peter Fleming.
Dave Hiscock also competed in the Isle of Man TT Classic gaining several place holdings, and also the British and World F1 TT Championships, finishing third in both the Isle of Man TT formula 1 and World Road Race Championship in 1982, and finishing 2nd in the British Street Bike Series in 1981.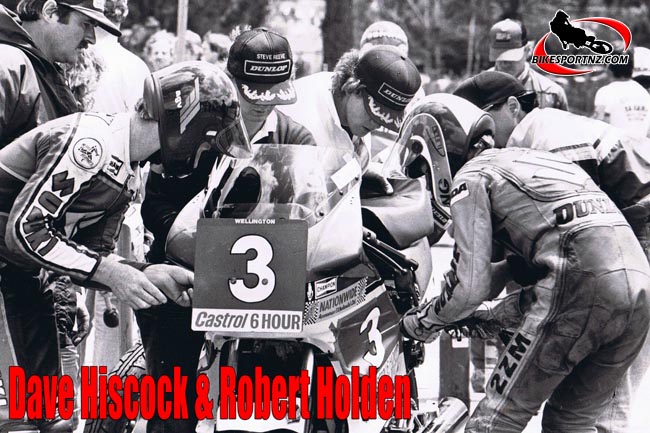 Sadly, Neville Hiscock was killed in February 1983 while racing at Killarney near Cape Town in South Africa. Dave Hiscock retired from competitive racing shortly afterwards, and lived in South Africa for a number of years. He now lives in Australia.
On Boxing Day 2009, Dave Hiscock returned to New Zealand and rode a demonstration lap around the Whanganui Cemetery Circuit on one of his old bikes.
Holden was also an icon of the sport.
In 1994, Holden placed second in the Isle of Man TT, then returned to the 1995 Isle of Man TT to win the singles title. Holden also won in Ireland's North West 200 Supermono class in 1995. Holden died the following year in practice at the Isle of Man TT, while riding a Ducati 916.
Holden would ride up to four different machines at this event, stepping off his Superbike and onto a 250 Production machine, then straight onto a 600 sports production bike, followed by 15 laps and his Rotax 250 GP bike.
It seemed at the time that Holden's only rest was when the sidecar races were being run.
He was helped early on in his career by Steve Dundon from the Wellington Motorcycle Centre. The combination of Dundon's experience and technical skills and Holden's hard riding led to many NZ titles.
One of Holden's more famous exploits was known as "The Holden Sign" incident. This happened at the Manfeild Autocourse in Feilding. While leading the Open Production Race on his 1135 GSX Suzuki, he crashed at 200 km/h, the bike slid and cart-wheeled through a large sign advertising "Holden" cars. The whole incident was televised and was shown on the television news that night. Holden was unhurt and walked back to the pits to the applause of the crowd.
Later on in his career, Holden teamed up with retired Ducati racer turned team manager Dallas Rankine. The BMS team supplied Holden with eight-valve Ducati 916 motorcycles and a Ducati Supermono. Some of New Zealand's best racing was seen during the early nineties between Holden on the Ducati and multi-time New Zealand superbike champion Andrew Stroud on the famous Britten V1000.
Holden's death at the Isle of Man in 1996 was a devastating loss for New Zealand racing.
The Robert Holden Memorial feature race at the famous Cemetery Circuit meeting in Whanganui each Boxing Day is named in his honour.
© Photos by Andy McGechan, www.BikesportNZ.com
Find BikesportNZ.com on FACEBOOK here