As if enduro racing wasn't already hard enough, a bunch of masochistic Kiwis have come along to make it tougher still.
Some of the best enduro motorcycle exponents in the country will flood into the Canterbury region this weekend to tackle the infamous Nutbuster hard enduro and, in the true tradition of such events, it's really a last-man-standing style of competition, with dozens of riders unlikely to survive until the end.
It kicks off with a "prologue" event on Friday (November 11), an enduro-cross race that will be one of the highlights of the Christchurch A&P Show in city this weekend, the largest A&P show in New Zealand, and this will determine the starting order for the enduro proper that will be staged on property inland from Christchurch and north of Darfield the following day.
Friday's prologue, in particular, will provide an excellent showcase for the sport, the action happening in front of a crowd that could be in their thousands, with 100,000 people flocking to this show each year. Local suppliers have generously donated farm machinery and jump obstacles to construct the spectacular prologue course.
Saturday's hard enduro venue is off Trigg Road, Oxford, and it will be signposted from Waimakariri Gorge Bridge and Oxford.
Sponsored by Bairds Collision Centre and Un4seen Decals, both the prologue and the enduro itself will challenge even the hardiest of souls, although the dangers faced and rigours endured have been made slightly more appealing by the offer of more than $5500 in spot prizes.
The event has attracted plenty of national and international talent over the years and the entry list this year also reads like a who's who of the sport, although riders can nominate themselves as either gold, silver or bronze level entrants, with slightly different courses provided to suit the various rider abilities.
The organisers have advised that "the Nutbuster is an extreme enduro, designed to pit man and machine against the elements and, by its nature, will not be easy. However we have designed the course to be cruel but fair".
Rider have been instructed that they must choose the correct class for their skill level and fitness and even the silver and bronze sections won't be easy.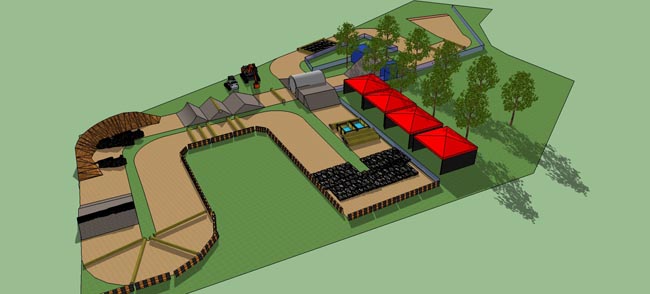 The gold sections will "not be impossible, but definitely difficult". There will be long hill climbs and extreme down-hills.
In the silver grade, a good level of bike riding skill and a high level of fitness is still required. Confidence with log-crossing and hill-climbs will be essential and "some pushing may be required, so riders should keep onside with other riders, so they can help one another" when the going gets tough.
The bronze riders have it slightly easier, but not by much.
They have been told it will be like a trail ride for them, but "with some slightly harder   sections". A keen attitude is required, along with a well-prepared bike, good tyres and tool kit and, once again, they have been recommended to work with other riders to help one another around the course.
The Nutbuster with require more than five hours of riding, with riders traversing rocky alpine terrain that sends them through beech forest, over tussock, up and down waterfalls and shingle screes, with other features that are described as "slow speed but more technical".
Even some of the various features on the course have names that hint at just how tricky it might be – Parachute Drop, Hydraslide, Snake Gully, Mitchell's Crack, Big Balls, Four-Hour Hell Creek, Rolly Polly Hill and Jurassic Park.
Last year's Nutbuster winner was Christchurch's Hamish Macdonald, who managed to edge out Kiwi international and multi-time national enduro champion Chris Birch, of Auckland, in the process.
Macdonald (Sherco SE-R 300i) had led the New Zealand Enduro Championships earlier this year – and was unlucky to eventually finish fifth overall after suffering mechanical problems – and he also finished third overall in the WaimiHard Enduro in the King Country in January, making him one of the country's premier enduro riders and a clear favourite to win this weekend.
Macdonald's brother Angus Macdonald (Sherco SE-FR 300), also a top-ranked national enduro rider who won the expert over-300cc four-stroke class title at the 2016 enduro nationals, Raglan's rising young star Dylan Yearbury and Napier's seven-time former national moto trials champion Warren Laugesen are just a few of those riders expected to keep Hamish Macdonald on his toes this weekend.
Other gold level riders to watch for include New Plymouth's Tony Parker, Christchurch's Jacques Bakkenes, Napier's McKenzie Wiig and Taupo's Brendon Imlig.
The 23-year-old Imlig took his KTM 250XCF and raced solo at the annual Acerbis Four-Hour cross-country marathon near Taupo recently, finishing 27th overall and winning the ironman small bore class, so the Nutbuster event should suit him down to the ground.
The Macdonald brothers, Wiig, Laugesen and Bakkenes each have international experience, having raced at the Red Bull Romaniacs hard enduro in Romania's Carpathian Mountains earlier this year, and that should give them an edge over their rivals, which this year also includes four riders from Australia.
© Words and photos by Andy McGechan, www.BikesportNZ.com
Find BikesportNZ.com on FACEBOOK here