FONTANESI GOES BLUE AGAIN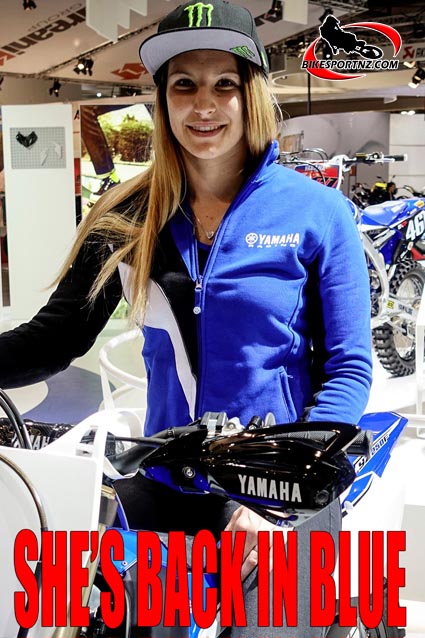 Four times FIM Women's Motocross World Champion Kiara Fontanesi will return to Yamaha for the 2017 Grand Prix season and reunite with the YZ250F; the motorcycle she used to rule the WMX class from 2012-2015.
Running her own 'Fonta MX Racing' team the 22-year-old Italian officially presented her 2017 squad last week and is once more in Yamaha blue with the rekindling of an long-term association.
She will be one of the main rivals for New Zealand Yamaha rider Courtney Duncan, who will return to Europe to contest the 2017 FIM Women's Motocross World Championships.
Although French Kawasaki rider Livia Lancelot won the title this season, she will have her work cut out fending off attacks from Fontanesi and Duncan, the Kiwi rider actually the competitor with the most race wins this season.
Duncan was cruelly robbed of the title on her debut in the women's championships this year.
The 20-year-old from Otago stamped her authority and won five of the 14 races of the 2016 world series, more than any other individual this year.
And this was even after she had been able to start only nine of the races because of an injury, one that she was not in any way responsible for.
Duncan crashed on a jump while leading at the German GP in May, the third round of the series, after clipping an errant photographer who was standing out on the track. The wrist injury she suffered forced her out of the following five races as she underwent surgery and then took more time off to recover.
It will be interesting to see Duncan return fit and well to take on Lancelot and new Yamaha signing Fontanesi when the WMX kicks off in Indonesia on March 5.
As for Fontanesi, she's also raring to go.
"I am very happy we managed to find a good agreement and get back together with Yamaha," Fontanesi said.
"We started talking quite early last year and Yamaha were positive about starting together again; I was pleased about that because it is a place where I feel better about my racing."
Fontanesi dominated the championship in 2012 and 2013 and was then part of thrilling last round-last race deciders for the 2014 and 2015 campaigns in which she showed her nerve and determination to stretch her streak to four crowns. She went without victory in 2016 as she dealt with an ankle injury and also new threats to her hegemony from Kiwi rider Duncan and Holland's Nancy Van Der Ven; both also Yamaha mounted.
"If the same girls stay with Yamaha next year then it puts us all on the same level," said Kiara. "I believe I can fight again for the championship and riding the YZ250F against competition like that gives me a lot of motivation. In the end it doesn't matter who I am on the track with, I still want to show I can be the best."
'Fonta' will steer the 2017 YZ250F armed with a GYTR engine kit and has already started riding and testing with the bike. 2017 FIM WMX will again run concurrently with MXGP and consist of six rounds at Grands Prix of Indonesia, Italy, France, Czech Republic, Switzerland and Assen.
"To have Kiara back with Yamaha is fantastic news for all of us at Yamaha Motor Europe," said YME's MX Racing team manager Erik Eggens.
"We obviously want to keep all of our top talent on YZ machinery and it was strange to see the '8' in a different colour last year after all Kiara and Yamaha achieved together. This is a positive step for all concerned. I know Kiara feels at home on the YZ250F and it means we'll have an amazing line-up going for 2017 WMX with Courtney Duncan and Nancy Van Der Ven also with us. It should make for some exciting racing and we can look ahead to a promising WMX season."
Photo courtesy Yamaha Europe
Find BikesportNZ.com on FACEBOOK here