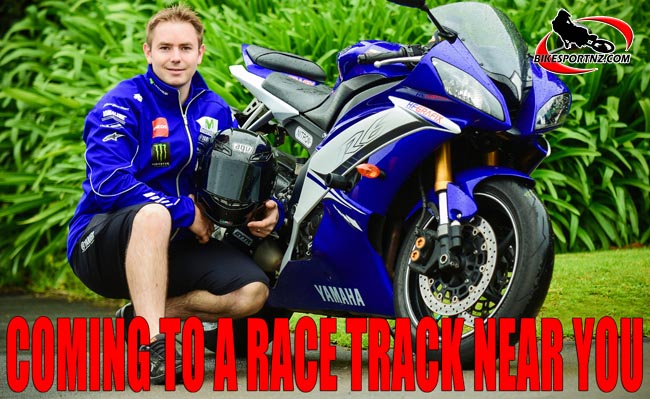 Taranaki's Hayden Fitzgerald is making a sporting comeback and that should sound a few alarm bells for his rivals.
The 32-year-old New Plymouth joiner is looking to pick up where he left off two years ago and again feature among New Zealand's leading superbike racers when he hits the tracks starting December 4.
Fitzgerald has been notable by his absence from the national superbike race scene over the past couple of seasons, but he'll rectify that in the coming weeks, revitalised and refreshed and now decked out in Yamaha blue.
"There has simply been so much family stuff happening in my life that racing wasn't really an option for me," he explained.
Fitzgerald's father, Terry, also a former top national-level motorcycle racer, passed away in March last year after a short battle with cancer.
"Although I know dad would have wanted me to keep racing, I just couldn't at that time."
Add to that Hayden Fitzgerald's wedding to girlfriend Lisa and the arrival of their son, Liam, who turns one next month, and you can understand that racing motorbikes was the thing furthest from his mind.
"It was good to take a step away from the sport and then come back now, fresh and reinvigorated," he said.
And you could call it a "comeback plus", because he'll tackle two classes this season, racing in the formula one/superbike class on a Yamaha R1 and in the formula two/600 supersport class on a Yamaha R6.
"I've done a few club meetings, just to gel with the new bikes and I don't think it will take me long to get back up to speed.
"My fitness is improving all the time too. I've lost about six kilograms in the past two months, slimming down and strengthening up. I'm improving all the time.
He will race the two bikes in the popular annual three-round Suzuki Series that kicks off at Bruce McLaren Motorsport Park near Taupo on December 4.
Riders then head to Manfeild for round two on December 11, before the series' traditional Boxing Day finale on Whanganui's public streets, the world-famous Cemetery Circuit meeting.
Fitzgerald will also race at the Battle of the Streets race meeting at Paeroa on February 19.
"I'm looking forward to getting out on the track and renewing old rivalries … and perhaps starting some new ones," he laughed.
"I've got a bit of bike testing to do, but I'm already pretty impressed with the bikes straight out of the packing crate."
Fitzgerald is supported by Yamaha-Motor New Zealand, GYTR, Yamalube, Yamaha Motor Finance, bLU cRU, Pirelli, Ross Graham Motors in New Plymouth, Clive Manchini, RST Leathers, AGV Helmets, Nitron Suspension, BikesportNZ.com, Advance Auto Refinishers, Akrapovic Mufflers and Race Supplies.
© Words and photo by Andy McGechan, www.BikesportNZ.com
Find BikesportNZ.com on FACEBOOK here