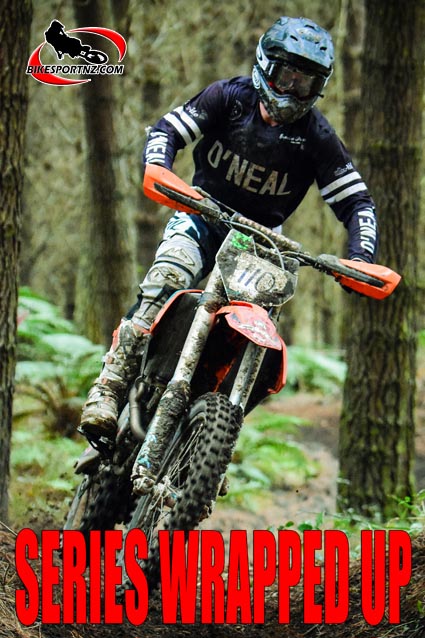 Auckland's Sam Greenslade has made winning something of a habit since he first collected his new KTM XC-F 250 motorcycle a couple of weeks ago.
Firstly he teamed with Howick's Liam Draper to win round four of the Woodhill Forest Two-man cross-country series just over a week ago and now he's raced the bike solo to clinch the Dirt Guide Cross-country Series overall at the third and final round near Tokoroa on Sunday.
The 25-year-old financial advisor from Coatesville had been locked in a see-saw battle with Titirangi's Callan May (Yamaha) through the earlier rounds of the Dirt Guide Series and this meant the all-important finale would go down to the wire.
"It was a real mud race with a heap of rain before the event (on Sunday)," said Greenslade.
"I got off to a good start on the new XC-F, but, around the halfway mark, it got pretty tight between myself and Callan (May).
"It was like he would catch me as I made a mistake and then he would make a mistake and a small gap would remain. In the end I just managed to hold on to finish second on the day, which was good enough to win the series.
Greenslade finished about three minutes behind eventual race winner Draper (Husqvarna), but, significantly, he finished 33 seconds clear of key rival May and that was enough to earn the trophy.
This is the second time Greenslade has won the Dirt Guide Series, having clinched the expert grade title also in 2014.
The next event for Greenslade to tackle is round four of the parallel NZXC series, which is combined with the first of four rounds of the New Zealand GNCC, at Matata, between Te Puke and Whakatane, on October 15.
© Words and photo by Andy McGechan, www.BikesportNZ.com
Find BikesportNZ.com on FACEBOOK here