TWO MISTAKES PROVE COSTLY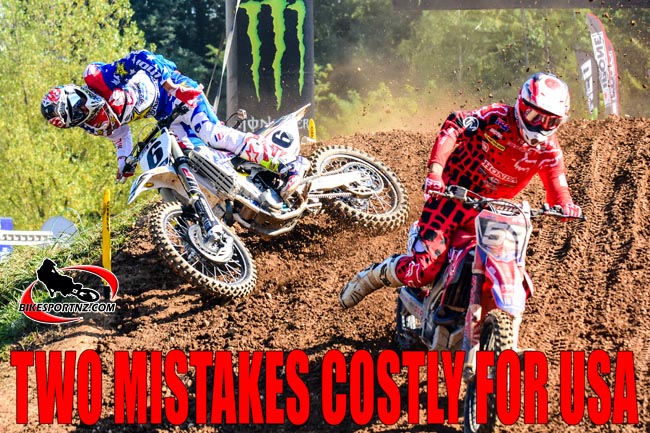 Two rookie mistakes made by professionals was what killed off Team USA's chances of winning the weekend's Motocross of Nations in Italy.
American Husqvarna rider Jason Anderson won the Open Class/MX2 race, finishing six seconds ahead of Dutch KTM hero Jeffery Herlings.
But, instead of sailing over the finish line jump – as he had for every one of his previous laps – Anderson slowed to instead roll slowly over the line and Japan's MX2 rider, Chihiro Notsuka, jumped high – just as he had done for every one of his previous laps – and landed on Anderson's upper body in a bone-jarring collision.
Some would argue that Notsuka should not have jumped, although it has always been advised that riders should race to the very end and also not switch lines or significantly change their actions while being lapped.
It could also be argued that Anderson should have jumped, then landed and ridden off the track safely, to enjoy the acclaim of his fans and team supporters.
Once committed to the jump, Notsuka had nowhere to go.
Fortunately the injury to Anderson was not as serious as it might have been, although it did mean he was unfit to line up for the third and deciding race of the weekend, greatly handicapping his team.
Then, in the final race of the weekend, the MXGP and Open class riders on the track together, US Yamaha rider Cooper Webb was well-placed in fifth with just two laps remaining and Team USA was in prime position to win the MXoN, even without Anderson racing in that final foray.
But, in his determination to move ahead, he attempted a pass on Britain's Tommy Searle on a steep hillside switch-back corner, lost traction and tumbled from his bike. He recovered himself to finish the race in 10th but it wasn't enough and Team USA had to settle for third overall, albeit just four points behind eventual outright winners Team France.
With Webb dropping from fifth to 10th, it cost Team USA five points, absolutely crucial in the big scheme of things.
© Words and photos by Andy McGechan www.BikesportNZ.com
Find BikesportNZ.com on FACEBOOK here