KIWIS REMAIN AMONG THE ELITE
A mix of youth and experience earned Team New Zealand  a top-20 result at the weekend's 70th annual Motocross of Nations in Italy.
Veteran Motocross of Nations (MXoN) team rider Cody Cooper led by example at the big annual event, often referred to as the Olympic Games of Motocross, at Maggiora, north-west of Milan, on Sunday.
The Mount Maunganui man took his Honda CRF450 to finish 10th and 28th in his two MXGP class outings, the 32-year-old proved himself the equal of many of the current crop of motocross GP stars and was perhaps an inspiration to his younger team-mates, Hamilton's Josiah Natzke and Takaka's Hamish Harwood.
Natzke showed maturity and strength beyond his 17 years to finish a remarkable sixth overall in MX2 (250cc) class qualifying and then 37th and 34th in his two points races for the team. The MX2 class riders were always at a horsepower disadvantage against the 450cc bike riders.
Riding a 450cc KTM, 21-year-old Harwood was the team's Open Class rider. He finished 38th and then 31st in his two races, the task made all the more difficult after he crashed during his qualifying race on Saturday and rode in considerable pain on Sunday.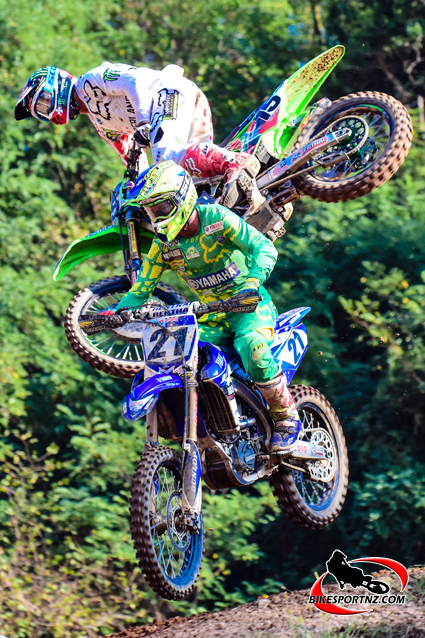 The team's combined results earned them a ranking of 17th overall among the 38 nations entered, the Kiwi trio finishing just one point shy of  16th.
Team manager Bevan Weal, from Taupo, said he was "extremely proud" of his riders.
"Cody (Cooper) was like a rock, with a very solid performance coming from the veteran. He can again rate himself among the top riders in the world and that's very impressive for a rider aged 32," said Weal.
"Hamish (Harwood) had a difficult start to the weekend and was forced to nurse an injured shoulder throughout Sunday's races. He tenaciously gritted his teeth and braved the pain and did his country proud.
"For Josiah (Natzke), it was his first time at the MXoN. I know he has been racing GP events this season, but he really stepped up this weekend. This was another level.
"Bring it on next year I say."
Team France won the event overall, the third consecutive time they have won the MXoN, but it was tight and came down to the final race of the weekend, with the Netherlands and the United States of America also potential winners.
With Dutchman Jeffery Herlings taking an early lead, the crucial third and final race of the 2016 MXoN was mostly an exciting battle between US rider Cooper Webb (pictured above on bike No.4, battling with Cooper, No.22) and another Dutchman, Glen Coldenhoff, then Webb battling with French rider Romain Febvre.
Webb had a slow-speed crash late in the race, and with team-mate Jason Anderson sidelined with injury, the places he lost meant Team USA dropped back to finish the weekend third overall, frustratingly just four points off winning it outright for themselves.
A last-lap pass by Febvre on Britain's Tommy Searle (to snatch fourth place) and an 11th placing from fellow French rider Gautier Paulin in that final race was enough to tip the scales in France's favour, with the Netherlands finishing runner-up and Team USA third.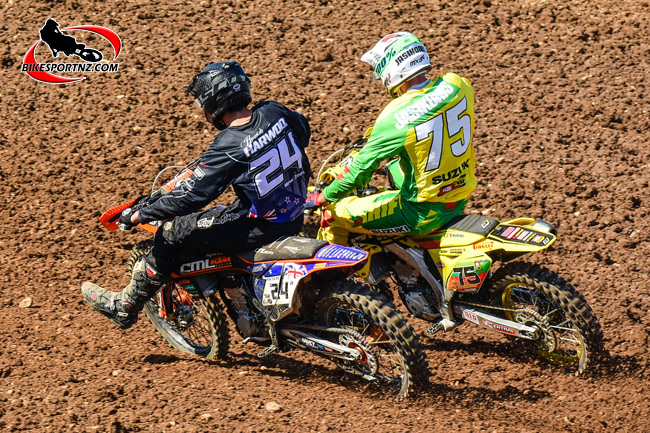 Final MXoN standings:
France 1st; Netherlands 2nd; USA 3rd; Belgium 4th; Italy 5th; Switzerland 6th; Britain 7th; Australia 8th; Estonia 9th; Canada 10th.
Also: New Zealand 17th.
© Words and photos by Andy McGechan www.BikesportNZ.com
Find BikesportNZ.com on FACEBOOK here