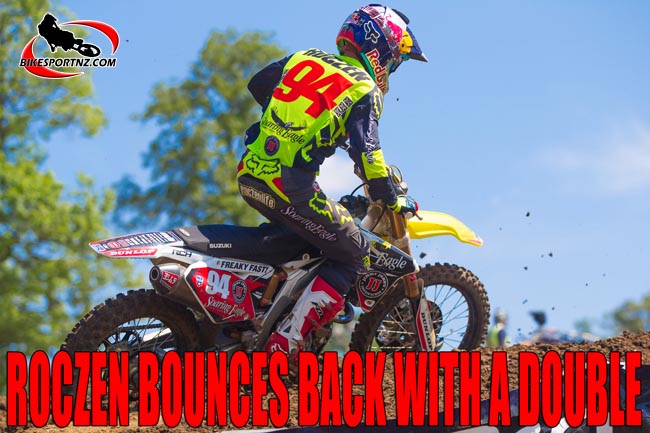 Normal service has been resumed for Ken Roczen as the German reasserted his dominance over the 450cc class in the United States Motocross Championships at the weekend.
With two more back-to-back wins, this time at the 8th round of 12 in the series at Millville, Minnesota, the Suzuki star has further strengthened his stranglehold on the 2016 crown.
Roczen has now won 13 of the 16 motos in the 450cc class so far this season.
After failing to win a moto for the first time all season one week ago, Roczen bounced back in a big way and rode flawlessly to sweep the day at Millville.
In the 250 class, defending back-to-back champion and Yamaha rider Jeremy Martin basked in the glory of victory in front of his hometown crowd to earn his first overall win of the season, leading the first ever 1-2-3 podium sweep for his team.
The opening 450 class moto kicked off with Yamaha's Justin Barcia rounding the first corner ahead of the talented 40-rider field to claim the holeshot, followed closely by Kawasaki's Eli Tomac and Roczen. As the leaders charged through the first several corners, Tomac wasted no time in attacking Barcia to overtake the lead, but Roczen was determined to keep his rival in sight and moved into second by the completion of the opening lap. KTM's Marvin Musquin and Yamaha's Phil Nicoletti held the fourth and fifth positions.
Tomac set a blistering pace while maintaining a comfortable cushion during the opening laps, but Roczen, the championship leader, was on a mission to catch him. Behind them, early leader Barcia felt the pressure from Musquin, eventually giving up third place to the French rookie. By the end of Lap 3, Tomac felt the pressure from Roczen, who was hot on his rear fender.
Tomac fended off several pass attempts by the German, but Roczen's persistence paid off on lap four when he forced his way past Tomac and into the race lead with a spectacular pass that brought the crowd to its feet.
Once out front, there was no looking back for Roczen who claimed his 11th moto win of the season ahead of Tomac in second and Musquin in third. Barcia and Husqvarna's Christophe Pourcel rounded out the top five.
The second moto saw Musquin power his KTM through the first turn in the lead to claim his first career holeshot, narrowly edging KTM's Andrew Short, who was followed closely by Nicoletti, Roczen, and Pourcel. Tomac found himself mired back in the field, but broke into the top 10 before the completion of the opening lap. On the second lap Roczen continued his charge to the front, using brilliant line selections in the rough conditions to make his way past Musquin for the lead.
Despite suffering a damaged shifter on the opening lap, Roczen was able move into the lead early and then distance himself from the field, showing why he has been the rider to beat this summer.
Musquin settled solidly into second and continued to pull away from the battle behind him, in which Pourcel made the pass on Short to take over third on lap two. Tomac put his head down to consistently click off solid laps and break inside of the top five by lap three. Shortly after moving into fifth he made a pair of aggressive passes on both Short and Pourcel, taking control of third on lap four.
Roczen remained unchallenged for the remainder of the moto and crossed the checkered flag more than 28 seconds ahead of Musquin. Tomac rode to a hard-fought third-place effort.
Roczen's fifth 1-1 moto sweep of the season brings his season win total to six, setting a new single season record for the German rider. He's won 13 of 16 motos thus far and now has 12 career premier class victories.
"Today was tough as we were faced with a few challenges throughout the day, including a bent shifter during the second moto," said Roczen. "Fortunately I was able to grab clean shifts in order to make sure that I did not take the chance of losing points. Overall I'm happy to walk away with another win, but I need to go home and improve my starts so we can get out front a little sooner."
Musquin (3-2) posted the best overall result of his rookie season in second, earning the tiebreaker over Tomac (2-3) via his stronger finish in the second moto.
Roczen maintains his comfortable lead in the 450 Class standings, which now sits at 55 points over Tomac. Musquin is third, 144 points out of the lead.
"I love this track and I'm really happy that I was able to put together two strong motos," said Musquin. "All I need to do is keep getting good starts and I know that I am capable of finishing inside of the top three each race. Eli [Tomac] and Ken [Roczen] are very strong right now, but I think we are slowly improving and getting closer to them."
250cc CLASS
The Spring Creek crowd erupted when hometown heroes Alex and Jeremy Martin piloted their Yamaha bikes into the top two positions to start the opening 250 class moto, followed by KTM's Mitchell Oldenburg. The Martin brothers entered the day as favourites and by the end of the opening lap they had already started to separate themselves from the field.
Current championship leader Cooper Webb quickly went to work aboard his Yamaha and made several passes to fight past Oldenburg for third on Lap 1, while championship rival and Kawasaki rider Joey Savatgy followed in fourth. As the Martin's paced each other at the front of the field, their teammate Webb slowly started chipping away at their lead and inched closer to the siblings.
Near the halfway point in the moto, Webb latched onto the back of Jeremy Martin and soon made the pass, quickly pulling away with his sights set on leader Alex Martin. The Yamahas of Martin and Webb were separated by mere bike lengths for the remainder of the moto until Martin crashed with three laps remaining and handed over the race lead to Webb. Jeremy Martin moved into second, while Alex remounted in third, just ahead of Savatgy and Yamaha's Aaron Plessinger.
Webb finished strong to score another hard-fought moto win ahead of Jeremy Martin in second and Alex Martin in third. Savatgy finished just behind the trio in fourth, while Plessinger outdueled Kawasaki's rookie Austin Forkner for fifth.
In the second 250 class moto Alex Martin nailed the start to sweep both holeshots for the day, followed once again by brother Jeremy Martin and Kawasaki's Adam Cianciarulo. As the field emerged from the track's infamous sand whoops misfortune struck for race leader Alex Martin, who lost traction with his front wheel and fell over in a corner, losing several positions. He would finish the opening lap in ninth. Cianciarulo took advantage of Martin's mistake and emerged as new race leader, followed closely by Jeremy Martin.
As Cianciarulo continued to lead while Jeremy Martin gave chase, Moto 1 winner Webb began working his way towards the top five after starting seventh. On lap three, Jeremy Martin began to find his rhythm and eventually found a way past Cianciarulo for first, while Husqvarna's Zach Osborne chased in third. On lap five, Osborne and Savatgy made their way past Cianciarulo for second and third, while Webb snuck into the picture in fifth.
Savatgy made the pass on Osborne in lap seven for second place, but made a mistake just two laps later and dropped to fifth. As the race entered its final stages, Webb dropped the hammer to pass Osborne for second. Osborne would maintain his hold on third through to the finish, despite late pressure from both Alex Martin and Savatgy, who bounced back from their misfortune.
Jeremy Martin (2-1) emerged to take his third moto win, which gave him the tiebreaker over Webb (1-2) to capture his first overall victory of the season. Alex Martin's late charge to fourth allowed him to round out the overall podium in third (3-4). It was his first overall podium result at his home track, and capped off the first ever sweep of the overall podium for Yamalube/Star Racing Yamaha.
"Any time you are able to win your hometown race in front of family and friends is a special moment," said Jeremy Martin, who ended an eight-race gap between wins. "The last couple of weekends we have been able to turn things around and improve the bike, along with my health. I believe we are in a good position, but we need to start gaining some points on Cooper [Webb] so that we can take this championship down to the wire."
Webb maintained his hold of the red plate as points leader, with his advantage sitting at 38 points over team-mate Jeremy Martin, who moved into second. Savatgy, who finished fourth overall (4-5), dropped to third and trails Webb by 50 points.
"I'm happy to leave with a moto win today and maintain our points lead in the championship," said Webb. "The goal for me is always to win, but I knew Alex and Jeremy would be strong today and I'm happy to have been battling with them for the win."
The Lucas Oil Pro Motocross Championship will continue next weekend as it returns to the West Coast for the ninth round of the 2016 season in Washougal, Washington.
Photo courtesy Simon Cudby
Find BikesportNZ.com on FACEBOOK here
Results and standings after round 8 of 12
450 Class Overall Results (Moto Finish)
1 Ken Roczen, Germany, Suzuki (1-1)
2 Marvin Musquin, France, KTM (2-3)
3 Eli Tomac, Cortez, Colo., Kawasaki (3-2)
4 Christophe Pourcel, France, Husqvarna (5-4)
5 Justin Barcia, Monroe, N.Y., Yamaha (4-5)
6 Trey Canard, Edmond, Okla., Honda (6-6)
7 Andrew Short, Colorado Springs, Colo., KTM (8-8)
8 Benny Bloss, Oak Grove, Mo., KTM (7-10)
9 Justin Brayton, Fort Dodge, Iowa, KTM (9-9)
10 Phil Nicoletti, Cohocton, N.Y., Yamaha (14-7)
450 Class Championship Standings
1 Ken Roczen, Germany, Suzuki – 387
2 Eli Tomac, Cortez, Colo., Kawasaki – 332
3 Marvin Musquin, France, KTM – 243
4 Justin Barcia, Monroe, N.Y., Yamaha – 215
5 Christophe Pourcel, France, Husqvarna – 202
6 Broc Tickle, Holly, Mich., Suzuki – 171
7 Cole Seely, Newbury Park, Calif., Honda – 151
8 Justin Brayton Fort Dodge, Iowa, KTM – 144
9 Justin Bogle, Cushing, Okla., Honda – 136
10 Ryan Dungey, Belle Plaine, Minn., KTM – 131
250 Class Overall Results (Moto Finish)
1 Jeremy Martin, Millville, Minn., Yamaha (2-1)
2 Cooper Webb, Newport, N.C., Yamaha (1-2)
3 Alex Martin, Millville, Minn., Yamaha (3-4)
4 Joey Savatgy, Thomasville, Ga., Kawasaki (4-5)
5 Aaron Plessinger, Hamilton, Ohio, Yamaha (5-6)
6 Adam Cianciarulo, Port Orange, Fla., Kawasaki (7-8)
7 Arnaud Tonus, Switzerland, Kawasaki (8-9)
8 Mitchell Harrison, Brighton, Mich., Yamaha (11-10)
9 RJ Hampshire, Hudson, Fla., Honda (10-11)
10 Luke Renzland, Hewitt, N.J., Yamaha (9-12)
250 Class Championship Standings
1 Cooper Webb, Newport, N.C., Yamaha – 337
2 Jeremy Martin, Millville, Minn., Yamaha – 299
3 Joey Savatgy, Thomasville, Ga., Kawasaki – 287
4 Alex Martin, Millville, Minn., Yamaha – 270
5 Zach Osborne, Abingdon, Va., Husqvarna – 237
6 Austin Forkner, Richards, Mo., Kawasaki – 221
7 Aaron Plessinger, Hamilton, Ohio, Yamaha – 217
8 Arnaud Tonus, Switzerland, Kawasaki – 163
9 RJ Hampshire, Hudson Fla., Honda – 153
10 Adam Cianciarulo, Port Orange, Fla., Kawasaki – 150