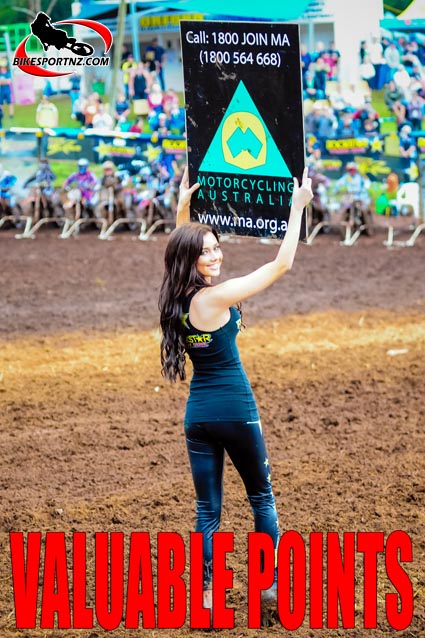 CDR Yamaha's Dean Ferris won the day in the MX1 class at the seventh round of 10 in the Australian Motocross Championships at Conondale, in Queensland, on Sunday and with that he moved closer to the top of the rankings.
Despite the venue receiving a drenching of rain throughout Saturday night, when racing got underway on Sunday the skies had cleared and the circuit provided the perfect stage for the action to unfold, with both the two Kiwis in action, Michael Menchi and Hamish Harwood, taking advantage to also move up their respective class rankings.
Menchi finished the day 10th overall in the MX1 class and moved from 10th to ninth in the championship standings, while Harwood finished the day ninth overall in the MX2 class and moved from ninth to seventh in the series standings.
When the Thor MX1 bikes hit the track for their practice and qualifying session, many riders opted to spend much of their time in the mechanics' area, minimising the dirt build-up on their machines, and keeping the weight off to ensure fast times.
When the session had wrapped up, Ferris, Wilson Coolair Motul Factory Suzuki's Todd Waters, KTM Motocross Racing Team's Kirk Gibbs, Kade Mosig (National Pump Monster Energy Kawasaki) and Dylan Long (Crankt Protein Honda Racing), all progressed through to the Superpole, and when all five riders put down their fastest times, it was Ferris who collected the Superpole victory, for the second consecutive round with a flying 1:58.516 lap time.
When gates dropped for racing, it was Long who fought off a hard charging Waters to take the first holeshot of the day.
However, Waters took no time at all to move in to the race lead, while Ferris also managed to get by Long, to slot in to second position.
From there, Ferris and Waters checked out, leaving Long, Mosig, Gibbs and Jay Wilson to fight for the remaining positions behind them. And battle they did. After only a few turns, Mosig and Gibbs made their move on Long to slot in to third and fourth positions, leaving the Crankt Honda duo in fifth and sixth places.
With only nine minutes run, the Thor MX1 class began to head in to lapped traffic, allowing Ferris to close in on Water's lead, and set the first moto up as a dash to the finish line.
And thankfully for spectators, the battles on track did not stop there – with Gibbs also edging closer and closer to Mosig's rear wheel, the KTM mounted rider determined to snatch up valuable championship points, and minimise the damage of Water's and Ferris' domination.
By the time race one had reached the half way point, the running order had only slightly changed. Waters continuing to lead from a hard charging Ferris, followed by Mosig and Gibbs who were locked in to a battle for third. The Crankt Protein Honda duo Wilson and Long, held down fifth and sixth places respectively.
As race one reached its closing stages, Waters and Ferris were riding on a level above the rest – attacking the muddy conditions, and using their European experience to showcase just what they could do at Conondale.
And when the last lap board was shown, Waters had maintained enough of a gap on Ferris to relax a little, however for Mosig, the final lap would be far from relaxing – Gibbs making one final attempt at third position before the chequered flag would fly.
However, when riders crossed the finish line, it was Waters who had reason to celebrate, taking the opening moto win, with the support of family and friends watching on. Ferris put in a smart ride to finish in second, followed by Mosig who held off Gibbs to finish in third. Gibbs, and Wilson completed the top five finishing positions respectively.
With championships on the line, when the gates dropped in race two, spectators expected to see one of the top three championship contenders through turn one first, but it was Wilson who took the hole shot and moved in to the race lead.
However, he didn't stay there for long – after only a few turns Wilson stalled, allowing Ferris, Waters and Gibbs to move up to positions one and two and three.
But in what was a big upset for race one winner Waters, the Suzuki rider went down on lap one, and was forced to re-join the race in 14th position, dashing his hopes of an overall victory at Conondale.
From there, spectators were treated to plenty more action on track, with Ferris continuing to lead and holding off Gibbs by less than a second, while Mosig kept the lead pair just in his sights in third position.
But it was Waters' charge from the rear of the pack to fifth by the 11-minute mark, that had spectator's eyes firmly fixed on the Suzuki machine – Waters making the pass on Wilson, and from there he began to eye off the rear wheel of fourth placed Jacob Wright.
By the time the Thor MX1 class reached the halfway mark in moto two, Ferris continued to maintain his gap on Gibbs, while Mosig had dropped off the pace but maintained third position – Waters had made his way in to an impressive fourth, while Wright completed the top five places.
As riders reached the 20-minute mark, Waters had reeled in Mosig's Kawasaki machine, and with maximum points well and truly on his mind, Waters made the pass on Mosig for third position, keeping his championship hopes alive.
With five minutes left to run positions remained unchanged, Ferris maintaining his lead on Gibbs, while Waters occupied the final podium position in third.
And it was in that order that they stayed. Ferris taking the final moto win from Gibbs who crossed the finish line for the last time today in second. Waters who put in one of the hardest fought rides of the day, charged back from his earlier crash to finish in third.
With 2-1 results, Ferris was deservingly awarded with the round seven victory, while Waters took second on the day, followed by Gibbs in third. Gibbs retains the red plate and continues to lead the MX1 Championship, now by six points.
"I'm really happy to get another round win," said Ferris afterwards.
"It was one of those rounds where it could have gone either way because of the conditions. I'm usually pretty comfortable in the mud, but so are Todd and Kirk," Ferris shared.
"Two wins in a row is a good start to the second half of the season for me. After that round at Wanneroo, I've just wanted to lay a solid foundation and I feel like we're doing that.
"I've got six points to make up on Gibbs now, and compared to where we were two rounds ago that gap was pretty big, being down 27 points. But we've bounced back, and that's what CDR Yamaha is all about."
MX2 CLASS
DPH Motorsport Yamaha's Jed Beaton has continued to keep his Motul MX2 class championship hopes alive, racing to an impressive round seven win on Sunday.
The Motul MX2 class were welcomed with muddy and wet conditions as the first class to hit the track this morning, and after a consistent down pour of rain throughout Saturday night, the wet track played havoc with the talented field.
After riders wrapped up their 15-minute qualifying session this morning, Serco Yamaha's Wilson Todd snatched up the first MX2 gate pick with a 2:03.066 lap time, followed by red plate holder Nathan Crawford (Husqvarna) and Hamish Harwood (KTM) who were awarded second and third picks of the grid after putting down their fastest qualifying laps.
When bikes lined up for moto one, the conditions remained wet and difficult, however when gates dropped it was game on, and it was Raceline Pirelli KTM's Dylan Wills who launched out of the gates to take the first holeshot of the day.
However, it took less than one lap for Husqvarna's Crawford to assert his authority on Wills, making his move in to the lead position by lap two, while in third place Proformance Racing's Kale Makeham showed impressive form – managing to navigating the slippery Green Park circuit.
Two notable absentees from the front of the field were DPH Motorsport's Beaton and KTM Motocross Racing Team's Caleb Ward, who were both back in 9th and 12th places – putting Crawford in a position where he could potentially stretch out his championship lead by a big margin.
With 10 minutes run in moto one, Crawford continued to maintain his lead on Wills, while Makeham and third fastest qualifier Harwood trailed the front two riders by a huge 10 seconds. Serco Yamaha's fastest qualifier Todd maintained fifth, followed by Davey Motorsport's Jayden Rykers in sixth.
However, an unexpected DNF mid-race from Yamaha mounted Todd paved the way for Beaton to make up significant ground, and with ten minutes to go, Beaton had passed four riders to move in to a solid fifth position.
As moto one for the Motul MX2 class reached it's closing stages, there had been little changes to the top five positions, with Crawford stretching out his lead to 24 seconds on Wills, followed by Harwood, Makeham and Beaton.
But just as riders looked as if they had settled in to their respective positions, Beaton began a late charge to the front, passing both Makeham and Harwood to move in to third position, where he also began to eye off the rear wheel of Wills.
And it was on the second last lap that DPH Motorsport's Beaton managed to make his move on Wills, slotting up in to second position, ensuring he snatched up close to maximum points despite a tough start to the race.
In what was a disappointing result for Wills, the KTM rider made a crucial mistake which saw him go down, dropping back to ninth despite holding a podium position for the majority of the race.
But when the chequered flag flew, there was no denying Crawford's outstanding performance – The Husqvarna rider taking an unchallenged first win for the day at Conondale, followed by Beaton, and KTM's Ward, who put in an impressive late charge from outside the top five up to third position. Harwood, and Makeham wrapped up the opening moto in fourth and fifth places respectively.
When race two got underway for the Motul MX2 class, Wills once again launched out of the gates to take his second holeshot for the day, however it was Beaton who after one lap had taken control of the race, followed by Rykers and Wills.
With Beaton out in front and Rykers hot on his tail, Wills, Makeham, Todd, Crawford and Ward became locked in to five-way battle for third position, keeping spectators on the edge of their seats.
By the time race two had reached the half way mark, Beaton had stretched out his lead on Rykers to an impressive eight seconds, while behind the front two, Wills continued to hold off Todd by only a small margin, followed by Crawford and Ward who held down fifth and sixth places respectively.
With only a three laps left in race two, Beaton was simply unstoppable out in front – continuing to put ground between himself and Rykers, and placing himself in a healthy position to take the final race win and the round victory. Meanwhile behind Rykers, Wills had once again dropped off the pace, allowing both Todd and Crawford to make passes on the KTM rider and slot in to third and fourth respectively.
But when the chequered flag flew for the final time, it was Beaton who had the crowd in applause, taking the final race victory by a huge margin, followed by Rykers who crossed the finish line in second, while Todd held on to redeem himself after this morning's DNF to finish in third.
With a second in race one, and a moto two victory, Beaton concluded the day with the Round 7 Motul MX2 overall, while Crawford's consistent 1, 4 results placed him second, followed by Rykers wrapped up the weekend in third overall. Crawford continues to hold the red plate, and leads the Motul MX2 Championship by 7 points with three rounds remaining.
© Photo by Andy McGechan, www.BikesportNZ.com
Find BikesportNZ.com on FACEBOOK here
RESULTS AND STANDINGS:
Thor MX1 round seven results
1) Dean Ferris – 67 points
2) Todd Waters – 65 points
3) Kirk Gibbs – 60 points
4) Kade Mosig – 58 points
5) Jacob Wright – 50 points
6) Dylan Long – 50 points
7) Jay Wilson – 50 points
8) Daniel Banks – 43 points
9) Luke Wilson – 43 points
10) Michael Menchi – 42 points
Thor MX1 Championship Standings
1) Kirk Gibbs – 470 points
2) Dean Ferris – 464 points
3) Todd Waters – 455 points
4) Kade Mosig – 381 points
5) Matt Moss – 381 points
6) Dylan Long – 359 points
7) Jay Wilson – 296 points
8) Jacob Wright – 291 points
9) Michael Menchi– 265 points
10) Daniel Banks – 253 points
Motul MX2 round seven results
1) Jed Beaton – 67 points
2) Nathan Crawford –  63 points
3) Jayden Rykers – 57 points
4) Caleb Ward – 56 points
5) Kale Makeham – 49 points
6) Dylan Wills – 47 points
7) Dean Porter – 45 points
8) Richie Evans – 45 points
9) Hamish Harwood – 43 points
10) Joel Wightman – 41 points
Motul MX2 Championship Standings
1) Nathan Crawford – 447 points
2) Jed Beaton – 440 points
3) Caleb Ward – 431 points
4) Jayden Rykers – 393 points
5) Wilson Todd – 354 points
6) Dylan Wills – 334 points
7) Hamish Harwood – 309 points
8) Joel Wightman – 299 points
9) Kyle Webster – 296 points
10) Dean Porter – 291 points