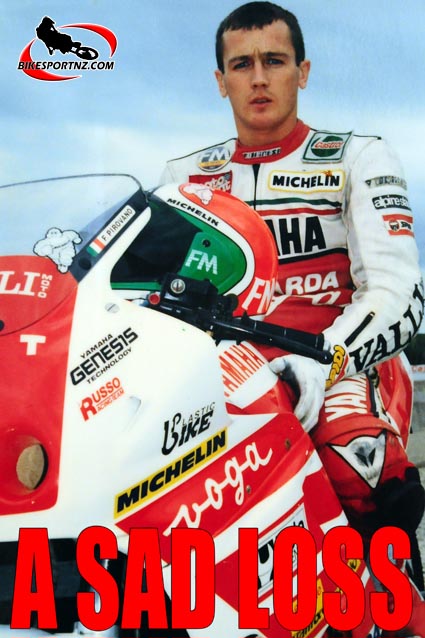 Italian superbike hero Fabrizio Pirovano has died.
Known to many when he raced in New Zealand in the 1980s, it is with sadness we report his passing after a battle with cancer.
From Biassono in Lombardy, Italy, Pirovano was born on February 1, 1960, and the extremely popular racer died on June 12, 2016.
A former motocross racer, Pirovano was one of the original competitors in the inaugural Superbike World Championship in 1988, finishing as championship runner-up that year and again in 1990, and in the top five on four more occasions.
Pirovano was the winner of 10 races and took 37 further podium finishes.
He was competing in the championships' all-time top 10 for starts, points, and podiums.
Nonetheless, Pirovano never took a World Superbike pole position.
Pirovano has also won the Italian Superbike title four times.
Nearing the mid-1990s, the World Superbike championship had more international stars (such as Troy Corser, Carl Fogarty and New Zealand's Aaron Slight) and Pirovano became less competitive.
During 1995, a second place finish at the season-opener at Hockenheim was his only podium, and he left the championship at the end of the year.
Pirovano changed his position to the Open Championship for 1996, winning several races and remained there as it became the Supersport World Championship in 1997.
He was champion with five wins in 1998, and finished in the top 10 in the four other seasons he contested.
He was semi-retired since 2006 but won a one-off race in the Suzuki GSX-R Cup at Misano in June that year.
Pirovano was 56 years old.
© Photo by Andy McGechan, www.BikesportNZ.com
Find BikesportNZ.com on FACEBOOK here