DUNCAN DETERMINED TO RISE AGAIN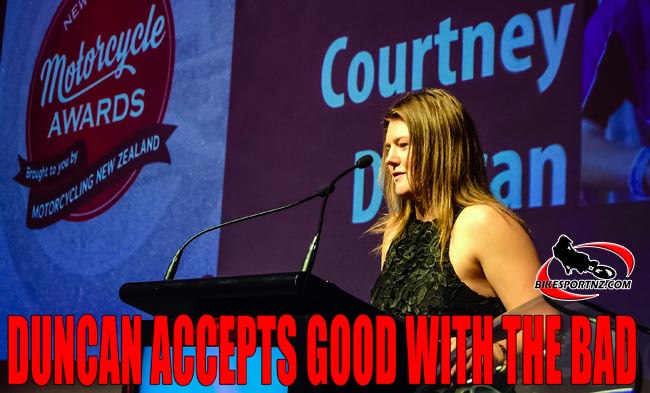 Otago sports woman Courtney Duncan is learning to take the good with the bad.
The 20-year-old is a motocross hero in New Zealand and fast becoming one overseas as well, but her progress internationally has been temporarily put on the backburner after a freak crash at the German Grand Prix just over two weeks ago, the third round of seven in the Women's Motocross World Championships.
Now back in New Zealand to recuperate, her disappointment was softened just a fraction by her being able to attend the Motorcycling New Zealand (MNZ) awards ceremony in Wellington last weekend and there she was named New Zealand's best up-and-coming off-road rider for 2016, an honour that some might say was actually long overdue.
A better rider than most Kiwi boys her age, Duncan has for long been respected by her rivals in both the senior men's and women's ranks.
Racing against the cream of male riders from all around the world, she was just 13 years old when she finished a remarkable sixth overall in the 85cc class at the Junior Motocross World Championships in 2009, perhaps heralding greater things to come.
In January this year, riding a Yamaha YZ250F, she beat the best Kiwi men to become the first female to win the Grand Prix title in the senior MX2 class at the big annual New Zealand Motocross GP at Woodville, before embarking on her debut Women's Motocross World Championships campaign in Europe a few days later.
She won three of the first four races in the world series, before falling victim to a freak crash at the German GP, when she collided with a photographer who should not have been standing on the track. Seriously injured, she returned home for surgery and to recover.
"I came over that jump just like in the eight laps previously, with no problems at all, and this one time there was a photographer standing on the track. There was nothing I could do and I clipped my handlebars on her," said Duncan.
Duncan has now slipped from first to third overall in the championship standings with only four rounds (eight races) remaining.
She hopes to resume her world championship campaign as soon as possible, although her title prospects have now dimmed considerably.
"I'll miss the next two rounds, in France and Italy, but hopefully I'll be back for Switzerland (on August 7) and Assen (in The Netherlands, on August 28).
"I'm disappointed, to say the least. I'm not going to lie, it has been very hard to accept. So much time and energy was spent on the preparation for my world championships campaign.
"But I can't dwell on the negatives and instead I'll take some positives out of it. By working with (Motueka's former GP motocross star) Josh Coppins, I have learned so much. My riding has improved so much.
"Yamaha New Zealand has been so supportive of me, just as they have for my racing in New Zealand over the past eight years. They have been through a lot with me and there have been some tough times before too," she said.
"There are plenty of positives actually. I am a lot more confident in myself and I know what to expect now in Europe, so I'll be even better-prepared next season. Josh has been brilliant for me. He had been in that same position when an injury meant he lost his chance for a world title in 2007 and so he has experienced and dealt with the same lows as I'm now facing. His strength has had a positive impact on me.
"Getting injured is a risk we all take in this sport …every time we put on our helmet. I would have chosen a different sport to pursue is that was not something I could accept."
At age 20, Duncan still has time on her side and it seems a sure bet that she will again be a world title contender in 2017 and beyond.
It's worth noting that the MNZ awards ceremony on Saturday night was just a part of the organisation's annual conference, held at Te Papa Museum over the weekend, and attendees were treated during Sunday morning's breakfast to a talk by another of New Zealand's elite female motocross racers, Katherine Oberlin-Brown (nee Prumm).
Oberlin-Brown put New Zealand on the map when the then 17-year-old first arrived in Europe in 2005, remarkably finishing runner-up that year to Germany's Stephanie Laier in the Women's Motocross World Cup, the forerunner to what was later to become recognised (in 2008) as the women's world championships.
She returned to Europe in 2006 and this time won the world title outright, beating Laier, before once again in 2007 she headed halfway around the world from her home in Bombay, South Auckland, to successfully defend her title, this time beating French rider Livia Lancelot to the crown.
The other 2016 NZ Motorcycle Awards recipients on Saturday night were Hamilton's Jacob Stroud (best up-and-coming road rider); Hamilton's Josiah Natzke (male rider of the year); Orewa's Avalon Biddle (female rider of the year) and Christchurch's Wendy Ashmore (service to motorcycling).
© Words and photos by Andy McGechan, www.BikesportNZ.com
Find BikesportNZ.com on FACEBOOK here