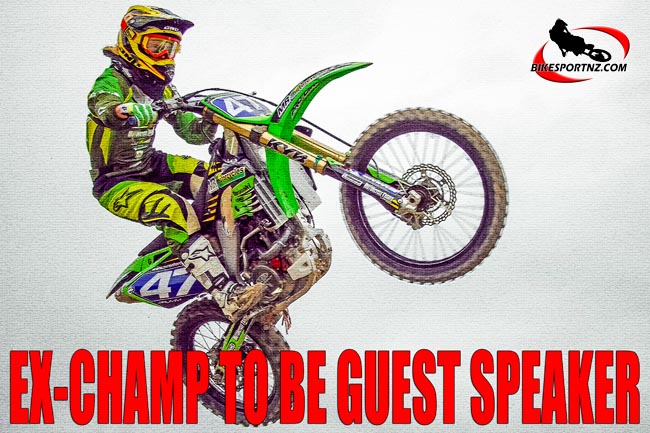 A Kiwi and world champion of the past will talk to the current crop of champions of the past, present and future when Motorcycling New Zealand's centenary celebrations wind up on Sunday.
Katherine Oberlin-Brown (nee Prumm) will be the guest speaker at breakfast on the function's third and final day on Sunday (May 22), just prior to MNZ's annual general meeting, the last item on the agenda that will wrap up the annual conference and awards weekend.
New Zealand's Oberlin-Brown put her country on the map when, as a sparkly-eyed and fresh-faced 17-year-old, she first arrived in Europe in 2005, remarkably finishing runner-up that year to Germany's Stephanie Laier in the Women's Motocross World Cup, the forerunner to what was later to become recognised (in 2008) as the women's world championships.
She returned to Europe in 2006 and this time won the world title outright, beating Laier, before once again the following year she headed halfway around the world from her home in Bombay, South Auckland, to successfully defend her title, this time beating French rider Livia Lancelot to the crown.
As a sidebar, it is interesting to note that Lancelot, now aged 28, currently leads the 2016 title chase, although she is only in that position because 20-year-old New Zealander Courtney Duncan, who had been leading the series, was the victim of a freak crash at the latest round in Germany just over a week ago.
But, a decade ago, it was South African-born Oberlin-Brown who commanded the women's side of the sport.
Oberlin-Brown also won both her races at the Women's Motocross Association (WMA) Women's Cup in Floresville, Texas, in 2007, to add that title to her world crown that year.
At the time she was a better rider than most Kiwi blokes her age and she was perhaps harder on herself than any coach or manager would dare to be.
"If you want a championship bad enough you'll do anything to get it. I've got a pretty high pain threshold and just block it out. Pain's just part of the game," she explained.
But the mind-over-matter theory can only take you so far. When the body breaks down completely, that's it.
It was through gritted teeth that Oberlin-Brown talked about her failed bid in 2008 to make it three women's world titles in a row.
Though riding injured – her ACL knee ligament ruptured in a pre-season crash – Oberlin-Brown still led the 2008 world championships after three rounds and she looked well on target to defend her 2007 crown with only two rounds to go.
That was until another crash, this time while practising, just days before round four of the series in Germany, sent her tumbling again to the sideline, her collarbone snapped into four pieces.
She had to settle for fifth overall in 2008.
Oberlin-Brown had planned to be back on the start line in Europe at the start of 2009 but a massive crash, again while practicing, sent her straight to hospital. Her spine was damaged and fears were held that she might never walk again.
She later made a full recovery, but her motocross racing career was over.
"Somebody was watching over me. I was really lucky not to be paralysed," she said.
As well as having to abandon hopes to ever race motocross again, doctors also said she would never be able to run again. The latter point was like a challenge to the stubborn two-time world champion and she refused to accept it.
"If someone puts a roadblock in front of me and says you can never do this, I'll show them that I can," she explained. "It became a bit of a motivation. The athlete in me wanted to get as active as quickly as possible to get my body better."
Within just five months of the accident, Oberlin-Brown took her place on the start line at the Huntly 10km road race and clocked a sub-45min time for the distance.
"It wasn't an amazing time, but to be lying in a hospital bed facing the worst five months earlier, and then finish third in my age group that day I felt I'd proved them wrong," she said.
Now aged 27, happily married and living in Hamilton, although no longer a regular visitor to the motocross race tracks of the world, Oberlin-Brown is still nonetheless heavily involved in elite sport.
She graduated from university with a Bachelor of Sport and Exercise Science and then completed her Masters Degree, the culmination of five years of hard study.
She now works as a physiologist for High Performance Sport New Zealand where she plays a key role helping the current generation of elite Kiwi athletes fulfil their ambitions.
Oberlin-Brown's work has been with Olympics-related sports people, those involved in athletics and now mainly with rowing.
"I will talk (at the MNZ conference breakfast) about my journey through motocross and about what I achieved and what I learned and I will discuss how another world also opened up for me."
© Words and photo by Andy McGechan, www.BikesportNZ.com
Find BikesportNZ.com on FACEBOOK here