The Australians came on strong at round two of the 2016 New Zealand Motocross Championships in the Manawatu on Sunday, but it was two Kiwi riders who produced the most comprehensive winning results.
While Trans-Tasman visitors Dean Ferris and Todd Waters were carving one another up in the MX1 class, it was Takaka's Hamish Harwood and Ngatea's Ben Broad who enjoyed the most individual success at this second of four rounds in the series near Himatangi on Sunday.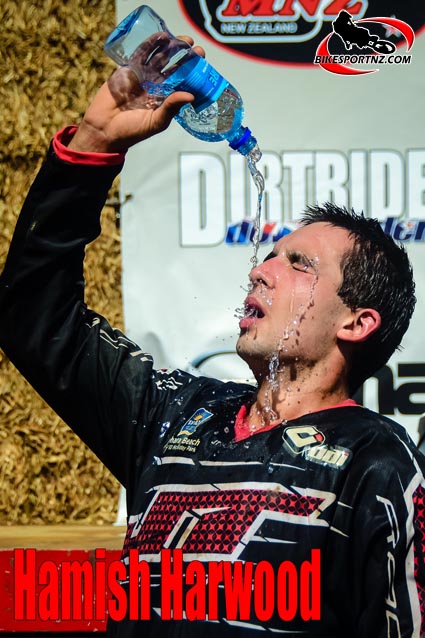 Harwood, the South Islander now basing himself in Waitakere, produced a 1-2-1 score-card over his three MX2 (250cc) class races at the sand-based Himatangi track on Sunday and has now stretched his championship lead from six to 17 points over the new second-ranked rider, another Australian invader, Victoria's Jed Beaton.
Reporoa's Hadleigh Knight, Waitakere's Ethan Martens and Rangiora's Micah McGoldrick round out the top five in this class as the series now reaches the halfway stage.
"Yes, my day went pretty good," said the 20-year-old Harwood in classic understatement, the KTM rider actually contesting two classes and finishing the day sixth overall in the MX1 category as well.
"I have a comfortable buffer now over second place. I won't back off or relax though. I still want to get as many race wins as I can.
"I have never won a senior title in New Zealand and obviously that's the aim."
Harwood won junior titles in New Zealand and in Australian in 2011 and was Australian under-19 champion in 2013.
This was the second time in a month that the Manawatu Orion Motorcycle Club had hosted a major event after they had already staged the big annual Honda New Zealand Motocross Grand Prix at Woodville late in January and it was another slickly-run affair.
The 125cc class is always frantic, but Hauraki Plains College pupil Broad was simply superb on Sunday, racing his way to a hat-trick of wins
He now enjoys a 28-point advantage over the new No.2 rider in this class, Taupo's Wyatt Chase, who managed 3-2-2 results on Sunday.
Another to move up was Feilding's Tony Cvitanovich, the just-turned 16-year-old rider climbing from fourth to third in the standings after a solid 4-4-3 performance on Sunday.
Gold Coast riders Ferris and Waters shared race wins between them in the MX1 class and finished the day at Himatangi first and second respectively, with Mount Maunganui's defending national champion Cody Cooper slipping back to third overall in the standings.
Ferris is 14 points clear of new second-ranked rider Waters, with Cooper five points further back and Queenstown's Scott Columb and Taupo's Brad Groombridge round out the top five in the MX1 class as the riders now prepare for round three in two weeks' time.
The second half of the Kiwi motocross calendar takes riders to the Rotorua Motorcycle Club's track for round three on March 13, with the fourth and final round set for the Digger McEwen Motocross Park facility, on the outskirts of Taupo, on March 20.
Leading standings:
Leading championship standings after the second of four rounds of the New Zealand Motocross Championships near Palmerston North on Sunday:
MX1 class: 1. Dean Ferris (Australia, Yamaha) 145 points; 2. Todd Waters (Australia, Suzuki) 131; 3. Cody Cooper (Mount Maunganui, Honda) 126; 4. Scott Columb (Queenstown, Kawasaki) 101; 5. Brad Groombridge (Taupo, Suzuki) 97.
MX2 class: 1. Hamish Harwood (Takaka, KTM) 139; 2. Jed Beaton (Australia, Yamaha) 122; 3. Hadleigh Knight (Reporoa, Husqvarna) 104; 4. Ethan Martens (Waitakere, Yamaha) 103; 5. Micah McGoldrick (Rangiora, Honda) 97.
125cc class: 1. Ben Broad (Ngatea, KTM) 147; 2. Wyatt Chase (Taupo, Yamaha) 119; 3. Tony Cvitanovich (Feilding, KTM) 107; 4. Kurtis Lilly (Karaka, Husqvarna) 103; 5. Blake Gillard (Beachlands, KTM) 88.
© Words and photos by Andy & Bridget McGechan, www.BikesportNZ.com
Find BikesportNZ.com on FACEBOOK here
Full story and more photos in your next issue of KIWI RIDER magazine.
Check back here on www.BikesportNZ.com during this week as we bring you more words and pictures from the weekend.