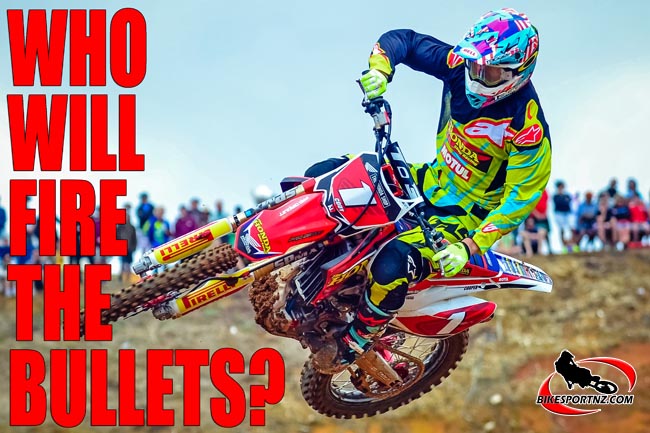 It's tough when you have a big No.1 plastered over the front and sides of your motorcycle – everyone has you in their gun sights and wants to take that title away from you.
Bay of Plenty's national MX1 motocross champion Cody Cooper can feel the pressure, although it's something he's become accustomed to over the past few years, and he's determined that he will be the one who is "firing the bullets" next weekend (Jan 30-31).
The man from Mount Maunganui won the MX1 class at the Honda-sponsored New Zealand Motocross Grand Prix at Woodville last year, although he lost out to Australian visitor Kirk Gibbs in winning the event's feature trophy.
Cooper then went on to successfully defend his national MX1 crown during the four-round New Zealand Motocross Championships that followed soon after and he sees no reason why he can't repeat that string of success this season too, starting with him winning the feature trophy at the 55th annual Honda-sponsored Woodville GP next weekend.
"I love racing at Woodville and my build-up to the event has been going according to plan," said Cooper.
"The track is always different at Woodville, always prepared so well, and it's great that nobody gets to ride it at all during the year. It's fresh for everyone.
"I'm glad that I usually get good starts because that's very important at Woodville. I don't like to be behind anyone because the dirt and stones that fly up can really hurt.
"I'd much rather be the one firing the bullets (at the other riders)," he laughed.
Cooper has some huge heavy-hitters lining up against him again this year and they too are expected to be faster and fitter than ever before.
Cooper won at Woodville for the first time in 2007 and repeated the feat in 2014, but the 32-year-old would really like nothing better than to become a rare three-time feature trophy winner at the iconic event.
Only five riders have won at Woodville three times or more in the past – Taranaki brothers Shayne King (an incredible 9-time Woodville winner) and Darryll King (5-time winner), Motueka's Josh Coppins (5-time winner), Tauranga's Peter Ploen (3) and Pahiatua's Ken Cleghorn (3).
It is interesting to note that, while plenty of international visitors have won the event in the past, Kiwi riders are world class too and it is home-grown New Zealand riders who have dominated over the years.
Queenslander Gibbs won the main trophy at Woodville last year after a massive battle with Cooper and, in winning that feature race, Gibbs became the first non-Kiwi in 25 years to claim the coveted New Zealand GP crown. American Willie Surratt won there in 1989 and that was the previous time that a non-Kiwi had won at Woodville.
Gibbs is not entered this year, but fellow Australians Todd Waters and Dean Ferris are crossing the Tasman and, with their recent world championship experience in Europe, they could be expected to feature, along with British GP star Jake Nicholls, who dominated the MX2 class the last time he raced at Woodville in 2013.
Waters, Ferris and Nicholls will all line up to race in the MX1 class at Woodville.
Kiwi internationals such as Brad Groombridge, of Taupo, Waitakere's Ethan Martens, Mangakino's Kayne Lamont, Hamilton's Josiah Natzke, Mount Maunganui's Rhys Carter, Waitakere's Hamish Harwood and Queenstown's Scott Columb, to name just a few, have good reason to fancy their chances too.
Racing over the two days at Woodville caters for minis, juniors, women and veterans, with the novelty river race on Sunday always a crowd-pleaser.
© Words and photo by Andy McGechan, www.BikesportNZ.com
Find BikesportNZ.com on FACEBOOK here