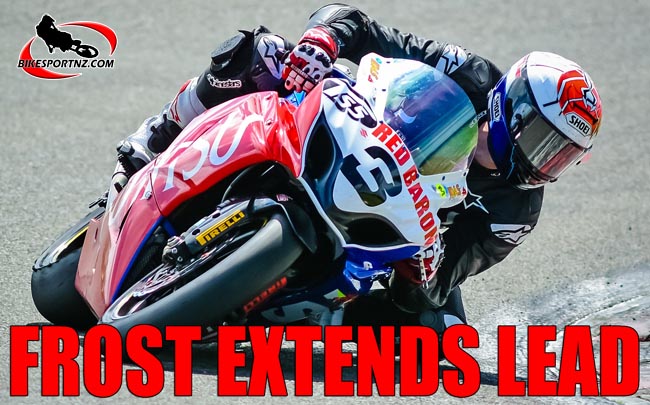 It could be a nervous few weeks for Wellington's Sloan Frost as he anticipates the distinct possibility of winning his first New Zealand Superbike Championship crown.
With another unbeaten run at the weekend, this time at the third round of four in the 2016 national series at Levels Raceway, near Timaru, the 34-year-old Suzuki star has further strengthened his grip on the premier title
Frost captured two race wins in the glamour superbike class at Levels Raceway – the weekend reduced from three to two races for each class after a serious crash incident on Saturday – and he now leads the series by 43 points over Christchurch John Ross, who is locked in a see-saw battle with nine-time former superbike champion Andrew Stroud, of Hamilton.
All three men are on board virtually identical Suzuki GSX-R1000 machines.
"Just a small change in temperature can make such a big difference with regards to tyre choice and it was really just a matter of getting that right," said Frost.
"After that it was just a matter of riding my own race, checking my pit board each lap and staying in front.
"There are four races to go at the final round (at Hampton Downs on March 5-6) and I'm feeling confident. That's my strongest track but there is still 100 points up for grabs, so it's not done and dusted yet. I need to ride smart."
Ross twice finished runner-up to Frost on Sunday and that was enough for him to leapfrog back past Stroud, who finished fourth both times on Sunday.
Stroud was beaten to the finish line by Whakatane's Tony Rees (Honda CBR1000RR) in race one on Sunday, while Taupo's Scott Moir (Suzuki GSX-R1000) took the third spot in race two.
Moir remains fourth in the overall championship standings, just 17 points behind Stroud.
Christchurch's Cameron Hudson was similarly dominant in the 600cc supersport class at Levels Raceway, finishing second to Wainuiomata's Shane Richardson in one race and then winning the other on Sunday and stretching his series advantage to 37.5 points over Glen Eden's Daniel Mettam.
Christchurch's Dennis Charlett bagged two more race wins in the lightweight class to pad his series lead out to 11 points over Rolleston's Tim McArthur, while dual-class campaigner Charlett also scored two wins in the 650cc Pro Twin class, stretching his series lead there to 19 points over Ashburton's Bailie Perriton.
Charlett also won the Alan Ramage Memorial competition, finishing the three-race event that was exclusive to Levels ahead of Timaru's Richard Willetts and Timaru's Grant Ramage, a younger brother of the late Alan.
In the sidecars class, it was another double win for Auckland's Colin Buckley and Tauranga's Robbie Shorter, who grew their championship lead to 64 points over Wairarapa pair Spike Taylor and Astrid Hartnell.
Hamilton's Jacob Stroud scored two wins in the 250cc production class, although Ashburton's Lewis Dray did enough in finishing the day in runner-up spot to keep his series lead.
With New Plymouth's Shaun Harris crashing out of the superlites class on Saturday and a non-starter on Sunday, dual-class rider Jacob Stroud was free to rule and he won both races in the class on Sunday. Stroud is now second in the standings, just one point adrift of Harris.
The riders now have more than a month to re-gather their thoughts and re-tune their motorcycles as they prepare for the fourth and final round of the New Zealand Superbike Championships at Hampton Downs, near Meremere, on March 5-6.
Championship points:
Leading points standings after the third of four rounds of the New Zealand Superbike Championships at the weekend:
Superbikes: 1. Sloan Frost (Wellington, Suzuki) 185 pts; 2. John Ross (Christchurch, Suzuki) 142; 3. Andrew Stroud (Hamilton, Suzuki) 129.
Superstock 1000: 1. Toby Summers (Manukau, Kawasaki) 190; 2. Dillon Telford (Tirau, Aprilia) 166; 3 Dan Ornsby (Oxford, Nth Canterbury, Yamaha) 48.
Supersport 600: 1. Cameron Hudson (Christchurch, Yamaha) 173.5 pts; 2. Daniel Mettam (Glen Eden, Suzuki) 136; 3. Shane Richardson (Wainuiomata, Kawasaki) 101.5.
Pro Twins: 1. Dennis Charlett (Christchurch, Suzuki) 190 pts; 2. Bailie Perriton (Ashburton, Suzuki) 171; 3. Ben Rosendaal (Whangamata, Suzuki) 125.
125GP: 1. Rogan Chandler (Upper Hutt, Honda) 203 pts; 2. Ashley Weller (Christchurch, Honda) 145; 3. Chris Cain (Auckland, Honda) 117.
Superlites: 1. Shaun Harris (New Plymouth, Suzuki) 146 pts; 2. Jacob Stroud (Hamilton, Yamaha) 145; 3. Gavin Veltmeyer (Auckland, Suzuki) 126.
Lightweights: 1. Dennis Charlett (Christchurch, KTM) 177 pts; 2. Tim McArthur (Rolleston, Kawasaki) 166; 3. Richard Willetts (Timaru, Yamaha) 112.
250cc production: 1. Lewis Dray (Ashburton, Kawasaki) 166 pts; 2. Jacob Stroud (Hamilton, Kawasaki) 152; 3. Alex Bowers (Christchurch, Kawasaki) 112.
Sidecars: 1. Colin Buckley (Auckland) and Robbie Shorter (Tauranga, Kawasaki) 203 pts; 2. Spike Taylor and Astrid Hartnell (Masterton, Suzuki) 139; 3. A J MacDonald and David Gorst (Kaiapoi, Suzuki) 118.
© Words and main photo by Andy McGechan, www.BikesportNZ.com
© Start photo by JDAS
Find BikesportNZ.com on FACEBOOK here