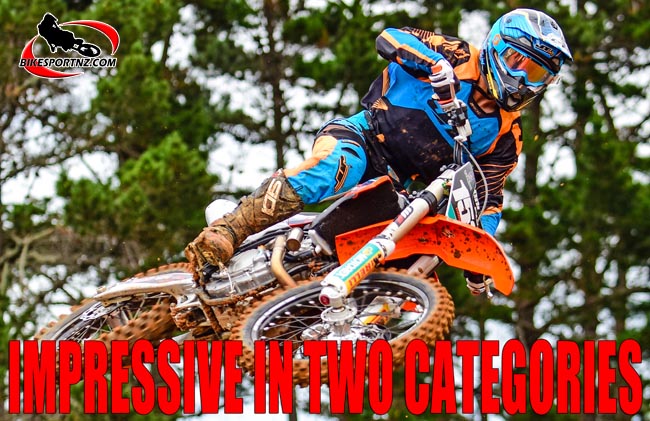 One of New Zealand's rising stars in the sport of motocross appears to be growing brighter by the minute.
Takaka 20-year-old apprentice builder Hamish Harwood, now based in Waitakere, was the talk of the pits at the weekend's Auckland Motocross Championships after the CML KTM Racing Team rider blew away the MX2 (250cc) competition and also gave the MX1 class a shake-up.
Harwood took his KTM 250SXF to score an impressive hat-trick of wins in the MX2 class, his unbeaten run humbling New Zealand's leading championship contenders, and he then took his KTM 350SXF to finish runner-up to national MX1 champion Cody Cooper in the big bike class as well, significantly finishing the day ahead of Kiwi former grand prix racer and former world No.2 Josh Coppins.
Harwood was one of the very few riders to tackle two classes and that was impressive in itself with the track being described by many as "brutal".
His performance in the MX2 class was perhaps most outstanding as he notched up three wins from three starts against some of the sport's elite, outshining Kiwi internationals such as Hamilton KTM hero Josiah Natzke, the 2015 European 125cc No.2, Mangakino's former national MX2 champion Kayne Lamont and Taupo's former national junior champion Cohen Chase, to name a few.
"I qualified fastest in both classes and was pretty happy to start my day like that," said Harwood.
"I managed to get great starts in most of my races and was pretty happy with that too. It makes it so much easier if you get good starts. The start is half the race really.
"But, even when I didn't get the holeshot, I was in front pretty quickly. I had passed Cohen Chase and Kayne Lamont to take the lead before race one had to be restarted when another rider crashed.
"The reason why I rode both classes was just to give more exposure to the team. My fitness was never going to be a problem, although I'm feeling pretty tired now," he said afterwards.
"I've been putting in a lot of effort lately and I'm only going to get better from here. Both bikes were straight out of the crate and I felt comfortable on them straight away. We are still going to do some suspension work but these bikes are true to label … 'ready to race' straight out of the factory."
Also impressive at the weekend was fellow KTM star Maximus Purvis, who won the senior 125cc class.
In only his second race meeting in the senior ranks, the 15-year-old Purvis followed up on his senior debut win of a month ago, when he also won the class at the Waikato Motocross Championships.
On this occasion, Purvis finished 1-1-3 to lead Dairy Flats rider Claude Griffith (KTM) and Karaka's Kurtis Lilly (Husqvarna) to the top of the podium.
Harwood is supported by CML Racing, Pohara Beach Top10, KTM New Zealand, Motorex, JT Racing apparel, Acerbis, DID chains, Renthal bars, ODI, Talon Wheels, JT Sprockets, UNI and Workshop Graphics.
Purvis is supported by KTM New Zealand, Motorex, Fox, Goldentyres, MX Timing, MX Pods, CFX Seats, Etnies, Epic Decal and John Newton Panel and Paint.
© Words and photos by Andy & Bridget McGechan, www.BikesportNZ.com
Find BikesportNZ.com on FACEBOOK here