TOWNLEY WINS; GIBBS CROWNED
New Zealand's Ben Townley won the battle, but Australian Kirk Gibbs won the war in the MX1 class at the tenth and final round of the Australian Motocross Championships at Coolum, in Queensland, at the weekend.
It what must be considered an extremely encouraging build-up to his ride for Team New Zealand at the upcoming Motocross of Nations in France, Penrite Honda's part-time rider Townley showed he was every bit as good as the day he retired from the sport two years ago.
Now temporarily out of international retirement, the former world and United States champion showed he was still a world-class competitor as he finished 1-2 in his two MX1 outings.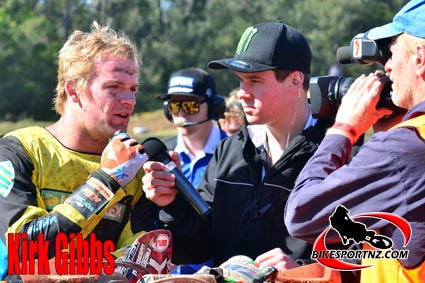 However, while the day belonged to the Kiwi, the championship belonged to Australia's Kirk Gibbs.
The KTM Motocross Racing Team rider finished 3-7 and sealed the number one plate with a moto to spare.
It was an entertaining battle for victory throughout the opening moto; much of it led by Gibbs' team-mate Luke Styke before Townley clawed his way to the front in the latter stages.
Once Townley hit the front, he wasn't headed, winning by 2.5s over the KTM combination of Styke and Gibbs. Fourth was a quiet ride from pole-setter Kade Mosig (CDR Yamaha), pressuring the podium finishers but unable to make up an early deficit.
Adam Monea (NPS Monster Energy Kawasaki) was forced to climb through the pack for fifth, beating home Daniel Reardon (CDR Yamaha), Lawson Bopping (Peter Stevens DPH Yamaha), Dylan Long (NPS Monster Energy Kawasaki), Ross Beaton (Peter Stevens DPH Yamaha) and New Zealand's Hamish Harwood (KTM).
Notable non-finishers were Egan Mastin (Team Motul Suzuki) after he ran inside the top five early on and New Zealand's Cody Cooper (Penrite Honda Racing), who will be Townley's team-mate at the Motocross of Nations in France on September 26-27.
The final moto of the season belonged to Monea in a ride that moved him up to third in the standings, crossing the line three seconds ahead of Townley, who got his first overall of the year on a part-time schedule.
In third – and helping team-mate Monea's cause in the process – was Long, leading home Bopping, who was actually third on track prior to a 10-second penalty for course-cutting, and Styke.
Sixth was good enough for Mosig to seal the runner-up in the standings, from newly-crowned champion Gibbs, Mastin, Harwood and Reardon.
The overall results saw Townley on top over Monea and Styke, while in championship terms it was Gibbs 61 points ahead of Mosig and Monea, who got the final rostrum position on a count-back over Styke.
Harwood finished the day 9-9, while Cooper settled for DNF-11.
© Photo by Andy McGechan, www.BikesportNZ.com
Find BikesportNZ.com on FACEBOOK here
2015 MX Nationals, Australian Motocross Championship
Round 10 – Coolum, QLD
MX1 overall results:
Ben Townley 67
Adam Monea 61
Luke Styke 58
Kirk Gibbs 54
Dylan Long 53
Kade Mosig 53
Lawson Bopping 52
Daniel Reardon 46
Hamish Harwood 44
Ross Beaton 39
Kale Makeham 37
Daniel Banks 36
Aaron Tanti 35
Daniel McEntee 32
Scott Green 28
Egan Mastin 23
Cody Cooper 20
Reece Hoffman 17
Mathew McEntee 15
MX1 championship standings:
Kirk Gibbs 647
Kade Mosig 586
Adam Monea 577
Luke Styke 577
Lawson Bopping 523
Daniel Reardon 510
Dylan Long 497
Cody Cooper 425
Kale Makeham 384
Jesse Dobson 382
Aaron Tanti 324
Daniel Banks 300
Daniel McEntee 281
Ford Dale 214
Ben Townley 191
Ross Beaton 188
Izak Maule 188
Scott Green 182
Darcy Jones 182
John Phillips 168