BUTLER AIMS TO SERVE IT UP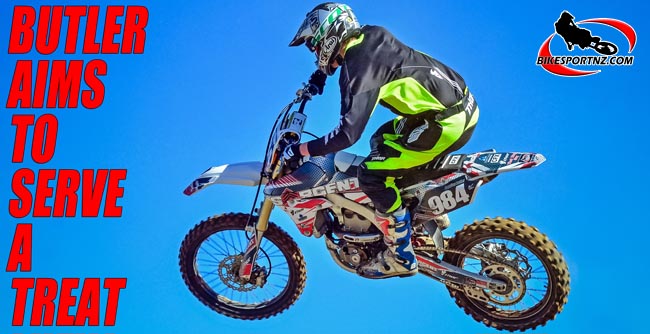 Masterton's Camden Butler can't wait to sink his teeth into this weekend's first round of two in the North Island Motocross Championships in the Manawatu.
The young Yamaha YZ250F star has been firing on all cylinders lately, even enjoying his first taste of racing on the bigger and more powerful YZ450F model machine last weekend, and he's loving every minute of it.
The 16-year-old, a year 11 pupil at Wairarapa College, dominated the day at the Moonshine Motocross Park near Porirua at the weekend, finishing 2-1 in the first two of three races in the A grade.
He then spotted a hole in his bike's radiator hose and so borrowed a YZ450F to complete the day, settling for fourth place on the unfamiliar bike.
"It was my first time on the big 450 and I really enjoyed it, although I was taking things easy because I was trying to get used to all that extra power."
He'll be back on his own Sargent BikesportNZ.com Yamaha YZ250F for the North Island Motocross Championships opener near Sanson this weekend and "aiming for at least a top-three overall finish".
"There have been a few weekends lately when the racing has been cancelled because of the weather, but the Flipp's Motorcycle Park facility at Sanson is sand-based and so there should be no problem with ground conditions there.
"They do have clay faces on some of the uphill faces of the jumps and that will make things interesting, but I do love racing there and expect to do well."
Butler finished fifth overall in the 14-16 years' 250cc class at the New Zealand Junior Motocross Championships near Te Kuiti in April and then won his class at the inaugural North Island Mini TT Championships in the Manawatu in June.
His riding has gone from strength to strength in the past few months, with at least another season to go before he's required to move up to the senior ranks.
He will also race at round two of the North Island Motocross Championships, in Hawke's Bay on September 19-20.
© Words and photo by Andy McGechan, www.BikesportNZ.com
Find BikesportNZ.com on FACEBOOK here