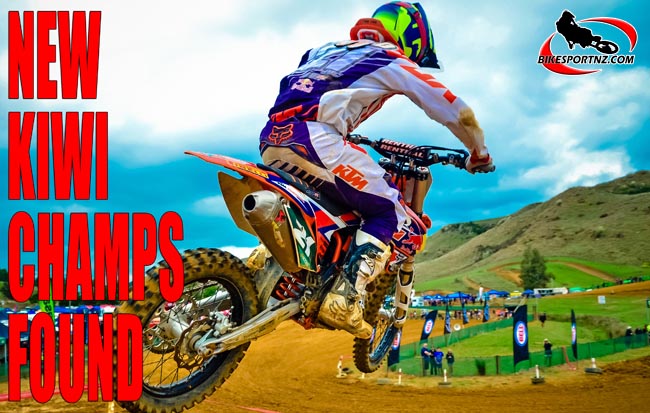 In what became one of the most exciting sports events of the year, the 2015 New Zealand Junior Motocross Championships wrapped up near Te Kuiti today with many classes going right down to the wire.
Ngatea's Ben Broad eventually won the premier 14-16 years' 250cc four-stroke class on a count-back from Cambridge's Trent Collins; Taupo's Wyatt Chase won the 15-16 years' 125cc class ahead of Te Kuiti's Sean Kelly; Reefton's Bailey Banks won the 12-14 years' 125cc class ahead of Kotemaori's Reece Lister; Mangakino's Maximus Purvis won the 13-16 years' 85cc class ahead of Taihape's Hayden Smith; Dunedin's Grason Veitch won the 11-12 years' 85cc class ahead of Walton's Brodie Connolly; Kaiapoi's Cobie Bourke won the 8-10 years' 85cc class ahead of Rongotea's Rhys Jillings and Napier's Luka Freemantle won the 8-11 years' 65cc class from Rongotea's Seth Henson.
Check back with www.BikesportNZ.com this week as we bring you more words and pictures from the three-day event, jointly sponsored by JT Racing, Otorohonda and King Country Honda.
Full results are HERE
© Words and photos by Andy McGechan, www.BikesportNZ.com
Find BikesportNZ.com on FACEBOOK here