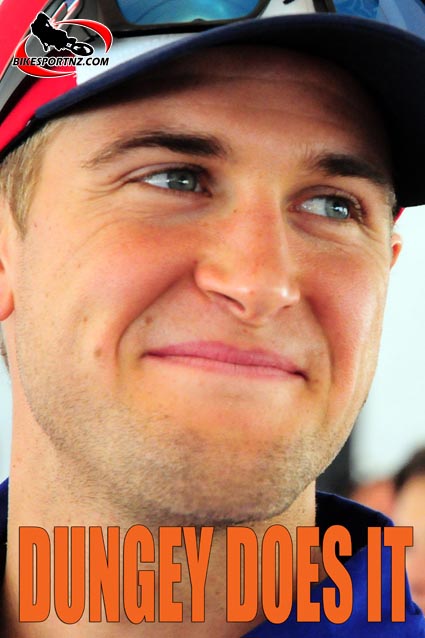 The 14th round of 17 in this season's United States Supercross Championships was the scene for Ryan Dungey to wrap up the title at the weekend, the KTM man therefore taking the crown with three rounds to spare.
In front of more than 48,000 fans, Team Honda HRC rookie Cole Seely earned the first win of his 450SX class career, it was Red Bull KTM's Dungey who stole the spotlight, following Seely across the line to secure his second championship.
Yamaha's Cooper Webb had a similar opportunity in the return of the Western Regional 250SX class championship, and the sophomore rider did so in style, winning his fifth main event in seven races to clinch the first title of his professional career with one race to go.
KTM rider Andrew Short's prowess for stellar starts continued as he raced to the holeshot to start the 450SX class main event ahead of Australian Kawasaki ace Chad Reed and Seely. The Honda rider wasted little time in making his move and passed both Reed and Short on the inside through the first series of jumps to assume the lead and sprint away. Dungey found himself mired deep in the top 10, alongside his main championship rival Eli Tomac (Honda).
Seely took full advantage of a clear track to open what quickly became an insurmountable lead, but the battles behind him lasted the entirety of the 20-lap race. Reed took over second from Short on lap three and was followed by Husqvarna's Jason Anderson, who took over third on lap six. Both Dungey and Tomac made little progress throughout the first half of the race, but after contact between Reed and Anderson took both riders down while battling for second, Dungey and Tomac started to assert themselves.
Dungey battled his way into the top five and broke into podium position by passing Kawasaki's Josh Grant on lap 11. Two laps later he passed Short for second, while Tomac started to pressure Grant for fourth. Tomac's march to the front put him into a podium spot on Lap 16 after passing Short, and he was able to keep Dungey within striking distance.
Seely was never pressured out front and led all 20 laps to become the 59th different winner in 450SX class history. He also became the sixth different winner of the 2015 season, signifying the first time the championship has had that many riders stand atop the podium since the 1998 season.
"It's unreal. I just tried to charge as fast as I could through the first 20 laps and open as big a lead as I could," said Seely. "It was surreal because I had such a big lead that I could cruise. I just did what I know how to do best and put down heaters [fast laps] when I needed to. Once I did it was relatively easy from there."
Dungey's runner-up finish was his 13th consecutive podium result of the season and enough to clinch his first title since winning as a rookie during the 2010 season. The championship also signified the first for KTM in the 450SX Class.
"To win in 2010 was awesome, but this time I felt we really earned it and deserved it," explained Dungey. "It's hard to know what to say, there's just so much running through my mind right now. KTM brought me here four years ago to win a championship and we finally accomplished it. I pictured tonight going a little differently in my mind, but we caught a few breaks and kept it on two wheels. We had to work for it tonight."
Tomac completed the podium in third. Dungey and Seely remain atop the 450SX Class championship standings, while Seely's win moved him into third.
The Western Regional 250SX class main event began with Honda's Matt Bisceglia grabbing the holeshot just ahead of KTM's Shane McElrath and Webb. McElrath was able to make a move on Bisceglia to take over the lead, while Kawasaki's Tyler Bowers passed Webb to assume third. Bowers entered the night as Webb's primary challenger in the championship, but he was only able to keep his rival at bay for a couple laps before Webb took over third. Not long after, Bowers pulled off to record a DNF.
On lap four, Webb's pursuit of victory carried him past Bisceglia for second. As he looked to keep pace with Webb, Bisceglia crashed out of third, handing the spot to Yamaha's Aaron Plessinger. Out front, Webb slowly closed in on McElrath and a battle for the lead on lap nine, with Webb gaining the advantage and seizing control of the lead. Once he got into the top spot Webb pulled away for the win to put an exclamation point on his championship-winning effort.
McElrath overcame a trip through the Last Chance Qualifier (LCQ) to earn his second straight runner-up finish, tying a career best. Honda's Malcolm Stewart also battled from an LCQ visit and an 11th-place start to round out the podium in third after passing Plessinger for the position on Lap 11.
"This is unreal," exclaimed Webb. "I dedicated my whole life for this moment right here and it paid off. I was a four-year-old chasing a dream and it came true. I put my head down [after finishing seventh at the first race of the season] because I knew I wasn't a seventh place guy. I knew I belonged up here so I never quit. I kept fighting and here we are."
Webb is now followed in the Western Regional 250SX Class championship standings by Husqvarna's Zach Osborne, who assumed the spot after a seventh-place finish, and McElrath, who moved into third.
Monster Energy Supercross continues next weekend with its 15th stop of the 17-race season and its inaugural visit to Levi's Stadium in Santa Clara, California.
RESULTS:
450SX Class Results: Houston
Cole Seely, Laguna Beach, Calif., Honda
Ryan Dungey, Belle Plaine, Minn., KTM
Eli Tomac, Cortez, Colo., Honda
Josh Grant, Riverside, Calif., Kawasaki
Chad Reed, Dade City, Fla., Kawasaki
Andrew Short, Smithville, Texas, KTM
Davi Millsaps, Murrieta, Calif., Kawasaki
Broc Tickle, Holly, Mich., Suzuki
Justin Barcia, Greenville, Fla., Yamaha
Justin Brayton, Murrieta, Calif., KTM
450SX Class Season Standings
Ryan Dungey, Belle Plaine, Minn., KTM, 318
Eli Tomac, Cortez, Colo., Honda, 236
Cole Seely, Laguna Beach, Calif., Honda, 223
Trey Canard, Edmond, Okla., Honda, 204
Chad Reed, Dade City, Fla., Kawasaki, 199
Blake Baggett, Grand Terrace, Calif., Suzuki, 175
Jason Anderson, Edgewood, N.M., Husqvarna, 170
Broc Tickle, Holly, Mich., Suzuki, 159
Ken Roczen, Clermont, Fla., Suzuki, 156
Andrew Short, Smithville, Texas, KTM, 152
Western Regional 250SX Class Results: Houston
Cooper Webb, Newport, N.C., Yamaha
Shane McElrath, Canton, N.C., KTM
Malcolm Stewart, Haines City, Fla., Honda
Aaron Plessinger, Hamilton, Ohio, Yamaha
Alex Martin, Millville, Minn., Yamaha
Justin Hill, Yoncalla, Ore., KTM
Zach Osborne, Chesterfield, S.C., Husqvarna
Matt Bisceglia, Weatherford, Texas, Honda
Chris Alldredge, Powell Butte, Ore., Kawasaki
Tommy Hahn, Decatur, Texas, Honda
Western Regional 250SX Class Season Standings
Cooper Webb, Newport, N.C., Yamaha, 161
Zach Osborne, Chesterfield, S.C., Husqvarna, 116
Shane McElrath, Canton, N.C., KTM, 108
Jessy Nelson, Paso Robles, Calif., KTM, 106
Tyler Bowers, Corona, Calif., Kawasaki, 105
Aaron Plessinger, Hamilton, Ohio, Yamaha, 99
Justin Hill, Yoncalla, Ore., KTM, 94
Alex Martin, Millville, Minn., Yamaha, 91
Malcolm Stewart, Haines City, Fla., Honda, 89
Josh Hansen, Elbert, Colo., Kawasaki, 89