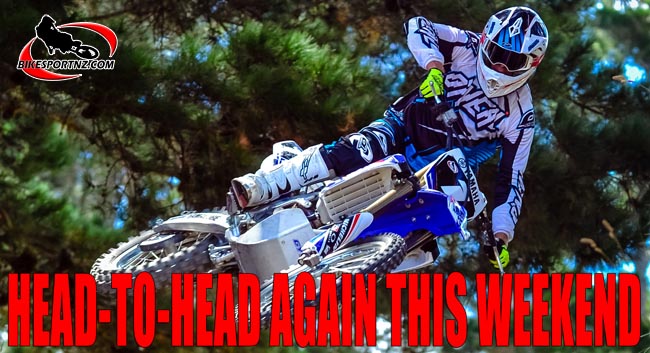 There are many more than just two riders contesting this year's New Zealand Cross-country Championships, but, for the first half of the season at least, most of the focus has been almost exclusively on the battle between Pahiatua's Paul Whibley and Mokau's Adrian Smith.
Whibley recently returned to settle back in New Zealand after a successful 12-year stint of racing motorcycles off-road in Europe and the United States and he immediately went to work try to re-established his position at the top of the sport in New Zealand.
But it hasn't all been plain sailing for the 36-year-old former Manawatu forestry worker, affectionately dubbed "The Axeman" on the motorcycling scene, as he was hammered into submission by friend and rival Smith at the first of four rounds of the series near Onga Onga, in Central Hawke's Bay, in February.
That defending champion and four-time former national champion Smith should beat Whibley in the three-hour race probably should not have come as too much of a surprise, but the emphatic three-minute winning margin did still raise a few eyebrows.
However, the day belonged to Whibley at round two near Mosgiel last month.
Whibley (Yamaha YZ450F) and Smith (Yamaha YZ250FX) were never far apart throughout the three-hour senior race until, with just over a lap to go, came disaster for Smith when he launched his bike into a bog, the bike stuck and he was thrown over the handlebars.
The time he lost recovering himself and his bike was about all that came between the pair at the finish, with Whibley eventually taking the chequered flag by just over two minutes from Smith.
Hamilton's Andrew Charleston (Honda CRF250) finished third, with Maruia's Ethan Bruce (KTM250) and Rotorua's Scott Birch (Honda CRF450) rounding out the top five.
Smith was philosophical about the outcome.
"I had led until the last two laps but maybe I pushed a bit too hard. My last lap was completed with bent handlebars.
"It was a pity really. I think I'd have had the advantage on the final lap, because I'd taken on fuel a lap earlier and Paul hadn't. He'd have had to stop to refuel and I'd then have a gap on him."
The reversal of fortunes for Whibley and Smith means the two men now head to round three near Nelson this weekend (April 19) level on points and, with only three of the four rounds to be counted and riders discarding their worst result, it means the championship chase will go down to the wire at the final round near Pahiatua on May 17.
"With it being only a four-round series, no rider can afford a bad result," said Whibley.
"Even if I win on Sunday, it will still go down to the wire at the final round.
"The courses that are set out here in New Zealand are very fast and not as technically-demanding as in the US and, to be honest, I prefer the technical stuff.
"And it's not just me or Adrian who could win the title either … Andrew Charleston, Ethan Bruce, Scott Birch or (Raglan's) Jason Dickey are just a few riders could throw a spanner in the works. A lot of the talk is about me and Adrian, but we've got to keep our wits about us."
Respectively third, fourth and fifth in the series' senior standings after two rounds are Charleston, Birch and Bruce, and all three riders are within strike range of Whibley and Smith.
In the battle for junior honours – the riders aged under 16 contesting their 90-minute race earlier in the day at each event – it has been Kotemaori's Reece Lister (KTM 125) who has won both times thus far.
Riders such as Taupo's Xavier McBrydie (Husqvarna CR125), Nelson's Jackson Walker (Yamaha), Waimauku's Jake Wightman (KTM) and Taupiri's Andrew Barr (KTM) are all very capable of beating Lister, but unless they do on Sunday, Lister will have the junior title all wrapped up with a round to spare.
Both Whibley and Smith are supported by Yamaha-Motor New Zealand, BikesportNZ.com and Workshop Graphics.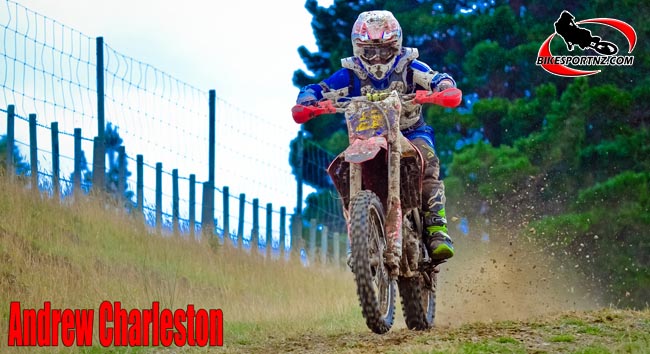 © Words and photos by Andy McGechan, www.BikesportNZ.com
Find BikesportNZ.com on FACEBOOK here