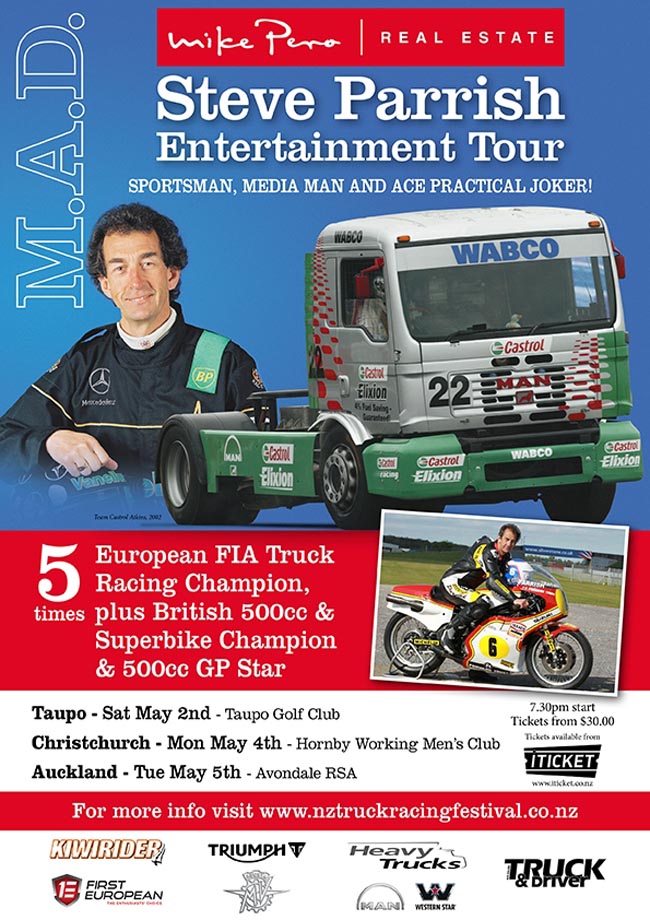 International sportsman, practical joker and media personality Steve Parrish brings his 'Mad Adolescent Dad' Tour down-under for the first time speaking at the Taupo Golf Course on Saturday, May 2, at 7.30pm.
Other shows follow on Monday, May 4, in Christchurch and Tuesday, May 5, in Auckland.
The show in the United Kingdom is usually introduced by Steve's daughter Frankie and Steve highlights many great hilarious tales from the paddocks, pits and hotels of Grand Prix and International racing antics from his over thirty year career as a racer.
He will have the audience rolling in the aisles throughout his near two hour show. A renowned practical joker Steve is still banned from Macau for blowing up a brothel and once posed as a medical doctor to allow John Hopkins to fly from Japan to the Australian GP. Show tickets are $30 per person and available from Iticket.co.nz
Steve Parrish is also the International Guest at the NZ Truck Racing Festival at Taupo Motorsport Park on May 1st, 2nd, 3rd that features the final round of the NZ Super Truck Championship and the final round of the Enzed Central Muscle Car Series.
An interesting aspect of the muscle car series are the exploits of one racer, Tristan Teki of Wanganui. He is still the points leader in the Class 2 after his '69 Camaro dropped a valve at Highland Park last month, after coming 8th in the first race. Overnight his crew took out the valve gear, sealed up the ports and raced it as a V7 on the Sunday and picked up enough points in the Sunday races to gain 3rd overall.
The Muscle Cars love Taupo and the long No.1 Track and will have two races on the Saturday plus three on Sunday, same as the NZ Super Truck Race Championships final round.
Billed as a 'celebration of motorsport' the event is honouring '25 Years of Truck Racing in NZ' with the inclusion of a GT & BMW Invitation field, Pre '65 & Minis, a European Invitation including Alfa Romeo, BMW, Volvo race cars, Classic Car Invitation, and a drifters 'Battlemania' competition including last year's Champion Joe Kukutai from Auckland, back to defend his title with his Nissan Skyline.
Our International Guest Steve Parrish is a 5 X FIA European Truck Race Champion plus 500cc Grand Prix star of the 1970s. He became Barry Sheene's best friend as a Suzuki 'Works' rider and came 5th in the 1977 World 500cc championship, won three British 500cc titles plus the British Superbike Championship.
Steve Parrish is a leading TV motorsport commentator in the UK for BBC and has covered British Touring Car Championships, British & World Superbikes, Moto GP and does the Isle of Man TT for ITV4. A qualified pilot, Parrish is also a commentator for the Red Bull Air Race series for Channel 4.
During the meeting Steve will do hot-laps in a race truck, on a motorcycle, in a race car and also fly some laps in either a Tiger or Gypsy Moth.
The Taupo Truck Racing Festival also includes a Show n' Shine with over a hundred big rigs are expected to be on display. The first entry for the show will create a lot of interest for those keen on the 'Old Girl Classic' trucks of the past.
The 1959 International AA120 4X4 was purchased new by the entrant's dad for 2,200 pounds and was one of only two of this model imported to New Zealand. A donation from the truck registration fee will go Children's Autism and there will be other fundraising activities over the weekend for Children's Autism.
Tickets for the M.A.D Tour and Truck Festival are available on Iticket with further event details at www.nztruckracingfestival.co.nz