BATTLE WON BUT WAR STILL RAGING
Pahiatua's Paul Whibley has one hand on the New Zealand Cross-country Championships crown … or has he?
The 36-year-old former Kiwi international won the third round of four in the series near Nelson on Sunday, making it back-to-back wins for the Yamaha star with just one round remaining, near Pahiatua on May 17, to wrap up the 2015 season.
But defending champion Adrian Smith, from Mokau, won round one and then finished runner-up at round two and again at round three on Sunday, so there is still virtually nothing to separate these two men in the championship chase, especially considering that riders must discard their one worst score.
The mathematics is chillingly simple – if Smith wins the final round and Whibley finishes runner-up, the two men will be level on points and the count-back rule applies.
That means that, after they each presumably discard a runner-up result, they will both have two wins and one runner-up result to their credit and so the rider who finishes highest at the final round wins the championship.
As it stands, one of these two men will be crowned champion on May 17 and no other rider is in a position to change that.
"It's Paul's to lose really, said Motorcycling New Zealand cross-country commissioner Chris Smyth. "He's won two out of three races and just needs to beat Adrian at the final round.
"The track on Sunday was fantastic, the best of the series so far," he said.
"Event organiser Adam Lithgow did a great job of laying it out. It had a bit of everything really … fast and open sections, then forestry and logging trails among the pine trees. Everyone enjoyed it."
Third overall behind Whibley and Smith on Sunday was Nelson's Ethan Bruce (KTM), with Hamilton's Andrew Charleston (Honda) and Rotorua's Scott Birch (Honda) rounding out the top five.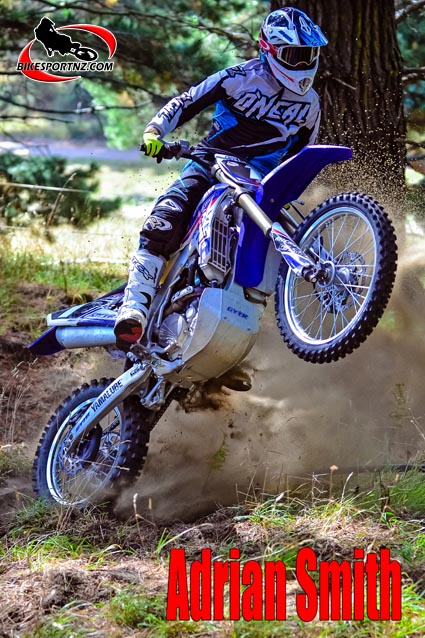 Also impressive was Palmerston North's James Galpin (KTM), who holeshot the senior race and led for some time after the shotgun start. He eventually finished eighth overall, behind Morrinsville's Nathan Tesselaar (6th) and Eketahuna's Daniel Christie (7th).
Meanwhile, the battle for junior honours is over – Kotemaori's Reece Lister (KTM) won the 90-minute race early on Sunday and with that he made it three wins in a row and the title is now his already.
With the discard rule in place, it doesn't matter what happens at the final round, it is now impossible for Lister to be beaten.
Runner-up to Lister on Sunday was Waimauku's Jake Wightman (KTM), with Nelson's Jackson Walker (Yamaha) finishing third.
© Words and photos by Andy McGechan, www.BikesportNZ.com
Find BikesportNZ.com on FACEBOOK here