SIDESHOW BOB VERSUS THE AXEMAN
It looks like it is going to be "Sideshow Bob" versus "The Axeman" throughout this season's New Zealand Cross-country Championships.
Adrian Smith is a sheep and beef farmer during the week and admittedly spends a lot of time riding a dirt bike, but that doesn't explain why the man from Mokau is so phenomenally fast on one at the weekends.
With fly-away blond ringlets of hair, Smith has attracted the nickname "Sideshow Bob" – named after The Simpsons cartoon character – but there is nothing jokey about Smith's machine-like dedication to racing and he demonstrated that with a quality workmanlike start to his title defence.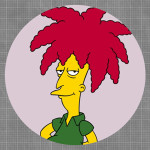 The four-time New Zealand cross-country champion had been expected to meet his match when this year's nationals kicked off near Onga Onga, in Central Hawke's Bay, just over a week ago, with fellow Kiwi international Paul Whibley now permanently back in New Zealand after 12 years' racing overseas and therefore posing an obvious threat to Smith's dominance on the domestic scene.
It didn't quite work out that way at this first round of four in the series and it was business as usual for Smith on the steep farm landscape, with defending champion Smith finishing the three-hour race an emphatic three minutes plus ahead of fellow Yamaha star Whibley.
Rotorua's Scott Birch (Honda) came home third overall, two minutes and 21 seconds behind Pahiatua's Whibley.
Will it be more of the same at the rounds that now follow? Will we see challenges come from riders such as Maruia's national No.2 Ethan Bruce (KTM), Palmerston North's Charles Alabaster (Honda), Hamilton's Andrew Charleston (Honda) and Raglan's Jason Dickey (Kawasaki).
Remember the awesome form demonstrated by Dickey in winning the recent Bel Ray Cross-country Series and the solid rides in the same series by Charleston and Birch? While the focus may be on Sideshow Bob and The Axeman, they can take nothing for granted with plenty of talented cross-country stars gunning for them.
Round two of the series is set for Mosgiel, near Dunedin, on Sunday, March 15 (in just over two weeks' time), followed by round three near Nelson on Sunday, April 19 and, finally, it all wraps up near Pahiatua on Sunday, May 17.
© Words and photos by Andy McGechan, www.BikesportNZ.com
Find BikesportNZ.com on FACEBOOK here