The New Zealand Cross-country Championships will feature added fury this season with the return to domestic racing of Kiwi international Paul Whibley.
The four-round series kicks off in the Central Hawke's Bay region this Saturday, February 14, and many expect it will be another season of motorcycling fireworks in 2015, particularly now with Pahiatua's two-time former US cross-country champion Whibley at home to tackle the domestic series.
Mokau's national No.1 Adrian Smith is one rider who is certainly among the favoured few to win the nationals again this year, after winning the title in 2006, 2012, 2013 and 2014 and having won two out of three rounds in the 2015 Bel Ray Cross-country Championships, which wrapped up near Bombay on Sunday, although Raglan's Jason Dickey won that series overall.
A flat tyre resulted in a non finish at the only round he didn't win and ultimately that proved costly to Smith's Bel Ray campaign hopes.
He has his fingers crossed that this will be the only bad luck he will suffer this season.
Whibley, Smith and Dickey may be the riders with the highest profiles, but they should not underestimate the threats posed by men such as Hamilton's Andrew Charleston, Rotorua's Scott Birch, Stratford's Karl Roberts, Morrinsville brothers Hayden and Nathan Tesselaar , Maruia's Ethan Bruce, Pukekawa's Anthony Parker or Morrinsville's Simon Lansdaal, to name just a few.
Former junior hotshots such as Takapau's Ben Fryer, Palmerston North's James Galpin and Stratford's Josh Hunger should also be respected.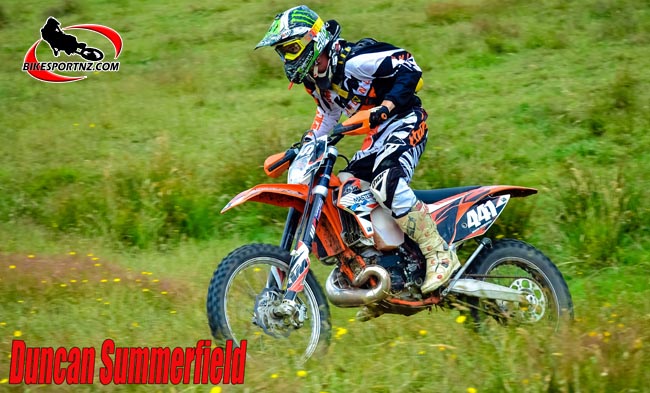 Sunday's venue is at 500 Lookout Road, signposted from Highway 50, and is about 20 kilometres' drive from Onga Onga.
Rounds two, three and four of the national series will be held respectively at Mosgiel, near Dunedin (on Sunday, March 15), Nelson (Sunday, April 19) and near Pahiatua (on Sunday, May 17).
© Words and photos by Andy McGechan, www.BikesportNZ.com
Find BikesportNZ.com on Facebook HERE