The popular Bel Ray Cross-country Series goes down to the wire at the third and final round at Bombay this weekend.
Raglan Kawasaki rider Jason Dickey won the previous round near Huntly last month and the two men who finished directly behind him that day – Honda duo Andrew Charleston, of Hamilton, and Rotorua's Scott Birch – will perhaps attract most of the focus this Sunday because any one of these three riders could carry off the trophy this season.
Defending Bel Ray champion, round one winner and current national cross-country champion Adrian Smith (Yamaha), of Mokau, experienced disaster at round two when he suffered a flat tyre and was unable to finish. This leaves him now only sixth in the series standings and with no chance of winning outright.
It is likely that Kiwi international Paul Whibley (Yamaha), now back in the country permanently after spending the past 12 years racing in Europe and the United States, will show up at the Bel Ray Series event for the first time on Sunday and, even though they will not be title contenders, both he and Smith will surely have a say in what happens this weekend.
Top women's grade contestants have been Te Awamutu's Jan-Maree Pool (KTM), Rotorua's Jane Roberts (KTM) and Pukekawa's Rachel Parker (KTM, pictured in main photo above) and it should be another tight battle between these riders on Sunday and pre-96 class series leader Mark Bon (Yamaha IT490), from Mercer, will be looking for some competition from other Vintage MX bike riders to spice up the competition for him.
Meanwhile, in the junior ranks, Waimauku's Jake Wightman (KTM) finished runner-up at the opening round of the series and convincingly won round two, giving him a nine-point lead over Gisborne's Duncan Summerfield (KTM), who has a 3-4 score-card thus far.
Their 90-minute race will be staged early in the day and both Wightman and Summerfield can expect intense pressure from riders such as Hamilton's Luke Taylor (Gas Gas), Cambridge BikesportNZ.com rider Ashton Grey (KTM), PioPio's Troy Miller (Honda), Huntly's Jack Broughton (Honda), Raglan's Coby Rooks (Honda), Ngaruawahia's Jeremy Ashdown (Yamaha) and Te Awamutu's Daniel White (Kawasaki).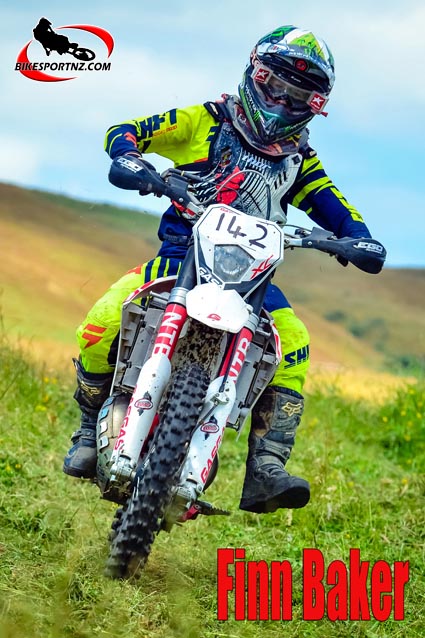 Hamilton's Tyla Cushion (Honda) in unbeaten so far in the junior women's category, but will be aware that Te Kuiti's Samantha Kelly (Yamaha) is within strike range.
A total of 14 females have contested the series this year, showing the increased popularity of the series and the sport in general.
This weekend features a new venue, at Sutton's Farm, Bombay, although it was previously used about eight years ago, possibly before many of the current riders were competing in the sport, and this will make it a level playing field.
A mini cross-country circuit will be set up near the pits for learners and young novices to test their skills while the main racing is conducted on the adjacent steep hill-country and bush course.
With massive support from Bel Ray's Steven Croad, the series continues to grow and plans are already being made for an even better competition next season.
© Words and photos by Andy McGechan, www.BikesportNZ.com
Find BikesportNZ.com on FACEBOOK here