It is not often than a competitor in the high-speed, high-risk world of motorcycle racing can celebrate a "perfect" weekend, but that's exactly what Aucklander Jaden Hassan was able to do on Sunday.
The 20-year-old Suzuki rider from Westmere, who is embarking on only his second season of racing in the premier 1000cc formula one/superbike class, qualified on pole and then scored back-to-back wins at the second of three rounds in the popular Suzuki Series at Manfeild on Sunday.
This was a great response to his campaign-wrecking crash at the series opener at Hampton Downs, near Huntly the previous weekend, where he had been the only rider to really challenge visiting international Horst Saiger.
That crash was a death-blow to Hassan's crusade in the six-race series and he has also now elected to park up his Suzuki GSX-R1000 and not contest the third and final round of the series – which is set for the public streets of Wanganui, the famous Cemetery Circuit, on Boxing Day – therefore removing one more obstacle in Saiger's charge for the crown.
"If I was leading the series after two rounds, I might have considered racing at Wanganui, but, as it stands after my crash last week, there is no chance I can win the series and so I'll instead have a break from racing on Boxing Day and spend the time with family over Christmas," said Hassan.
"The second race today was one of the hardest of my life, but I was happy to be pushed by Horst. I'm learning so much by racing against him.
"The weekend could not have been any better for me … I'd call it a perfect weekend."
And, even with Hassan delivering a master class on Sunday, it wasn't enough to derail Austrian rider Saiger, the Liechtenstein resident who comfortably won both races at round one.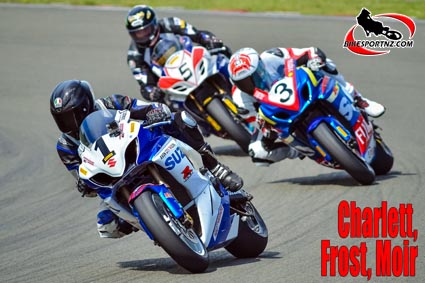 Saiger (Kawasaki ZX-10R) settled for third equal on Sunday, still enough for him to extend his series lead to 10 points over Taupo's Scott Moir (Suzuki GSX-R1000).
Moir had a weekend from hell, first struck down during Saturday's practice session when a stone punctured his bike's radiator. Then, the leak repaired, he made a proper job of wrecking the bike when he accidentally tossed it down the track at high speed during Sunday morning's qualifying.
Remarkably, with his crew coming to the rescue and his bike patched up, he was still able to line up for race one and Moir rewarded them by finishing third. He backed that up with a fifth placing in race two, ending the day fifth overall and shoring up second place in the series standings.
Other class leaders are: Auckland's Toby Summers (F2/600cc class); Orewa's Avalon Biddle (F3/sport bikes); Te Awanga's Eddie Kattenberg (Pre-89 post classic senior bikes); Marton's Jason Hulme (Pre-89 post classic junior bikes); Tauranga's Duncan Hart (super moto); Feilding's John Oliver (Bears/non-Japanese); Hamilton's Aaron Lovell and Tracey Bryan (sidecars).
© Words and photos by Andy McGechan, www.BikesportNZ.com
Find BikesportNZ.com on FACEBOOK here
Full story and more photos in your next issue of KIWI RIDER magazine.
Check back here on www.BikesportNZ.com during this week as we bring you more stories and photos from the weekend.