By now the whole world knows that multiple-time United States motocross and supercross champion Ryan Villopoto is heading to Europe for 2015.
Despite the fact we knew this was happening as much as two months ago, the announcement last week was still largely unexpected.Villopoto racing in Europe. This is beyond just being huge news; it might be the biggest thing to happen in the sport's history. It is that big.
Villopoto kept his cards very close to his chest but now he's come out to explain the reasoning behind all of it … and hinted that 2015 may also be his last year of top-level competition. Talk about going out with a bang!
"What a relief it is to get that off my chest and share it will all of you. I know the suspense was driving some of you crazy but I had to keep my lips sealed until my contract with Kawasaki of America was complete," said Villopoto.
"Together we had a good run with some great memories, but now it's time to switch gears and try something a little different.
"I know a lot of people were speculating that I was going to retire, and to be honest, I considered it. Life for a pro motocross racer can be pretty tough – especially if you fall down a lot.
"Did I want to have to climb back up that ladder? Get myself back into shape? I didn't know if I wanted to tackle that all again. I've done that already twice – coming back from a fairly major injury. Even at this point right now its five months or so until the gate drops in Qatar …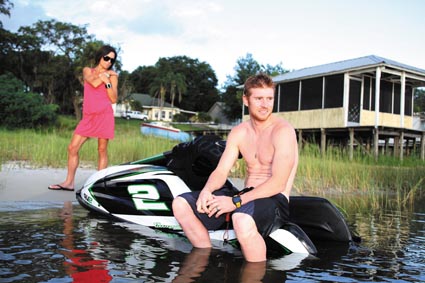 "Once I was able to swallow that one and be like 'okay, yeah let's do it', it is definitely something that is a work in progress. It's funny because although Kawasaki is one company KMC, KME, and KHI are three separate entities. So we had to get everything correlated and running in the right direction … trying to get all the moving parts aligned. It's taken some time.
"Then there is my own physical aspect: It's not just like coming off a season and taking two weeks off and then kind of getting back into it. You don't lose much at all if you do it that way. Definitely, the hill is a lot steeper the way I'm going about it.
"There are a couple of things that make me nervous … obviously, travelling to different countries. Some of the counties are a maybe little bit sketchy, so there's things I have to watch out for.
"Learning the tricks of the trade and I have to learn them very quick. It's going to be making the mistake of eating an ice cube that was frozen from tap water, then you get sick – that's the sort of stuff I will need to learn real quick. Not make a mistake in that area.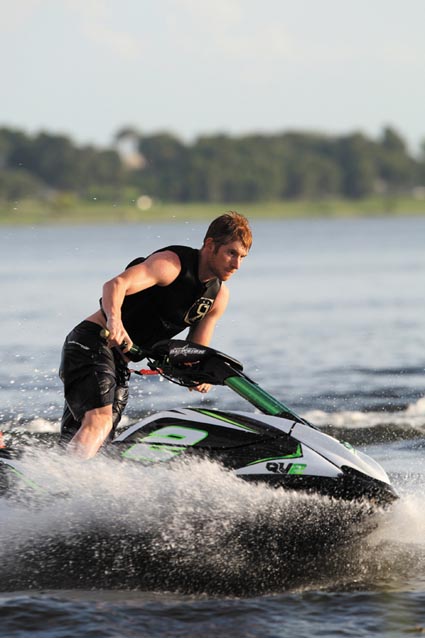 "I'm feeling stronger everyday but my doctor hasn't released me to ride my dirt bike yet. So until then, I'm sticking to my specialised bicycles and my cruiser. If everything goes to plan, I'll be riding my KX next month.
"When it comes to the bike, the tracks – that's all the stuff I am really good at. I have a good base coming from KMC. Our factory bike is one of the best. Kawasaki of Europe have a good bike as well. The great thing is that it's going to be essentially the same bike – with a few different parts and set-up a little differently. I know how I like to ride my bike and have it set-up, so I plan on doing the same.
"As far as the competition goes, I have raced the majority at des Nations, but that's a hard race to gauge off. It's kind of like Anaheim 1 – not the best place to make assumptions. I feel like Tony Cairoli's probably going to be one of my strongest competitors.
"You can't not think he's going to be the guy – he's won eight years in a row! Then there's other guys like Gautier Paulin and Steven Frossard. The Europeans are going to be tough. I think they will surprise me in areas and I will surprise them in areas.
"The season gets underway when I visit the race team next in Brussels. Until then I'm going to spend my nights working on a new toy!
"We're flying into Brussels on October 10 to meet the team, I've met a few of the guys already, and go see the race shop. The race shop is in Holland which is about 40 miles from where my friend and team-mate Tyla Rattray lives – basically just outside of Lommel. He's going to do some testing at Saint Jean d'Angely (in France). It's where I last raced des Nations in '11.
"Most of all, I'm just trying to go over there and really enjoy this last year. This is a one-time deal. I am going to finish my career win or lose after this next season … But I'd love to win and leave on top.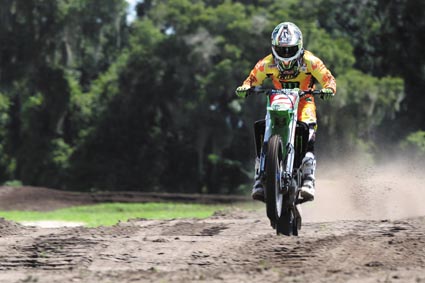 "I'm not going to say it's going to be easier or harder – it will for sure be different though. I know a lot of my fans are bummed that I won't be racing supercross or outdoors (in the USA), but I hope you tune in and follow me in GPs as this will be one ride you won't want to miss."
So how could the 2015 calendar go for the American?
First of all, the Motocross World Championships start at night in Qatar.
It would be a foolish man to bet against Villopoto in this one. It's a circuit that isn't really that European, and it's at night, just like supercross.
Villopoto could win this one, and we expect Cairoli to be watching with interest as he works out what is needed to beat the Kawasaki rider.
The next two rounds will be new circuits, and circuits that might suit the American, so we wouldn't be surprised to see him go into round four in Italy holding the red plate.
But this is when it gets hard. Slippery, rock-hard circuits, massive crowds (and how big are the crowds going to be in 2015 thanks to the addition of the American champion?).
If Villopoto wins in Italy, then it could be his championship to lose.
Photos courtesy Stefan Geukens