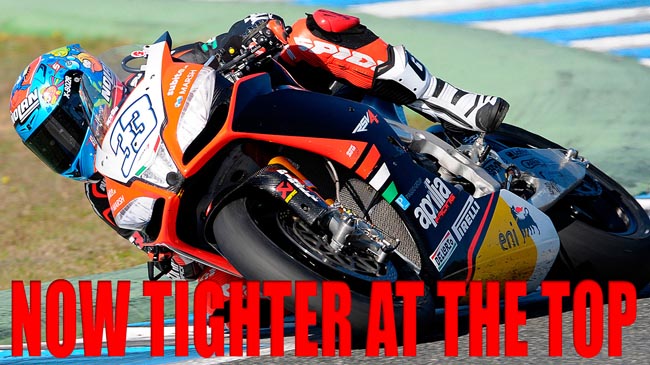 With just one round to go, this year's World Superbike Championships could go down to the wire with just 12 points now separating the defending world champion from his nearest challenger.
Italian Marco Melandri says holding onto victory in the second WSBK race at the 11th round of 12 at Magny-Cours, in France, at the weekend was a 'fair compensation' for his and Aprilia team's efforts, despite seemingly ignoring an order to allow his title challenging team-mate Sylvain Guintoli through.
Having done the double last time out at Jerez, in Spain, the Italian seemingly had the pace to win both WSBK races in France too, getting ahead of Guintoli on both occasions and displaying superior speed to that of his more cautious team-mate.
Even so, while team orders weren't employed in Spain, Melandri (pictured above) was this time asked to move over for Guintoli towards the end of both races to maximise his counterpart's chances of the riders' title.
However, though Melandri would indeed move over in the first race, he would not follow suit in race two, continuing on for his fourth win in six races, one that means Guintoli faces a 12 point deficit to Kawasaki's defending world champion Tom Sykes heading into the final round in Qatar.
Despite the somewhat contentious circumstances to his actions, Melandri maintains he is still fighting for a top three in the overall standings and the win is subsequently compensation for both his and the team's efforts.
"The win in race two is fair compensation for my efforts and those of the team, and on top of that it put me in third place in the standings," he said.
"We did a great job. The bike was fantastic and I was able to confirm my performance in Jerez. Sylvain was very fast and in the first laps it was difficult to overtake, but we created a good gap in front of our rivals' straight way.
"I have demonstrated a good pace from the halfway point of the season, so now we'll see how things go in Qatar."
Had Melandri allowed Guintoli to win in Jerez and Magny-Cours, he would instead take a three point lead into the final round of the season. Aprilia team manager Romano Albesiano has previously indicated that team orders would not be employed to determined results between his two riders.
Meanwhile, Sykes says a pair of fourth place finishes were better than he expected in the difficult conditions, but admitted his frustration at being unable to challenge the leaders at the weekend.
The Kawasaki rider came into the penultimate round of the season with a fairly healthy 31 point advantage, but his failure to get comfortable in the slippery conditions prevented him from making the most of his record-breaking pole position.
Inheriting fourth place in race one by virtue of team orders employed by Kawasaki, who instructed Sykes' team-mate Loris Baz to allow him through, Sykes proceeded to finish in the same position in race two after losing out to Leon Haslam late on.
The first time in 2014 that he has finished off the podium at a WSBK round, Sykes has seen his advantage heading into the Qatar title showdown finale whittled down to 12 points. Nonetheless, while he was disappointed with the outcome, he says he got the best from the situation.
Results from Magny-Cours, France:
RACE ONE:
1. Sylvain Guintoli FRA Aprilia Racing RSV4 19 laps
2. Marco Melandri ITA Aprilia Racing RSV4 +2.257s
3. Jonathan Rea GBR PATA Honda CBR1000RR +5.954s
4. Tom Sykes GBR Kawasaki Racing ZX-10R +15.670s
5. Loris Baz FRA Kawasaki Racing ZX-10R +16.149s
6. Leon Haslam GBR PATA Honda CBR1000RR +29.411s
7. Davide Giugliano ITA Ducati SBK 1199 Panigale R +57.319s
8. Lorenzo Lanzi ITA 3C Ducati 1199 Panigale R +59.306s
9. Max Neukirchner GER 3C Ducati 1199 Panigale R +1m 12.774s
10. Sylvain Barrier FRA BMW Italia S1000RR +1m 22.931s (E)
11. Niccolo Canepa ITA Althea Ducati 1199 Panigale R +1m 39.670s (E)
12. Jeremy Guarnoni FRA MRS Kawasaki ZX-10R +1m 42.886s (E)
13. Claudio Corti ITA MV Agusta RC F4RR +2m 03.253s
14. Bryan Staring AUS IRON BRAIN Kawasaki ZX-10R +1 lap (E)
15. Fabien Foret FRA Pedercini Kawasaki ZX-10R +1 lap (E)
16. Nicolas Salchaud FRA Dream Team MV Agusta RC F4RR +1 lap
17. Sheridan Morais RSA IRON BRAIN Kawasaki ZX-10R +2 laps (E)
18. Geoff May USA Team Hero EBR 1190RX +2 laps
19. Eugene Laverty IRL Voltcom Crescent Suzuki GSX-R1000 +2 laps
20. Imre Toth HUN Team Toth BMW S1000RR +3 laps (E)
Not Classified
21. Gabor Rizmayer HUN Team Toth BMW S1000RR 7 laps completed (E)
22. Aaron Yates USA Team Hero EBR 1190RX 7 laps completed
23. Xavi Fores ESP 3C Ducati 1199 Panigale R 5 laps completed
24. Alessandro Andreozzi ITA Pedercini Kawasaki ZX-10R 3 laps completed (E)
25. Toni Elias ESP Red Devils Roma Aprilia RSV4 2 laps completed
26. Alex Lowes GBR Voltcom Crescent Suzuki GSX-R1000 2 laps completed
27. Chaz Davies GBR Ducati SBK 1199 Panigale R 1 lap completed
Did Not Start
David Salom ESP Kawasaki Racing ZX-10R (E)
RACE TWO:
1. Marco Melandri ITA Aprilia Racing RSV4 19 laps
2. Sylvain Guintoli FRA Aprilia Racing RSV4 +2.689s
3. Leon Haslam GBR PATA Honda CBR1000RR +16.450s
4. Tom Sykes GBR Kawasaki Racing ZX-10R +20.759s
5. Lorenzo Lanzi ITA 3C Ducati 1199 Panigale R +46.689s
6. Max Neukirchner GER 3C Ducati 1199 Panigale R +58.490s
7. Loris Baz FRA Kawasaki Racing ZX-10R +1m 03.100s
8. Claudio Corti ITA MV Agusta RC F4RR +1m 24.699s
9. Chaz Davies GBR Ducati SBK 1199 Panigale R +1m 27.899s
10. Niccolo Canepa ITA Althea Ducati 1199 Panigale R +1m 51.706s (E)
11. Fabien Foret FRA Pedercini Kawasaki ZX-10R +1 lap (E)
12. Gabor Rizmayer HUN Team Toth BMW S1000RR +2 laps (E)
13. Imre Toth HUN Team Toth BMW S1000RR +2 laps (E)
Not Classified
14. Bryan Staring AUS IRON BRAIN Kawasaki ZX-10R 17 laps completed (E)
15. Eugene Laverty IRL Voltcom Crescent Suzuki GSX-R1000 15 laps completed
16. Xavi Fores ESP 3C Ducati 1199 Panigale R 12 laps completed
17. Jeremy Guarnoni FRA MRS Kawasaki ZX-10R 11 laps completed (E)
18. Jonathan Rea GBR PATA Honda CBR1000RR 11 laps completed
19. Sylvain Barrier FRA BMW Italia S1000RR 6 laps completed (E)
20. Sheridan Morais RSA IRON BRAIN Kawasaki ZX-10R 5 laps completed (E)
21. Davide Giugliano ITA Ducati SBK 1199 Panigale R 4 laps completed
22. Geoff May USA Team Hero EBR 1190RX 3 laps completed
23. Alex Lowes GBR Voltcom Crescent Suzuki GSX-R1000 1 lap completed
24. Aaron Yates USA Team Hero EBR 1190RX 1 lap completed
25. Toni Elias ESP Red Devils Roma Aprilia RSV4 0 laps completed
26. Nicolas Salchaud FRA Dream Team MV Agusta RC F4RR 0 laps completed
Did Not Start
Alessandro Andreozzi ITA Pedercini Kawasaki ZX-10R (E)
David Salom ESP Kawasaki Racing ZX-10R (E)
WORLD CHAMPIONSHIP STANDINGS:
| | | | |
| --- | --- | --- | --- |
| POSITION | RIDER | TEAM | POINTS |
| 1 | Tom Sykes | Kawasaki Racing Team | 378 |
| 2 | Sylvain Guintoli | Aprilia Racing | 366 |
| 3 | Marco Melandri | Aprilia Racing | 312 |
| 4 | Jonathan Rea | PATA Honda | 301 |
| 5 | Loris Baz | Kawasaki Racing Team | 282 |
| 6 | Chaz Davies | Ducati SBK | 195 |
| 7 | Leon Haslam | PATA Honda | 176 |
| 8 | Davide Giugliano | Ducati SBK | 162 |
| 9 | Eugene Laverty | Voltcom Crescent Suzuki | 154 |
| 10 | Toni Elias | Red Devils Roma Aprilia | 151 |
| 11 | Alex Lowes | Voltcom Crescent Suzuki | 126 |
| 12 | David Salom | Kawasaki Racing Team (E) | 95 |
| 13 | Niccolo Canepa | Althea Ducati (E) | 65 |
| 14 | Jeremy Guarnoni | MRS Kawasaki (E) | 45 |
| 15 | Sylvain Barrier | BMW Italia (E) | 38 |
| 16 | Leon Camier | BMW Italia (E) / MV Agusta RC | 37 |
| 17 | Claudio Corti | MV Agusta Reparto Corse | 25 |
| 18 | Sheridan Morais | IRON BRAIN Grillini Kawasaki (E) | 24 |
| 19 | Alessandro Andreozzi | Pedercini Kawasaki (E) | 21 |
| 20 | Fabien Foret | MAHI India / Pedercini Kawasaki (E) | 20 |
| 21 | Lorenzo Lanzi | 3C Ducati Racing | 19 |
| 22 | Max Neukirchner | 3C Ducati Racing | 17 |
| 23 | Luca Scassa | Pedercini Kawasaki (E) | 16 |
| 24 | Bryan Staring | IRON BRAIN Grillini Kawasaki (E) | 14 |
| 25 | Gabor Rizmayer | BMW Team Toth | 7 |
| 26 | Glenn Allerton | BMW Italia SBK (E) | 6 |
| 27 | Kervin Bos | Winterb Honda CBR1000RR (E) | 5 |
| 28 | Imre Toth | BMW Team Toth | 5 |
| 29 | Ivan Goi | Barni Ducati (E) | 5 |
| 30 | Riccardo Russo | Pedercini Kawasaki (E) | 5 |
| 31 | Larry Pegram | Foremost Insurance EBR | 2 |
| 32 | Michel Fabrizio | IRON BRAIN Grillini Kawasaki (E) | 2 |
| 33 | Romain Lanusse | Pedercini Kawasaki (E) | 1 |