MARQUEZ MAKES NO APOLOGIES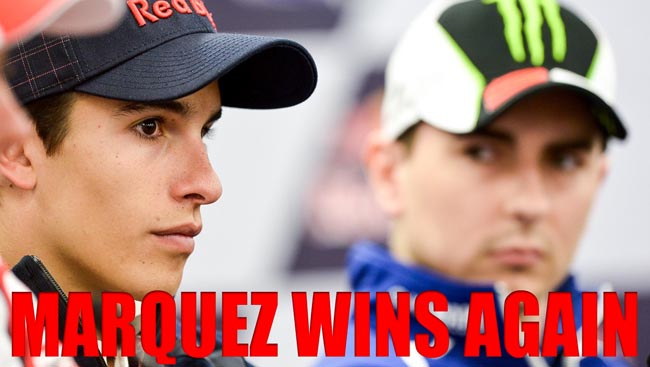 Spain's Marc Marquez has won his 11th MotoGP race of the season after beating Jorge Lorenzo in a close battle at round 12, the British GP, at the weekend.
Lorenzo led most of the race, with Marquez sticking in his wheel tracks as they pulled away from the field.
Marquez made his first move for the lead with seven laps to go, but was re-passed by fellow Spaniard Lorenzo after running wide at the same turn with five laps remaining.
Marquez tried again through the Village and Loop corners with three laps to go. Marquez's initially move was rebuffed by Lorenzo, who held on around the outside, but Lorenzo was made to sit up when Marquez dived inside again at the slow Loop turn.
The pair shook hands on the slow down lap.
Almost eight-seconds behind them, Valentino Rossi got the better of Dani Pedrosa and Andrea Dovizioso after a race long fight for third.
Bradley Smith made a pit stop after earlier fighting for sixth.
Meanwhile, Marquez was making no apology for his forceful pass on Lorenzo.
Lorenzo had to stand his machine up as Marquez barged through, but the world champion said it was a 'great move', which paved the way for his 11th victory this season.
"We had a small contact at the corner before the pass. But at the next corner, the last overtake, I know that it was a great move, an aggressive move, but we did not have contact," said Marquez, who lost to Lorenzo in their 2013 British battle.
"Last laps are like that. Last year at the last corner he overtook me and we had some small contact too. But this year I think everything was fine. It is nice, after Brno, to come back to the podium and to be on top. I said that if I had the chance to win that I would try."
Lorenzo led for a large segment of the 20-lap race, with Marquez only taking the lead for the first time on lap 14.
The 21-year-old was able to increase his pace significantly in the closing stages as his tyres began to drop off and he pulled away to win by 0.732s in the end.
"At the beginning I tried to save the tyre a bit but it was difficult because the rhythm was rally high. I was trying to save some rear tyre because especially on the left side, as you saw on TV in the last laps, I arrived at the limit. I think everybody was the same," Marquez said.
"We probably expected a different kind of race today, but Jorge was really strong from the beginning but through the race we improved and at the end we were able to fight with him.
"I just attacked at the end because normally I feel more comfortable on the used tyres."
Results from Silverstone, MotoGP:
Marc Marquez ESP Repsol Honda Team (RC213V) 40m 51.835s
2. Jorge Lorenzo ESP Movistar Yamaha MotoGP (YZR-M1) 40m 52.567s
3. Valentino Rossi ITA Movistar Yamaha MotoGP (YZR-M1) 41m 0.354s
4. Dani Pedrosa ESP Repsol Honda Team (RC213V) 41m 0.529s
5. Andrea Dovizioso ITA Ducati Team (Desmosedici) 41m 1.073s
6. Pol Espargaro ESP Monster Yamaha Tech 3 (YZR-M1)* 41m 16.581s
7. Stefan Bradl GER LCR Honda MotoGP (RC213V) 41m 18.552s
8. Andrea Iannone ITA Pramac Racing (Desmosedici) 41m 18.745s
9. Aleix Espargaro ESP NGM Forward Racing (Forward Yamaha) 41m 25.290s
10. Scott Redding GBR Go&Fun Honda Gresini (RCV1000R)* 41m 30.929s
11. Yonny Hernandez COL Pramac Racing (Desmosedici) 41m 32.090s
12. Cal Crutchlow GBR Ducati Team (Desmosedici) 41m 34.862s
13. Karel Abraham CZE Cardion AB Motoracing (RCV1000R) 41m 44.080s
14. Hiroshi Aoyama JPN Drive M7 Aspar (RCV1000R) 41m 50.816s
15. Alex De Angelis RSM NGM Forward Racing (Forward Yamaha) 41m 50.999s
16. Leon Camier GBR Drive M7 Aspar (RCV1000R) 41m 57.515s
17. Michael Laverty GBR Paul Bird Motorsport (PBM-ART) 42m 2.774s
18. Danilo Petrucci ITA IodaRacing Project (ART) 42m 8.669s
19. Hector Barbera ESP Avintia Racing (Avintia) 42m 8.739s
20. Mike Di Meglio FRA Avintia Racing (Avintia)* 42m 26.774s
21. Broc Parkes AUS Paul Bird Motorsport (PBM-ART)* 42m 30.277s
22. Bradley Smith GBR Monster Yamaha Tech 3 (YZR-M1) +1 lap
Alvaro Bautista ESP Go&Fun Honda Gresini (RC213V) DNF
MotoGP world championship standings after Silverstone:
| | | | |
| --- | --- | --- | --- |
| POSITION | RIDER | TEAM | POINTS |
| 1 | Marc Marquez | Repsol Honda Team | 288 |
| 2 | Dani Pedrosa | Repsol Honda Team | 199 |
| 3 | Valentino Rossi | Movistar Yamaha MotoGP | 189 |
| 4 | Jorge Lorenzo | Movistar Yamaha MotoGP | 157 |
| 5 | Andrea Dovizioso | Ducati Team | 129 |
| 6 | Aleix Espargaro | NGM Forward Racing | 92 |
| 7 | Pol Espargaro | Monster Yamaha Tech 3 | 88 |
| 8 | Andrea Iannone | Pramac Racing | 81 |
| 9 | Stefan Bradl | LCR Honda MotoGP | 74 |
| 10 | Bradley Smith | Monster Yamaha Tech 3 | 65 |
| 11 | Alvaro Bautista | GO&FUN Gresini Honda | 56 |
| 12 | Scott Redding | GO&FUN Honda Gresini | 51 |
| 13 | Cal Crutchlow | Ducati Team | 40 |
| 14 | Hiroshi Aoyama | Drive M7 Aspar | 39 |
| 15 | Yonny Hernandez | Emergy T.I. Pramac Racing | 32 |
| 16 | Nicky Hayden | Drive M7 Aspar | 29 |
| 17 | Karel Abraham | Cardion AB Motoracing | 28 |
| 18 | Colin Edwards | NGM Forward Racing | 11 |
| 19 | Michele Pirro | Ducati Team | 11 |
| 20 | Broc Parkes | Paul Bird Motorsport | 7 |
| 21 | Danilo Petrucci | IodaRacing Project | 4 |
| 22 | Mike di Meglio | Avintia Racing | 4 |
| 23 | Michael Laverty | Paul Bird Motorsport | 2 |
| 24 | Hector Barbera | Avintia Racing | 2 |
| 25 | Leon Camier | Drive M7 Aspar | 1 |
| 26 | Alex de Angelis | NGM Forward Racing | 1 |