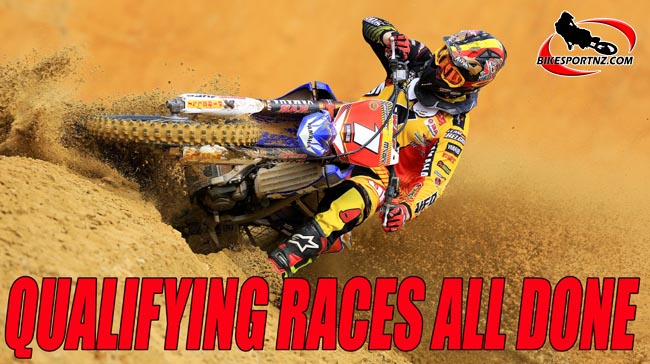 The 68th edition of the Motocross of Nations is underway, with the defending champions, Team Belgium, leading the way.
So, for our South Pacific viewers, in a nutshell, here it is: Belgium was first in qualifying, followed by France, Britain, The Netherlands and Italy; Team USA qualified only eighth after their MX2 "star" crashed out after a bad start; Team Australia qualified 17th of the 34 nations entered this year and Team New Zealand is consigned to what is effectively the "last chance qualifier", the B final, tomorrow.
The Kiwi trio (Scott Columb, Hamish Dobbyn and Hamish Harwood) must win that B final to have any hope of starting the main races tomorrow.
Columb finished 23rd in the Open class qualifying race, Dobbyn finished 21st in the MXGP (MX1) qualifier and Harwood was also 21st in his MX2 qualifier. As a trio, New Zealand qualified 25th.
So, with all three qualifying heat races in the bag, the defending champions Team Belgium will start on pole thanks to Kevin Strijbos' win in the Open race and Jeremy Van Horebeek's second place in the MXGP race. Team France's Gautier Paulin won the MXGP race in style and, with the combination of Dylan Ferrandis' fourth in MX2, managed to qualify second. Team Great Britain rounded out the top three with a second place in the open class ridden by Dean Wilson and fifth in both MXGP and MX2 with Shaun Simpson and Tommy Searle.
Van Horebeek is the rider pictured above.
MXGP CLASS

Getting off to a cracker of a start after nailing the fastest lap in timed practice in the morning, the MXGP (MX1) rookie, Team Russia's Aleksandr Tonkov led Team Sweden's Filip Bengtsson around turn one of the MX1 qualifier. While Bengtsson wasted no time in taking over the lead, Team USA's Ryan Dungey was on the move after starting from the far outside with 28th pick of the gate to sneak his way into the top three in just a handful of turns.
While Bengtsson was carving out front as he dominated the first half of the race, Tonkov was doing an impressive job at holding off Team USA's Ryan Dungey who was pushing hard for second.
Meanwhile, Team France's Gautier Paulin started outside of the top five but was quick to get creative and move forward. After using the pin-it up the inside and cut across technique on Team Great Britain's Shaun Simpson for fourth, Paulin started rattling off hot laps until he was hot on the heels of the three-way battle for the lead between Bengtsson, Tonkov and Dungey.
At the halfway mark, the early race leader Bengtsson began to crumble and within a matter of moments had gone from first to fourth. Paulin, known to his fans as GP21, was putting his one- of-a-kind technique to good use, timing the waves and keeping the bike low to create an advantage on Dungey and make a pass stick for second.
While the young Russian continued to hold his own against the seasoned pros as he kept Paulin at bay for a further two laps before bobbling and dropping back to fourth, the crouching tiger, Team Belgium's Jeremy Van Horebeek, had quietly snuck up on Dungey to challenge for second. After a lap of applying pressure, the American over jumped a small tabletop slightly and ran too hot into the next turn and off the track, allowing Van Horebeek to take an easy second.
Twenty minutes in and the two-lap board was up. Paulin had taken control and was carrying some serious speed up front while Van Horebeek looked content in second. Dungey started to dig a little deeper with a couple of laps to go, taking a few final stabs at Van Horebeek before being forced to settle for third. Meanwhile Team Germany's Max Nagl worked his butt off all race long to bounce back from a shocking start and come home in fourth. Despite being in traffic the entire race, the German actually set the fastest laptime. Team Great Britain's Shaun Simpson managed to round out the top five. Early race leaders, Tonkov came home in seventh while Bengtsson fell back to ninth.
MXGP Qualifying Race top ten:
1. Gautier Paulin (FRA, Kawasaki), 25:19.817; 2. Jeremy Van Horebeek (BEL, Yamaha), +0:02.363; 3. Ryan Dungey (USA, KTM), +0:03.469; 4. Maximilian Nagl (GER, Honda), +0:09.991; 5. Shaun Simpson (GBR, KTM), +0:23.183; 6. Rui Goncalves (POR, Yamaha), +0:24.626; 7. Aleksandr Tonkov (RUS, Husqvarna), +0:26.533; 8. Matiss Karro (LAT, KTM), +0:28.398; 9. Filip Bengtsson (SWE, KTM), +0:29.476; 10. Davide Guarneri (ITA, TM), +0:38.277.
MX2 CLASS

The second gate drop of the day saw Team Estonia's Harri Kullas gun it for the FOX Holeshot but couldn't get the same drive through the waves as Team Switzerland's Jeremy Seewer and dropped back to second right away. Chasing the youngsters' Seewer and Kullas, the former MX2 vice world champion, Team Great Britain's Tommy Searle and Peurto Rico's Alex Martin.
Right off the bat, Team The Netherlands' Glenn Coldenhoff was taking no prisoners, going inside on Searle and running him wide. Coldenhoff's move seem to of caught Searle off guard and as he tried to re-group and get comfortable, Martin and Team France's Dylan Ferrandis went right on by too.
While Coldenhoff continued on his rampage, charging after the leaders Seewer and Kullas, the wrath of Team Italy's Antonio Cairoli was starting to unfurl. Not even a bad start and six years off of a 250cc bike can slow the eight-time FIM Motocross World Champion down as he made light work of the choppy track. Coming all the way from outside the top 10, Cairoli rode like an animal on the smaller bike, carving through the field rather effortlessly to take the lead with three laps to go.
Meanwhile Kullas had started to fade, eventually dropping back to sixth while Coldenhoff pushed past Seewer who found himself wiping out a Alpinestars banner late in the race.
After some serious bar banging action all race long, Cairoli put on a breath taking performance for the win with Coldenhoff chasing him home in second. Meanwhile, there was no rest for Seewer on the final laps with Ferrandis trying hard but not coming up with the goods. With Seewer taking third, Ferrandis took fourth and Searle ended up finding his legs late in the race to round out the top five.
As for Team USA's AMA Motocross 250cc Champion Jeremy Martin, the tiny-statured young-gun was recoiling from an average start when he hit a huge kicker and got chucked over the bars. Looking a little banged up, the Yamaha rider ended up pulling out of the race. No information yet on the condition of the rider or bike.
MX2 Qualifying Race top ten: 
1. Antonio Cairoli (ITA, KTM), 25:35.956; 2. Glenn Coldenhoff (NED, Suzuki), +0:05.285; 3. Jeremy Seewer (SUI, Suzuki), +0:07.289; 4. Dylan Ferrandis (FRA, Kawasaki), +0:08.057; 5. Tommy Searle (GBR, Kawasaki), +0:27.773; 6. Harri Kullas (EST, KTM), +0:29.099; 7. Alex Martin (PUR, Yamaha), +0:32.577; 8. Thomas Kjer Olsen (DEN, Yamaha), +0:47.519; 9. Martin Barr (IRL, KTM), +0:57.440; 10. Kaven Benoit (CAN, KTM), +1:02.213.
OPEN CLASS

With a 180-degree right-hand first turn, carnage in at least one moto this weekend was to be expected. And what would a Motocross of Nations be without it? Getting it done on Saturday, day one of the event, a bunch of riders wiped out on the first turn in the Open race. Three of those riders were the promising trio of Team USA's Eli Tomac, Team Switzerland's Arnaud Tonus and Team Australia's Matt Moss.
All chaos aside, it was Team Great Britain's Dean Wilson who got around turn one clean to take the holeshot ahead of Team Belgium's Kevin Strijbos and Team Estonia's Tanel Leok. Before the end of lap one, the Belgian had stolen the lead from Wilson and checked out to win with a comfortable thirteen-second buffer.
Meanwhile Wilson was putting in the work in second, while Leok was keeping him on his toes in third. Impressively, the youngest rider in the class and typically a MX2 bike rider, Team Slovenia's Tim Gajser was looking very at home on the bigger 450 beast in fourth.
Despite crashing hard in free practice and injuring his ribs, the Slovenian wonder boy put in a late race charge to pass Leok with two laps to go. Gajser's outstanding speed looked as though it could have endangered Wilson too, but Wilson managed to respond and keep the youngster at bay.
With Strijbos riding silky smooth to take a victory for the defending champions Team Belgium, Wilson narrowly held on for second with Gajser putting in an amazing ride in third. Leok had to be happy with fourth while Team France's Steven Frossard rounded out the top five. All credit must also be given to Team USA's fighter Eli Tomac who took a while to get his bike fired up after being tangled up in turn one, but manage to recover for eighth!
OPEN Qualifying Race top ten:
1. Kevin Strijbos (BEL, Suzuki), 25:36.461; 2. Dean Wilson (GBR, Kawasaki), +0:13.030; 3. Tim Gajser (SLO, Honda), +0:14.358; 4. Tanel Leok (EST, TM), +0:17.281; 5. Steven Frossard (FRA, Kawasaki), +0:18.572; 6. Dennis Ullrich (GER, KTM), +0:44.938; 7. Marc de Reuver (NED, Honda), +0:46.449; 8. Eli Tomac (USA, Honda), +0:48.024; 9. David Philippaerts (ITA, Yamaha), +0:55.434; 10. Arnaud Tonus (SUI, Kawasaki), +1:09.736.